2 MIN READ
More than 500 Winners from 80 Countries Selected for the 2023 Shubhra Kar Linux Foundation Training Scholarship
The Linux Foundation | 10 July 2023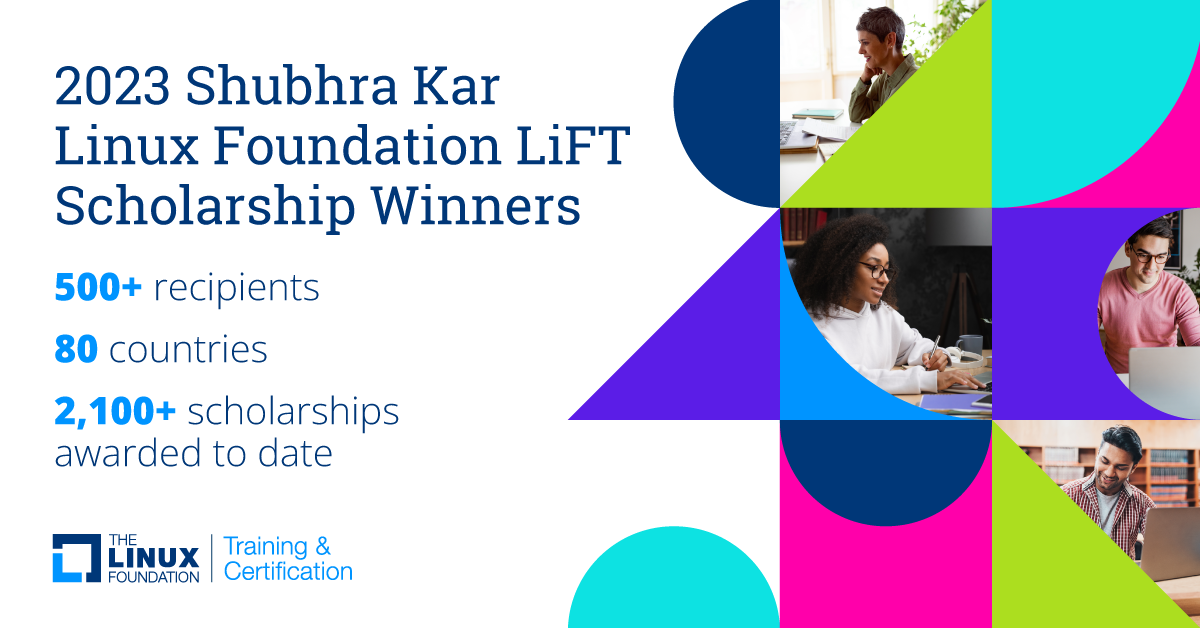 Scholarships Help Increase Diversity in the Open Source Community.
SAN FRANCISCO, July 7, 2023 -- More than 500 winners from 80 countries have received scholarships from the 2023 Shubhra Kar Linux Foundation's LiFT Scholarship program. Scholarship winners are able to enroll in a Linux Foundation course and certification exam at no cost. Since 2010, more than 2,100 scholarships have been awarded.
This year, the Foundation received more than 2,600 applications across a dozen categories focused on a range of open source technologies as well as skill and experience levels. The average age of awardees is 27, ranging from a 13-year-old in the "Teens-in-Training" category to a 55-year-old in the most advanced professional category, "Linux Kernel Guru". Top awardee countries are:
India
Pakistan
USA
Nigeria
Kenya
Myanmar
Egypt
Indonesia
United Kingdom
Australia
South Africa
"In reviewing this year's applications, two things really stood out," said Clyde Seepersad, SVP and General Manager, Linux Foundation Training & Certification. "One, the incredible diversity of people using open source tech around the world, especially young people. And two, the vast number of professionals in businesses, NGOs and governments in developing parts of the world leveraging the open source community to create incredibly sophisticated, low-cost, technology solutions for real problems."
The Foundation has featured some of the 2023 LiFT Scholarship recipients on their website: https://www.linuxfoundation.org/about/lift-scholarships.
The program honors the memory of long-time Linux Foundation CTO Shubhra Kar.
# # #
Media Contact
J. Scott Punk
jspunk@linuxfoundation.org
About The Linux Foundation
The Linux Foundation is the world's leading home for collaboration on open source software, hardware, standards, and data. Linux Foundation projects are critical to the world's infrastructure including Linux, Kubernetes, Node.js, ONAP, PyTorch, RISC-V, SPDX, OpenChain, and more. The Linux Foundation focuses on leveraging best practices and addressing the needs of contributors, users, and solution providers to create sustainable models for open collaboration. For more information, please visit us at linuxfoundation.org. The Linux Foundation has registered trademarks and uses trademarks. For a list of trademarks of The Linux Foundation, please see its trademark usage page: www.linuxfoundation.org/trademark-usage. Linux is a registered trademark of Linus Torvalds.