2 MIN READ
FINOS Announces 2023 State of Open Source in Financial Services Survey
The Linux Foundation | 20 June 2023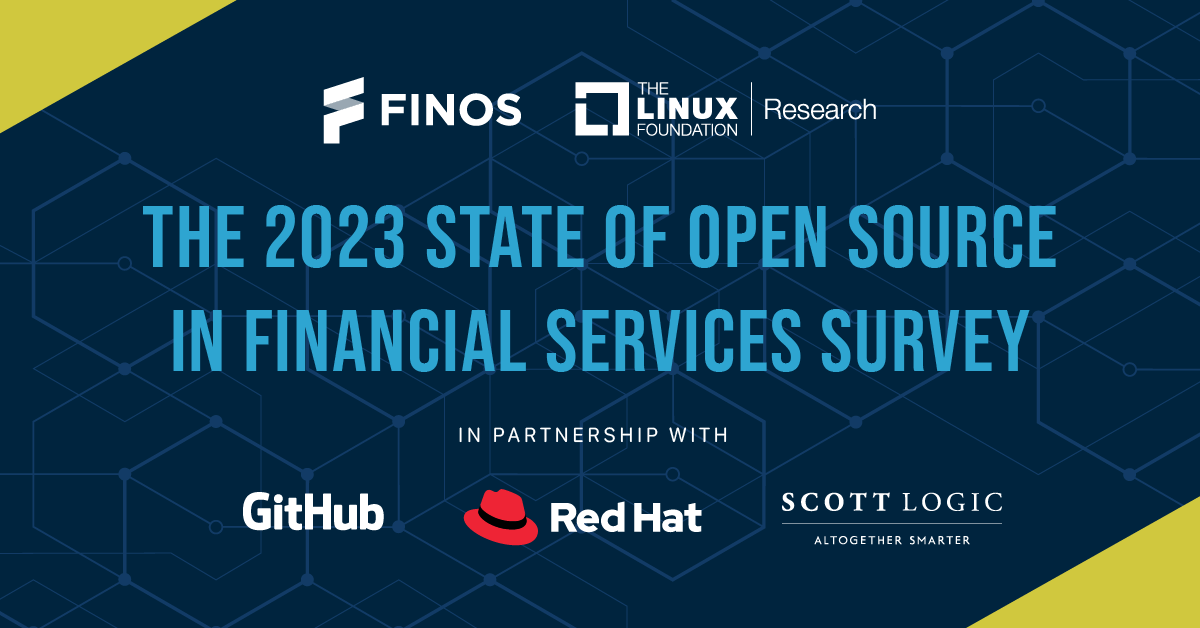 FINOS, the fintech open source foundation, Linux Foundation Research, and partners GitHub, Red Hat, and Scott Logic are conducting their third annual survey as part of their ongoing research on open source adoption, contribution, and readiness in the financial services industry.
The increased prevalence, importance, and value of open source is well understood and widely reported by many industry surveys and studies. However, the rate at which different industries acknowledge this shift and adapt their working practices to capitalize on the new world of open source-first differs considerably.
The financial services industry achieved a major milestone last year, with 87% of respondents in our 2022 State of Open Source in Financial Services survey saying they believed open source was valuable for the future of the industry. This result represents a significant achievement for a field with a history of developing proprietary technologies.
In 2021, 40% of survey respondents told us they spent some time at work contributing to open source projects. In 2022, this number was 50%. What will that number be in 2023? Now in its third year, we are in an excellent position to explore open source trends in the industry.
If you work in the financial services industry and are familiar with your organization's approach to open source, click the button below to take the State of Open Source in Financial Services 2023 survey.
Please participate now; we intend to close the survey in early August. Privacy and confidentiality are important to us. Neither participant nor company names will be published in the final results.
To take the 2023 FINOS Survey, click the button below:
BONUS
As a thank-you for completing this survey, you will receive a 25% discount code on enrollment in any course in the Linux Foundation Training catalog.
PRIVACY
Your name and company name will not be published. Reviews are attributed to your role, company size, and industry. Responses will be subject to the Linux Foundation's Privacy Policy, available at https://linuxfoundation.org/privacy. Please note that survey partners who are not Linux Foundation employees will be involved in reviewing the survey results. If you do not want them to have access to your name or email address, please do not provide this information.
VISIBILITY
We will summarize the survey data and share the findings during Open Source Strategy Forum, 2023. The summary report will be published on the FINOS and Linux Foundation websites.
QUESTIONS
If you have questions regarding this survey, please email us at info@finos.org.
About The Linux Foundation
The Linux Foundation is the world's leading home for collaboration on open source software, hardware, standards, and data. Linux Foundation projects are critical to the world's infrastructure including Linux, Kubernetes, Node.js, ONAP, PyTorch, RISC-V, SPDX, OpenChain, and more. The Linux Foundation focuses on leveraging best practices and addressing the needs of contributors, users, and solution providers to create sustainable models for open collaboration. For more information, please visit us at linuxfoundation.org. The Linux Foundation has registered trademarks and uses trademarks. For a list of trademarks of The Linux Foundation, please see its trademark usage page: www.linuxfoundation.org/trademark-usage. Linux is a registered trademark of Linus Torvalds.