2 MIN READ
Take the 2023 Hyperledger Brand Survey and shape the future of blockchain technology
The Linux Foundation | 24 May 2023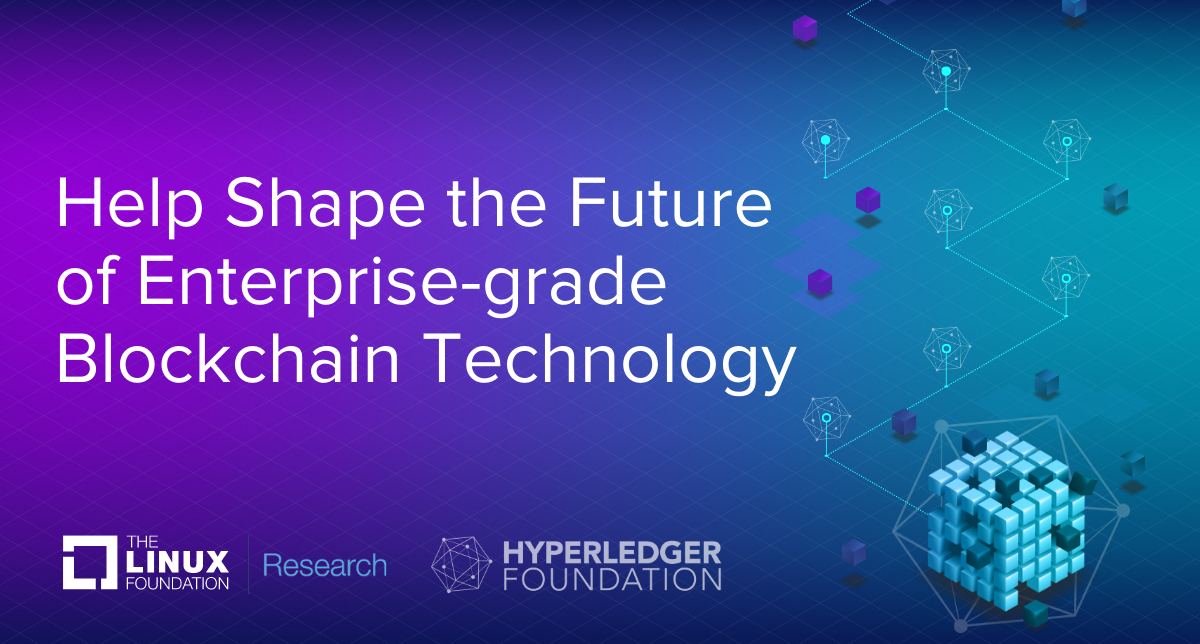 Are you familiar with the potential of business blockchain technology? Do you understand the tenets of Hyperledger Foundation and the innovative projects and tools developed within it? In collaboration with Hyperledger Foundation, Linux Foundation Research is conducting a brand awareness study to delve into these important questions.
Get involved: By participating in the 2023 Hyperledger Brand Survey, you play an active role in shaping the future of blockchain technology. Your insights will guide Hyperledger Foundation and its ecosystem toward fostering enterprise-grade blockchain adoption. This survey will only take around 20 minutes of your time, but its impact can be long-lasting.
As a thank you for your participation, we're offering a discount of 25% off any Linux Foundation e-learning training course or certification exam and 30% off purchases from the Hyperledger Store.
Why participate? The purpose of the survey is to identify myths, misconceptions, and alternative perceptions surrounding Hyperledger Foundation. By gathering insights into the readiness of enterprises to adopt blockchain technology and understanding developer motivations for using or contributing to Hyperledger technologies, we can make informed decisions to further enhance the Hyperledger ecosystem.
Your privacy matters: We understand the importance of privacy and assure you that your name and/or company name will not be displayed. Your responses will be attributed to your role, company size, and industry, ensuring anonymity. Rest assured that your data will be treated in accordance with the Linux Foundation's Privacy Policy, which you can review at https://linuxfoundation.org/privacy. Please note that the survey results will be reviewed by members of Hyperledger's survey committee, who are not Linux Foundation employees.
Visibility and sharing: Your valuable input will not go unnoticed. The survey data will be summarized, and the findings shared later this year. The summary report will be published on the Hyperledger Foundation and Linux Foundation websites, keeping you updated with the latest insights. An in-depth report will also be produced and shared exclusively with Hyperledger members, offering a deeper understanding of the survey's outcomes.
Have questions? If you have any questions or concerns regarding the survey, our team is here to help. Feel free to contact us at survey@hyperledger.org; we will gladly assist you.
To learn more about Hyperledger Foundation and stay informed about its latest developments, we encourage you to sign up for their newsletter at https://hyperledger.org. Join us today in advancing the state of blockchain technology!
Your voice matters. Take the survey now and make a difference.
About The Linux Foundation
The Linux Foundation is the world's leading home for collaboration on open source software, hardware, standards, and data. Linux Foundation projects are critical to the world's infrastructure including Linux, Kubernetes, Node.js, ONAP, PyTorch, RISC-V, SPDX, OpenChain, and more. The Linux Foundation focuses on leveraging best practices and addressing the needs of contributors, users, and solution providers to create sustainable models for open collaboration. For more information, please visit us at linuxfoundation.org. The Linux Foundation has registered trademarks and uses trademarks. For a list of trademarks of The Linux Foundation, please see its trademark usage page: www.linuxfoundation.org/trademark-usage. Linux is a registered trademark of Linus Torvalds.