4 MIN READ
3D Graphics and Virtual World Industry Welcomes Alliance for OpenUSD (AOUSD)
The Linux Foundation | 08 August 2023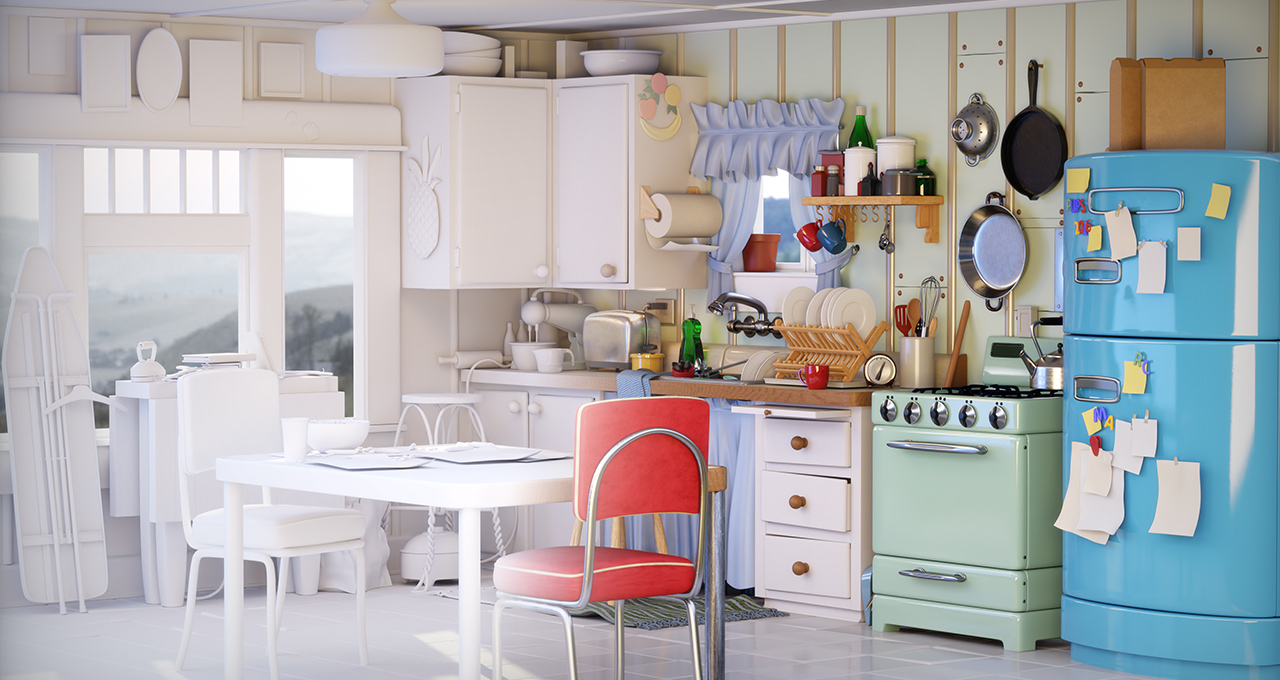 Image of iconic OpenUSD scene 'the Pixar kitchen' from clay render (left) to full render (right).
The exciting world of 3D graphics and virtual world-building is witnessing a transformative shift driven by the escalating demand for immersive digital experiences. A trailblazing collaboration was born in response to this burgeoning landscape – the Alliance for OpenUSD (AOUSD). Founded by Pixar, Adobe, Apple, Autodesk, NVIDIA, and several general members, AOUSD embodies a remarkable instance of industry leaders uniting under an ethos of open source collaboration to establish, develop, and widen the reach of Pixar's Universal Scene Description technology (USD).
In this blog, we'll delve into the significance of AOUSD and the history and benefits of OpenUSD, the foundational technology of this initiative. We'll also explore why an alliance for OpenUSD was created and what the ultimate goals of this novel alliance are.
The pivotal role of the AOUSD announcement
The emergence of AOUSD marks a crucial juncture for the 3D graphics and virtual world industry. The call for open standards promoting seamless collaboration and interoperability increases as the industry flourishes and diversifies. Through AOUSD, industry leaders band together, fostering a unified strategy towards standardization and development.
At the heart of AOUSD is the mission to encourage wider interoperability among 3D tools and data, creating a unified ecosystem that paves the way for seamless collaboration among developers, artists, and designers. This joint venture ensures the industry can thrive amidst rapid technological advancements, fuelling unprecedented creativity and innovation.
Pixar's OpenUSD: The basis for a 3D content standard
Initially conceived and released by Pixar Animation Studios, Universal Scene Description (USD) was devised to support large-scale visual effects and animation in their feature films. However, it quickly became evident that its potential reached far beyond the film industry. Pixar's decision to open source its technology as OpenUSD in 2016 signified its commitment to cooperation and the need for a unifying scene description technology for the industry.
Pixar's foresight into the importance of collaboration and the vision for a universal scene description technology led to the creation of a more streamlined and efficient 3D graphics ecosystem. By open sourcing it, an important first step towards standardization, Pixar laid the foundation for developing a comprehensive scene description standard via AOUSD.
The benefits of Pixar's existing OpenUSD implementation include the following:
Comprehensive Ecosystem and a Unifying Language: OpenUSD is more than just a file format; it serves as a comprehensive ecosystem that supports the entire 3D content creation process. This includes data modeling, aggregation, rendering, and collaboration. In addition, OpenUSD acts as a universal language, standardizing communication among creators and developers, thus unlocking the full potential of 3D graphics and virtual worlds.
Facilitating Interoperability and Collaboration: OpenUSD enhances the interoperability of 3D tools and data and simplifies the exchange of assets and data between diverse software applications. This aspect aids in efficient collaboration among diverse teams and smooth asset management, further contributing to the seamless functioning of the 3D content creation process.
Non-Destructive Workflows: A significant advantage of OpenUSD is its support for non-destructive workflows. Artists and designers can make changes and iterations without permanently altering the original data, enhancing productivity and encouraging creative exploration.
Extensible Framework: OpenUSD provides an extensible framework that empowers developers to build custom tools and APIs. This adaptability allows for technology customization to suit specific needs, fostering innovation and ensuring OpenUSD can adapt to future industry requirements.
Advancing OpenUSD Through AOUSD: Key Objectives and Strategies
The Alliance for OpenUSD (AOUSD) holds a transformative vision for the future of the 3D graphics and virtual world industry. By developing a specification on the basis of OpenUSD, AOUSD is codifying and standardizing approaches to 3D asset management that are already widely used in the industry and creating a platform for additional, interoperable tools to extend the ecosystem for creators and content producers in other industries. Its primary objectives are to:
Embrace Neutrality: AOUSD strives to provide a neutral platform for OpenUSD's development and evolution, akin to the World Wide Web Consortium's (W3C) role in HTML and other web standards. The objective is to represent all stakeholders' interests fairly, avoiding any single entity's dominance over the technology's progression.
Formalize OpenUSD: AOUSD's inaugural task is to transform Pixar's existing OpenUSD code implementation into formal, written specifications. This action aims to clearly delineate OpenUSD's features and benefits, enhancing accessibility for developers and other industry stakeholders.
Promote Broad Adoption of OpenUSD: AOUSD seeks to encourage the widespread adoption of OpenUSD by creating an open, inclusive environment where developers, irrespective of their size or stature, can contribute to the evolution of the technology. This approach ensures that OpenUSD remains adaptable and relevant to the industry's changing needs.
Cultivate Collaboration and Standardization: AOUSD embodies the spirit of the open source movement, striving to foster a collaborative, transparent, and inclusive ecosystem that drives innovation and standardization in the 3D graphics and virtual world industry. By creating a standardized, interoperable, and versatile platform for 3D content creation, AOUSD will empower creators, encouraging innovation and creativity in the 3D graphics and virtual world industry.
Set the Stage for Future Innovation: Through its efforts to translate OpenUSD code into formal specifications under a neutral framework, AOUSD is laying the groundwork for a future where collaboration, interoperability, and creativity become the standard in 3D content creation.
Foster Inclusive Development Landscape: By providing a neutral platform, AOUSD aims to cultivate a development environment where the best ideas, regardless of their origin, can thrive. This approach aligns with the open-source principles of collaboration, transparency, and meritocracy.
AOUSD is pursuing liaison relationships with other consortia, including the Academy Software Foundation (ASWF) OpenUSD Working Group. These collaborations will offer numerous benefits, marking them as a game-changing force within the 3D graphics and virtual world industry.
Conclusion
Through the combined efforts of its founding members and the wider industry, AOUSD envisions a future where it becomes the preferred standard for scene description, fostering greater interoperability, non-destructive workflows, and efficient data exchange. The alliance seeks to unlock new possibilities and unleash the full potential of 3D graphics and virtual worlds by creating a unified environment that fosters seamless collaboration and innovation. As AOUSD charts the path toward a more connected, creative, and vibrant 3D graphics ecosystem, the industry's future looks brighter than ever.