11 MIN READ
At Open Source Summit North America, community strength lit up Vancouver as much as the sun
The Linux Foundation | 16 May 2023
From May 8 to May 12, over 2000 people from the open source community and over 1400 virtual attendees gathered in the beautiful Pacific Northwest city of Vancouver, British Columbia, for the Linux Foundation's premier annual conference, Open Source Summit North America (OSSNA), and related community events. And what a week it was!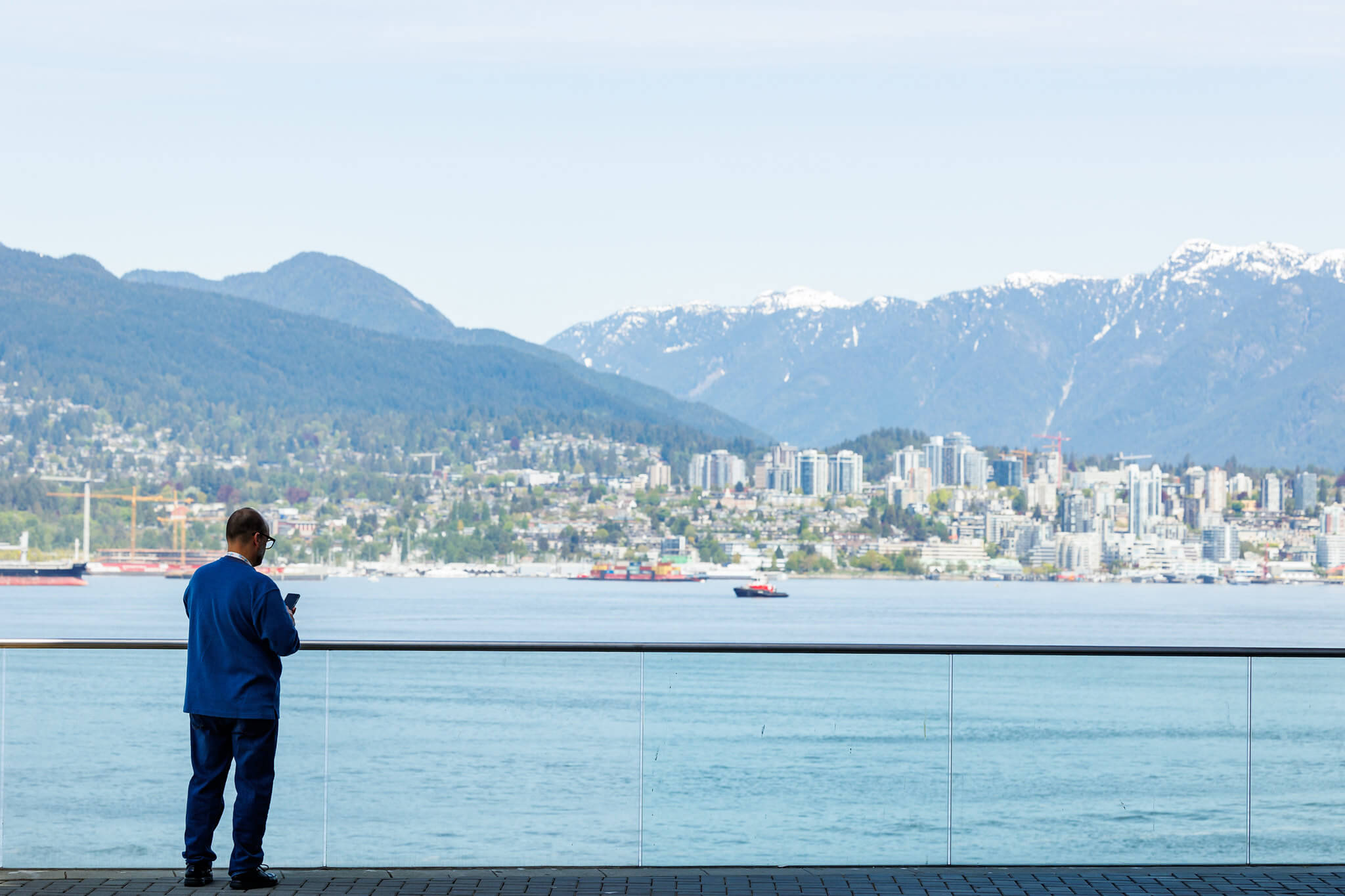 Image: Vancouver's beautiful harborside
Community events such as Linux Security Summit, OpenSSF Day North America, Linux Storage, Filesystem, MM & BPF Summit, CD Con / GitOps Con, Spinnaker Summit, and Open JS Collaborator Summit occurred early in the week.
Over a dozen micro-conferences covered the most critical technologies, topics, and issues affecting open source today and were featured as tracks during OSSNA. Several of these were firsts, such as SustainabilityCon, which covers technological solutions to decarbonize the global economy, mitigate and address the impacts of climate change, and build a more sustainable future, and also the first Open Metaverse Summit, which brought together industry leaders to explore the Metaverse with open technologies.
New Initiatives and AI Innovation
Community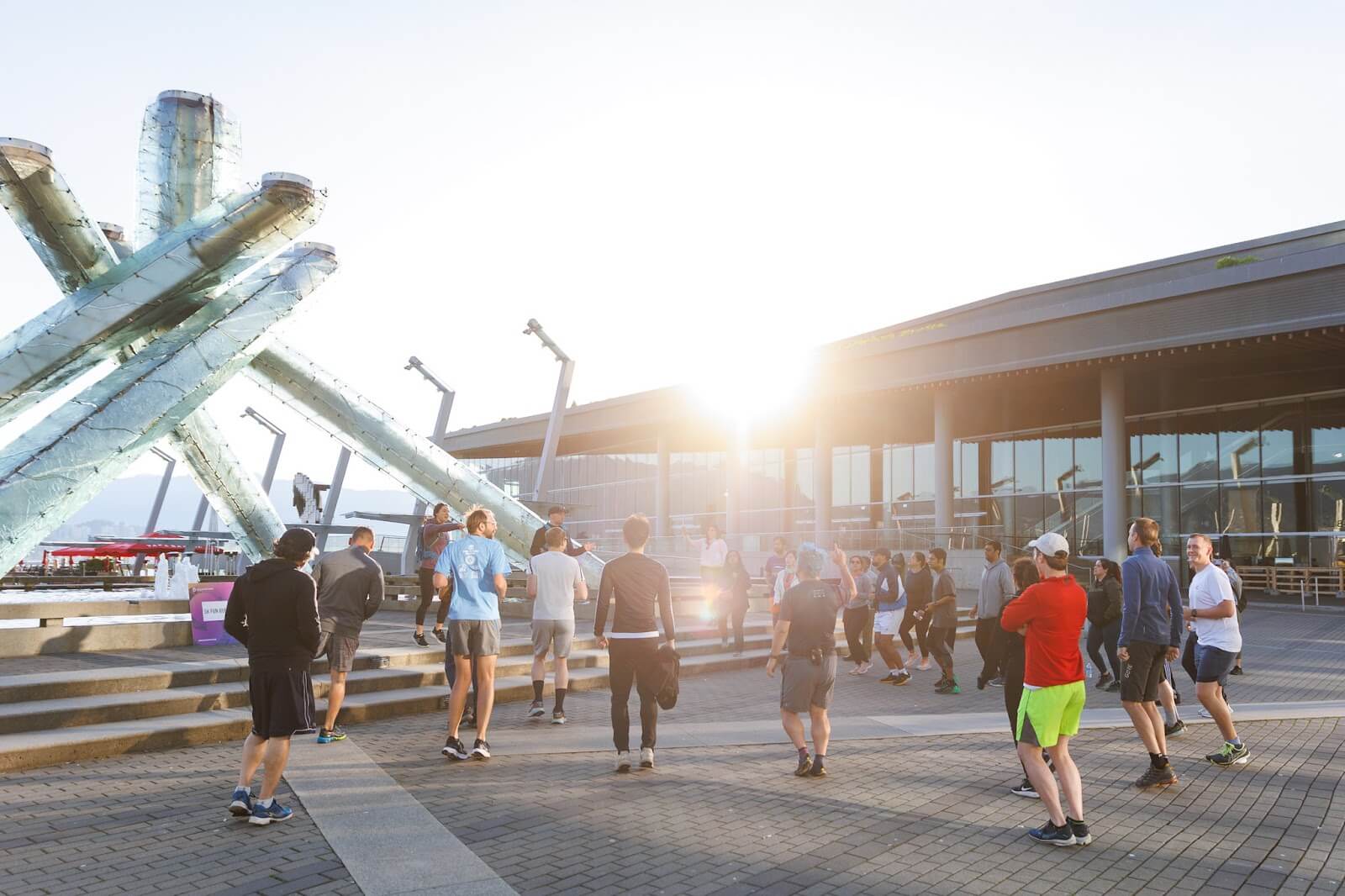 Image: OSSNA 2023 attendees gather at the Vancouver Convention Centre for a morning run.
During the Open Metaverse Summit, community members presented on topics spanning AI, Cloud, Edge, Networking, Digital Trust & Identity, FinTech, and more.
Hyperledger Foundation launched its 2023 Brand Study survey. By taking this survey, you'll contribute to shaping the future of enterprise blockchain and provide crucial information about the Hyperledger brand within the industry. Take the survey now and make your voice count! Influence the refinement of Hyperledger's brand strategy and strengthen its position as a trusted authority in enterprise blockchain.
Software Supply Chain Security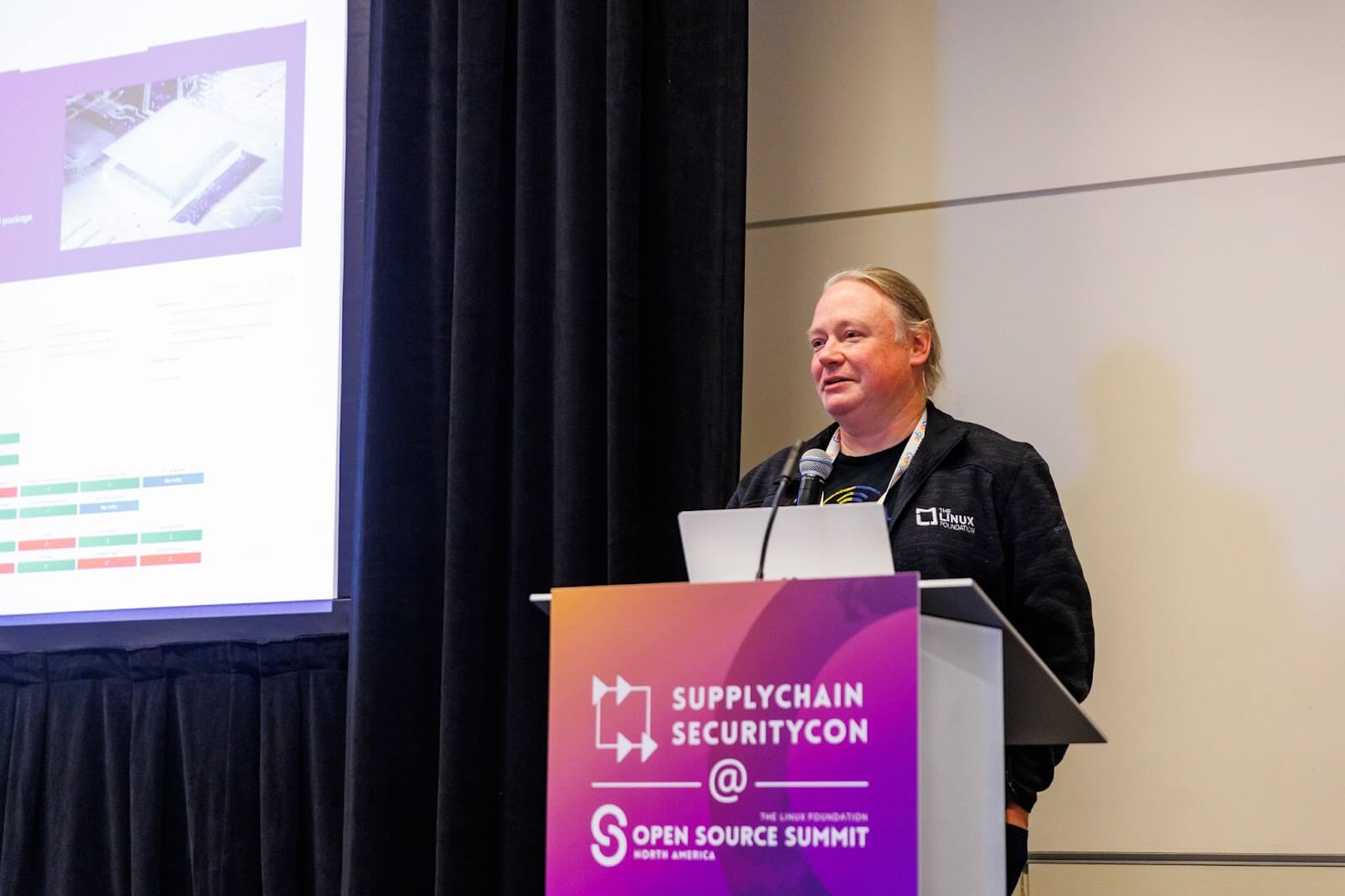 Image: Brian Behlendorf, Chief Technology Officer, OpenSSF
At OpenSSF Day on Wednesday, The Open Source Security Foundation announced that Omkhar Arasaratnam joined as the new General Manager, bringing over 25 years of cybersecurity and technical risk management experience to the role. Brian Behlendorf, the founding GM of the OpenSSF, has transitioned to Chief Technical Officer (CTO).
OpenSSF welcomed four new general members: Hitachi, Lockheed Martin, Salesforce, and SAP, and the Alpha-Omega Project, which seeks to improve security in the most popular open source packages, received $5 million in funding, with contributions from Microsoft and Google.
During SupplyChainSecurityCon, community members presented on topics like SLSA, coordinating vulnerability disclosures, Scorecard, Sigstore, Best Practices Badge, developer tooling for better security, and more.
The Software Package Data Exchange (SPDX) project unveiled SPDX 3.0 release candidate, a significant milestone in evolving this open standard to encompass a broader set of use cases. SPDX 3.0 introduces support for improving the transparency of AI/ML applications and training datasets and secure supply chain infrastructure. This release marks an important step in simplifying software licensing compliance and improving the modularity of the specification.
Sustainability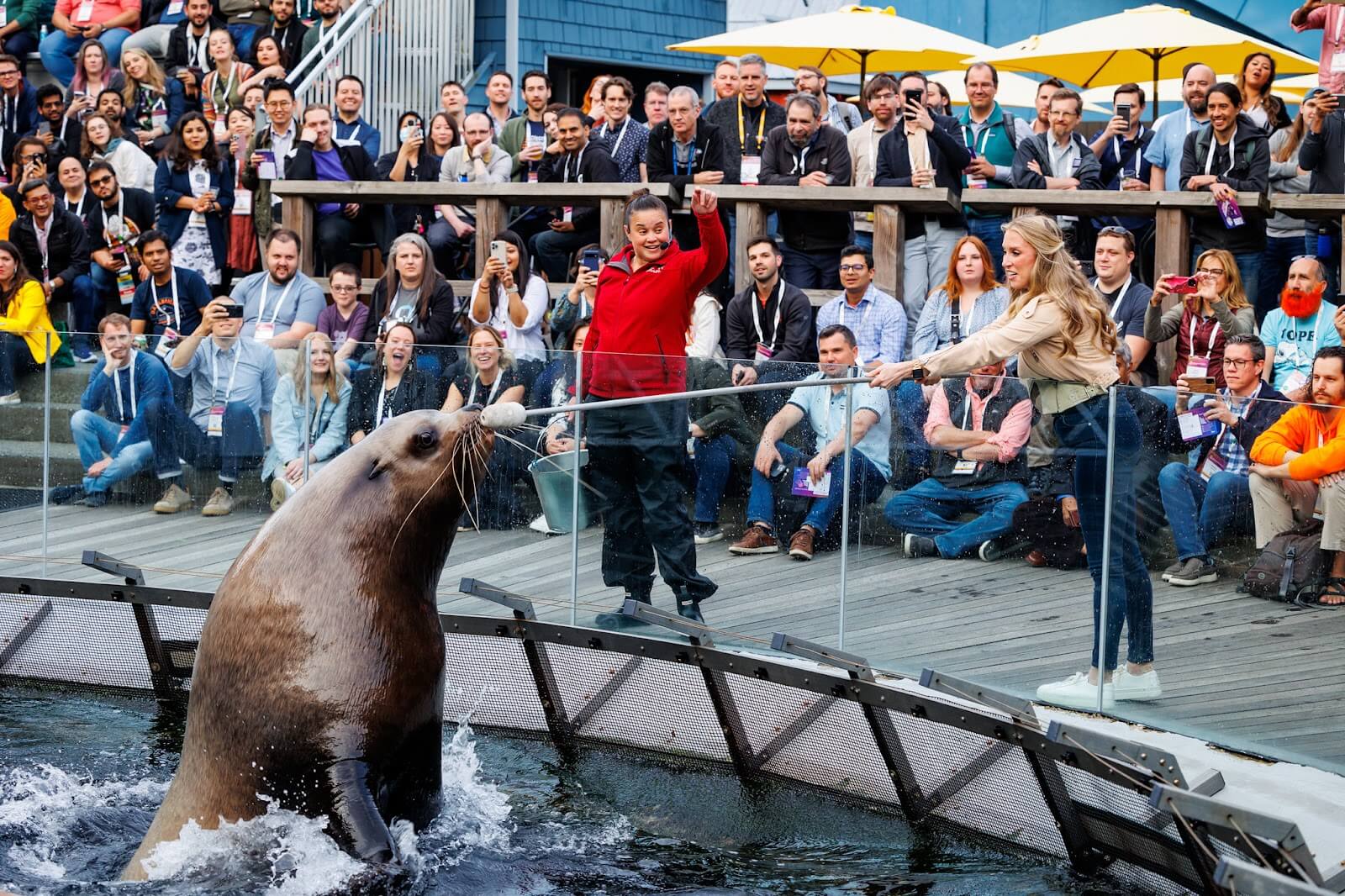 Image: Amak, the 930+ kg (2000 lb) Steller sea lion, greets OSSNA attendees at the event reception at Vancouver Aquarium on May 11, 2023.
At SustainabilityCon, the OS-Climate project launched the Sustainable Africa Initiative in collaboration with The Climate Risk Research Foundation and Generation Humanity. This initiative addresses climate risks and fosters sustainable development in Africa through open source technologies and research. By leveraging the power of open source, OS-Climate and its partners seek to drive positive change and mitigate climate challenges in the region.
Open Source Summit North America was a big splash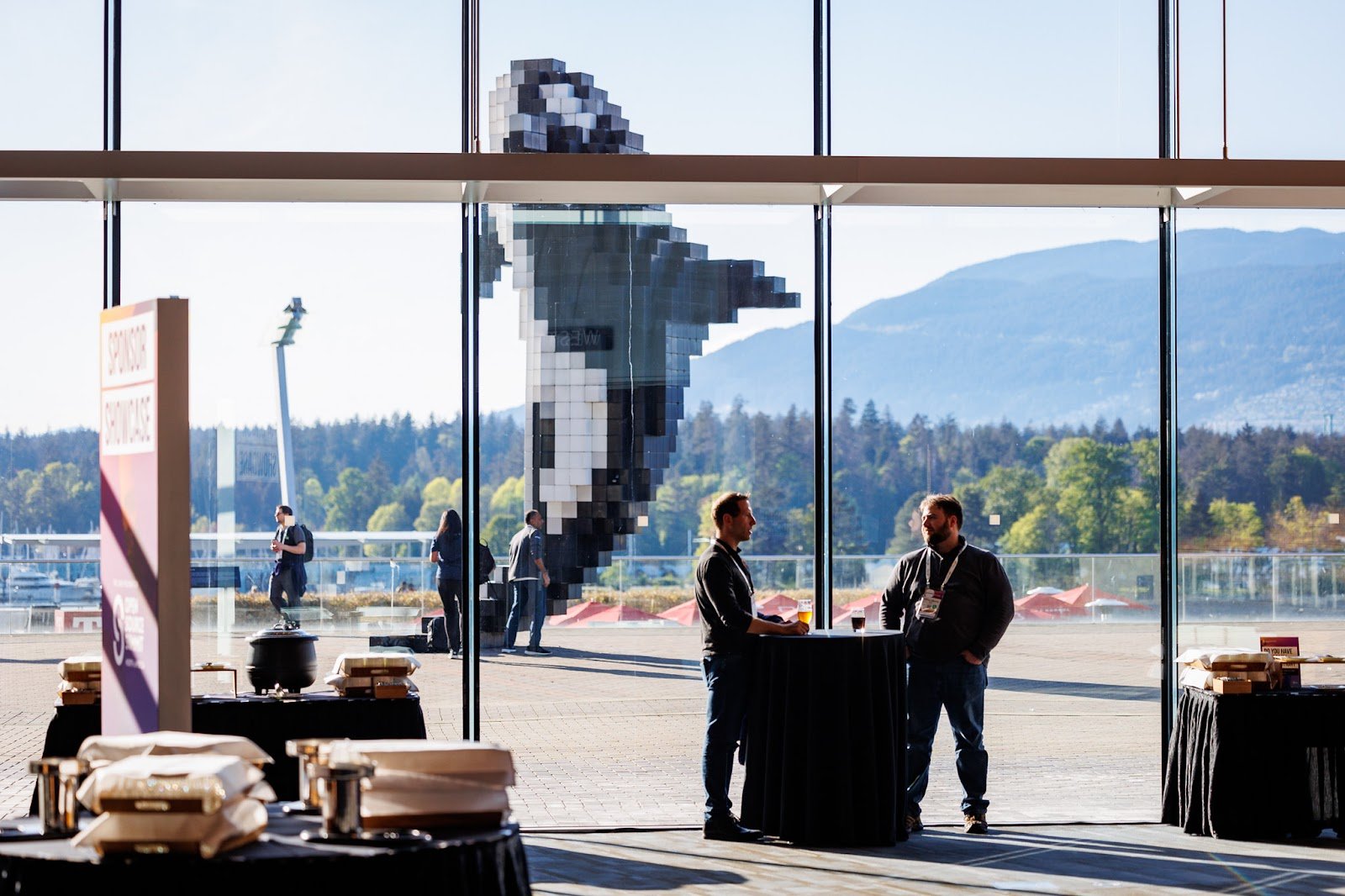 Image: "Digital Orca" by iconic Canadian artist Douglas Coupland on display outside the Vancouver Convention Centre keynote hall.
As we bid farewell to Vancouver, we reflect on the beautiful weather (experience it from a different perspective with OpenChain's seaplane video and Behan Webster's helicopter video) and the joy of reconnecting with friends and colleagues. The open source community remains dedicated to driving positive change and fostering a world of endless possibilities. Open Source Summit North America 2023 brought together a diverse range of foundations, projects, and individuals to celebrate the collaborative and innovative spirit of the open source community.
The event showcased remarkable announcements (see video coverage by The Cube), such as Meta's integration with the OpenJS Foundation and the introduction of sustainability initiatives. Although the event has ended, our journey continues as we look ahead to Open Source Summit Europe in Bilbao this September. Through our collective efforts and ongoing community leadership, we shape a brighter future by creating essential shared technology investments. To those who joined us in person and online and our numerous sponsors, we thank you for a successful week!