8 MIN READ
Elevate Your Organization's Open Source Strategy
The Linux Foundation | 23 August 2022
The role of software, specifically open source software, is more influential than ever and drives today's innovation. Maintaining and growing future innovation depends on the open source community. Enterprises that understand this are driving transformation and rising to the challenges by boosting their collaboration across industries, understanding how to support their open source developers, and contributing to the open source community.
They realize that success depends on a cohesive, dedicated, and passionate open source community, from hundreds to thousands of individuals. Their collaboration is key to achieving the project's goals. It can be challenging to manage all aspects of an open source project considering all the different parts that drive it. For example:
Project's scope and goals

Participating members, maintainers, and collaborators

Management and governance

Legal guidelines and procedures

IT services

Source control, CI/CD, distribution, and cloud providers

Communication channels and social media
The Linux Foundation's LFX provides various tools to help open source communities design and adopt a successful project strategy considering all moving parts. So how do they do it? Let's explore that using the Hyperledger project as an example.
1. Understand your project's participation
Through the LFX Individual Dashboard, participants can register the identity they are using to contribute their code to GitHub and Gerrit (Since the Hyperledger project uses both). Then, the tool uses that identity to connect users' contributions, affiliations, memberships, training, certifications, earned badges, and general information.
With this information, other LFX tools gather and propagate data charts to help the community visualize their participation in GitHub and Gerrit for the different Hyperledger repositories. It also displays detailed contribution metrics, code participation, and issue participation.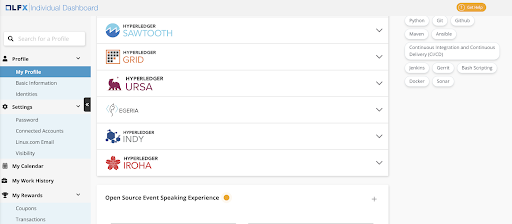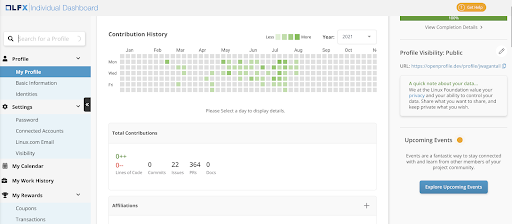 The LFX Organization Dashboard is a convenient tool to help managers and organizations manage their project memberships, discover similar projects to join, and understand the team's engagement in the community. In detail, it provides information on:
Code contributions

Committee members

Event speakers and attendees

Training and certification

Project enrollments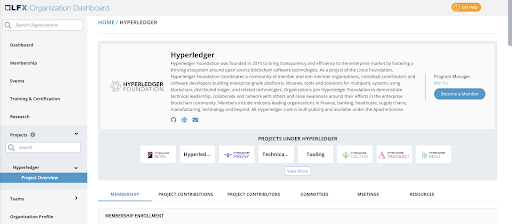 It is vital to have the project's members and participant identities organized to understand better how their work makes a difference in the project and how their participation interacts with others toward the project's goals.
2. Manage your project's processes
LFX Project Control Center offers a one-stop portal for program managers to organize their project participation, IT services, and quick access to other LFX tools.
Project managers can also connect:
Their project's source control

Issue tracking tool

Distribution service

Cloud provider

Mail lists

Meeting management

Wiki and hosted domains
For example, Hyperledger can view all related organizations under their Hyperledger Foundation umbrella, analyze each participant project, and connect services like GitHub, Jira, Confluence, and their communication channels like Groups.io and Twitter accounts.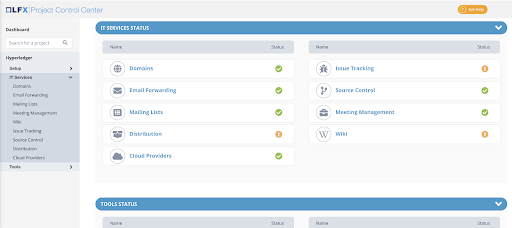 Managing all the project's aspects in one place makes it easier for managers to visualize their project scope and better understand how all their services impact the project's performance.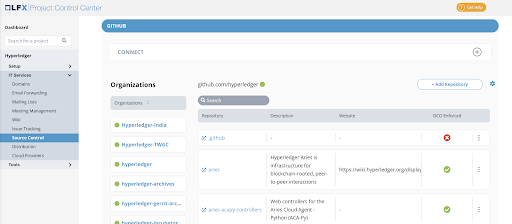 3. Reach outside and get your project in the spotlight
Social and earned media are vital to ensure your project reaches the ears of its consumers. In addition, it is essential to have good visibility into your project's influence in the Open Source world and where it is making the best impact.
LFX's Insights Social Media Metrics provides high-level metrics on a project's social media account like:
Twitter followers and following information

Tweets and retweet breakdown

Trending tweets

Hashtag breakdown

Contributor and user mentions
In the case of Hyperledger, we have an overall view of their tweet and retweet breakdown. In addition, we can also see how tweets by Bitcoin News are making an impression on the interested communities.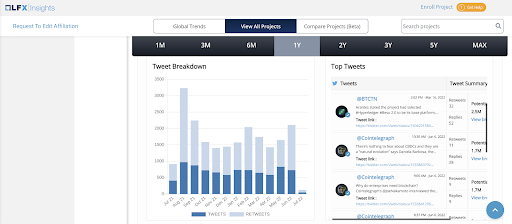 Insights help you analyze how your project impacts other regions, reaches diverse audiences by language, and adjust communication and marketing strategies to reach out to the sources that open source participants rely on to get the latest information on how the community contributes and engages with others. For example, tweets written in English, Japanese, and Spanish made by Hyperledger contributors are visible in an overall languages chart with direct and indirect impressions calculated.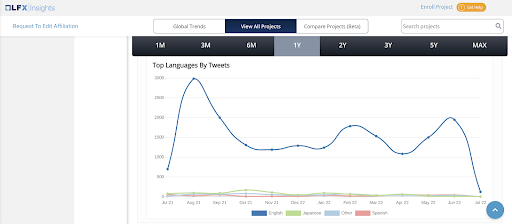 The bottom line
A coherent open source project strategy is a crucial driver of how enterprises manage their open source programs across their organization and industry. LFX is one of the tools that make enterprise open source programs successful. It is an exclusive benefit for Linux Foundation members and projects. If your organization and project would like to join us, learn more about membership or hosting your project.