6 MIN READ
Join us to Speak at the ONE networking event connecting Access, Edge, and Cloud in 2022
The Linux Foundation | 21 July 2022
The top reasons to share your expertise at ONE Summit, the Industry's leading Open Networking & Edge Event
To submit a presentation proposal, please visit our Call For Proposals –-but hurry! Submissions are due July 29.
ONE Summit 2022
ONE Summit is the ONE networking technology event connecting Access, Edge, Core and Cloud. It brings together technical and business decision makers for in-depth, interactive conversations around cutting-edge innovations and the operational support necessary to leverage them.
Newly revamped post-pandemic, ONE Summit's focus is to enable interactive, real-world conversations on the evolution of technology in the distributed networking space. From Communications Service Providers to Government and civil infrastructure, from Retail to the leaders of Industry 4.0, you will be able to collaborate on innovations to truly support your digital transformation.
Inspired by the impact of integration efforts like 5G Super Blueprint, ONE Summit fosters collaborative discussion required to truly scale software for 5G, IoT, the enterprise, and beyond.
Top 5 reasons to speak at ONE Summit:
1) Collaborate with thought leaders from across a growing global ecosystem.
ONE Summit enables the technical and business collaboration necessary to shape the future of open networking and edge computing. The free exchange and presentation of ideas is crucial for the growth of all open source projects and their continued ability to innovate.
2) Immerse yourself in innovative technologies such as 5G, Open RAN, IoT, Enterprise, Cloud Native and more.
Learn about and build on on the successes of Linux Foundation networking & edge project communities, with collaboration across LF Networking, LF Edge, O-RAN- SC, Magma, CNCF, LF AI & Data, and more, to enable attendees to visualize and build their new networking stacks.
3) Learn from your peers across industry verticals solving common challenges.
Networking decision makers gather to address architectural and technical issues, and business use case needs. ONE Summit provides a forum where solutions, best practices, use cases and more – based on open source projects under the Linux Foundation Networking and across the industry– can be shared with the global ecosystem.
4) Unleash the power of open. In a market now built on open source, this is critical.
Virtually all industries have embraced open source in their operations. Collaboration among industry peers is what makes the use of open source in business and the related business models possible.
5) Demonstrate your leadership.
ONE Summit attendees come from all across a growing ecosystem of enterprises, governments, global service providers (including telcos, enterprises, government, global service providers and cloud). With a targeted focus on architects and technical decision makers, ONE Summit is a great place to get your message out
Meet the Program Committee
ONE Summit would not be possible without the involvement and support of our community. The Program Committee is composed of business and open source leaders who are actively involved in the work of developing the next generation of networking and edge technologies for all market verticals. This year's ONE Summit Program Committee is composed of:
Rabi Abdel, Principal Consultant, Global Telecom Practice, Amazon Web Services

Lisa Caywood, Senior Principal Community Architect, RedHat

Wenjing Chu,

Senior Director of Technology Strategy – Trust for the Internet of the Future, Futurewei Technologies

Roy Chua, Founder and Principal, AvidThink

Beth Cohen, Cloud Product Technologist, Verizon

Marc Fiedler,

Architect for Real-time Network Service Management,

Deutsche Telekom

Daniel Havey, Program Manager, Microsoft

Kandan Kathirvel, Product Lead, Telco Cloud & Orchestration, Google Cloud

Trishan de Lanerolle,

Principal Technical Program Manager, Office of the CTO

, Equinix

Catherine Lefevre, AVP, Technology Services – Network Systems Common Platform & Services, AT&T

Tom Nadeau, Fellow, Vice President & Chief Cloud Architect, Spirent Communications

Joe Pearson,

Edge Computing and Technology Strategist, IBM Networking & Edge Computing CTO Group,

IBM

Jim St. Leger, Director, Open Strategy, Intel

Tracy Van Brakle, Principal Member of Technical Staff, AT&T

Olivier Smith, Office of the CTO, Director, Matrixx Software

Cedric Thienot, Co-Founder and CTO, Firecell

Qihui Zhao, NFV Researcher & Network Engineer, CMCC

Amy Zwarico, Director, CyberSecurity, Chief Security Office, AT&T
Who attends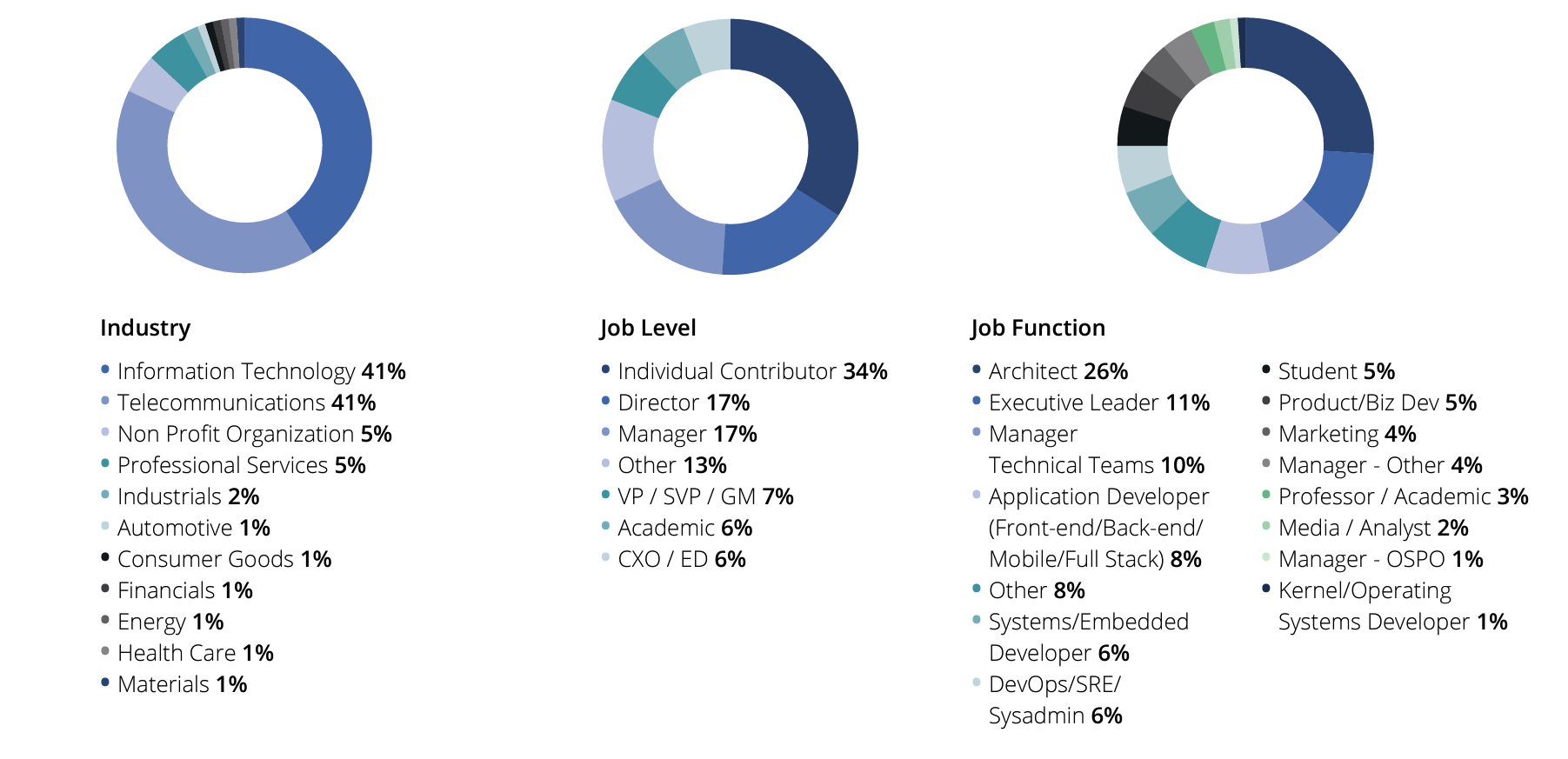 Past ONE Summit attendee demographics. Source: ONE Summit 2022 prospectus
Join with attendees from all market verticals and all organizational levels from all over the world. Attendees don't have to be part of a project to contribute to the discussion and to participate in open collaboration sessions with other attendees. In fact, joining planned sessions and open discussions and collaboration sessions is the best way to get involved with open source projects under the LFNetworking Umbrella.
To learn more about ONE Summit 2022 in Seattle, please visit the ONE Summit site.
About LF Networking
Now in its fifth year as an umbrella organization, LF Networking (LFN) and its projects enable organizations across the globe to more quickly and effectively achieve digital transformation via the community's shared development efforts. This includes companies of all sizes and types that rely on LFN's breadth of commercially-ready ecosystem offerings, all based on open source innovation spearheaded within the LF Networking community. To learn more about LFN, please visit https://www.lfnetworking.org. To learn more about the Linux Foundation, please visit https://linuxfoundation.org.
The author, Heather Kirksey, VP, Community & Ecosystem, LF Networking.