3 MIN READ
Do I Belong? Investigating Belonging in Open Source through the Sense of Virtual Community
The Linux Foundation | 06 April 2023
Authors: Bianca Trinkenreich PhD., Shuah Khan, Kate Stewart
In the world of open source software (OSS) development, attracting and retaining motivated developers is key to a project's sustainability and long-term survival. But what motivates contributors to stay or leave a community? According to psychology, healthcare, and education research, a sense of belonging is a fundamental human need that impacts behavior, long-term engagement, and job satisfaction. For OSS contributors, a sense of virtual community—the feeling of belonging to a group that mainly interacts through electronic communication can influence the vitality of a community and help retain its contributors.
In a recent study, we surveyed 318 Linux Kernel developers focusing on understanding a potential relationship between motivations to join and stay contributing and their perceived sense of virtual community. We also asked about their English confidence and demographic questions.
By analyzing the data, we identified two groups of intrinsically motivated contributors who presented a strong Sense of Virtual Community. Social motivations drive the first group and seek to connect and build relationships with others. The second group comprises contributors who have contributed to OSS for over 20 years and have fun. These contributors have surpassed the initial barriers and found enjoyment in contributing.
While it's true that many OSS contributors are financially compensated by companies that use Linux Kernel, introducing financial incentives into OSS communities can create mixed feelings. Despite the money, OSS contributors may be driven simultaneously by feelings of belonging (intrinsic) and payment (extrinsic). Surprisingly, we found that getting paid to contribute weakens the sense of belonging to the community for both groups of intrinsically motivated contributors.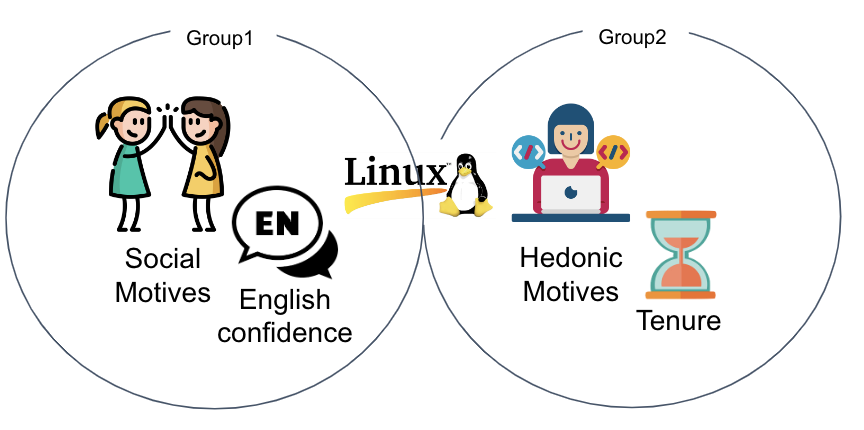 Structural Equation Modeling (SEM) is a statistical technique that combines factor analysis and multiple regression analysis to test and validate complex theoretical models in social sciences and other fields. SEM is a powerful tool for analyzing multiple relationships simultaneously, taking into account the complex interplay between variables. It allowed us to estimate the relationships between the multiple questions about the intrinsic motivations to contribute, English confidence, demographics, and the Sense of Virtual Community construct to validate the theoretical model.
We used SEM to test the hypotheses below and make predictions about the relationships between variables. In addition, by modeling the phenomenon and using a Structural Equation Modeling technique (see the Figure below), we found that a sense of virtual community is associated with practices such as exchanging support, creating identities, producing mutual cognitive and affective trust, and establishing norms and control.

What can maintainers and community-building managers do to retain more contributors?
The Linux Foundation is taking action to strengthen contributors' sense of virtual community – among these is establishing online interest groups, chat rooms, instant messaging, discussion forums, and online tools with shared spaces for contributors to work on issues. The Linux Foundation offers conferences and meetups that help contributors increase social capital and strengthen social relationships within the community. Better interactions can foster social belonging, and exchanging technical support positively impacts the virtual community.
For newcomers to OSS communities, exchanging information and supporting other community members are practices associated with positive feelings toward the community and a stronger attachment to the community. Community members can encourage newcomers to become more active and participate in mailing lists to establish mutual trust and be known by other contributors.
Overall, the study sheds light on how OSS communities can retain their contributors and attract newcomers by fostering a sense of virtual community through better interactions and exchanging support. It's important to note that a sense of belonging is a fundamental human need that impacts not just job satisfaction but emotional patterns and cognitive processes across cultures and different people. By prioritizing a sense of virtual community, OSS communities can ensure the sustainability and long-term survival of their projects.
For more information, check the complete version of this paper,"​​Do I Belong? Modeling Sense of Virtual Community Among Linux Kernel Contributors" ICSE 2023 [Pre print]