5 MIN READ
Exploring the Future of Open Source Solutions in the Mobile Industry
The Linux Foundation | 26 September 2023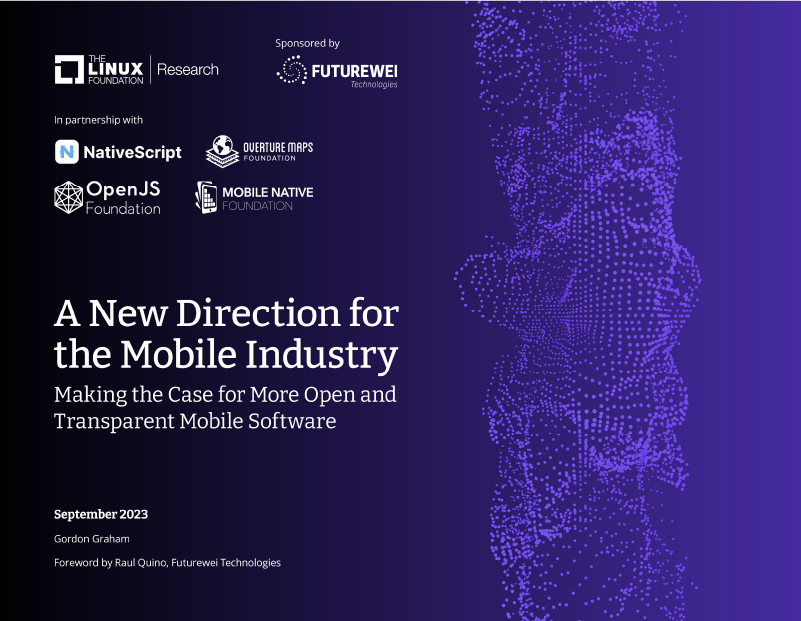 The mobile industry is at a pivotal juncture. Dominated by Android and iOS, the lack of competition has led to stagnation and challenges for developers and consumers alike. In this environment, the opportunity for open source to enhance innovation and growth in the mobile industry is significant.
Published by Linux Foundation Research and authored by Gordon Graham, with a foreword by Raul Quino of FutureWei Technologies, "A New Direction for the Mobile Industry: Making the Case for More Open and Transparent Mobile Software" offers a compelling argument for contributing to open source projects and adopting open source solutions in the sector. This blog post will explore the key insights from the whitepaper, focusing on the open source examples cited, and offer actionable conclusions for stakeholders.
Key insights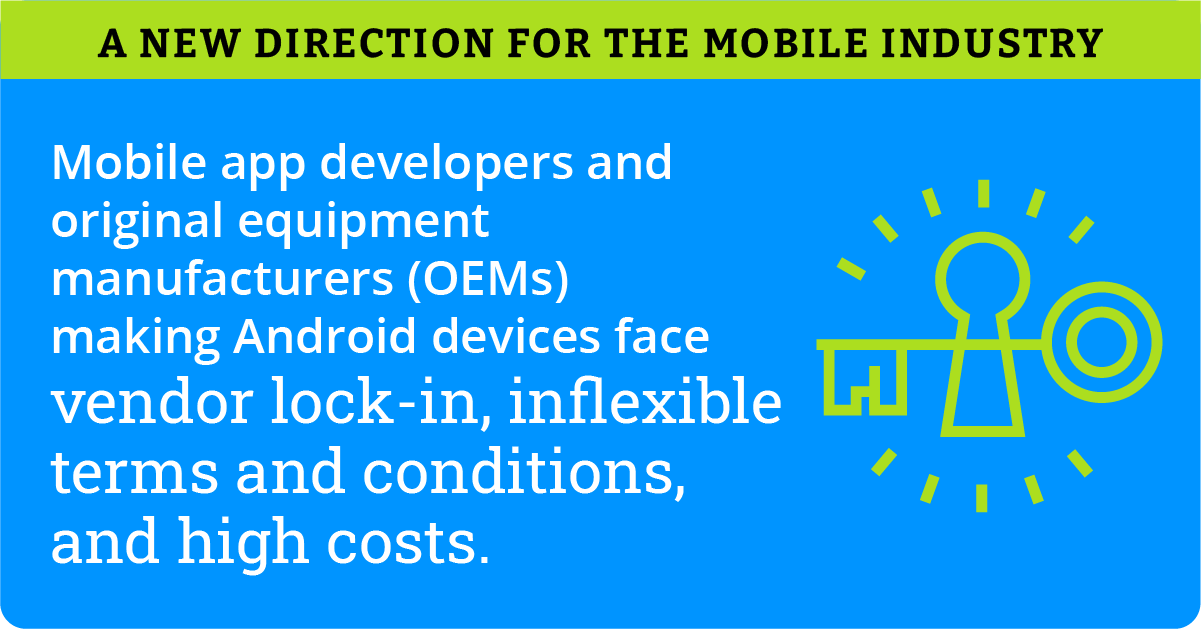 The duopoly problem: The whitepaper starts by painting a stark picture of the mobile industry. With 99% of smartphones running on Android or iOS and almost all apps being served through Google Play or Apple's App Store, the market is essentially a duopoly. This concentration has slowed technological progress, increased costs, and stifled innovation.
Regulatory actions: The European Union has proactively addressed this issue, levying fines against Google exceeding $11 billion since 2018. Antitrust action may soon cause penalties and structural disruption in other parts of the world.
Developer and OEM challenges: Developers and Original Equipment Manufacturers (OEMs) are caught in a web of vendor lock-in, inflexible terms, and high operational costs. These challenges make it exceedingly difficult for new entrants to compete.
Open source as the way forward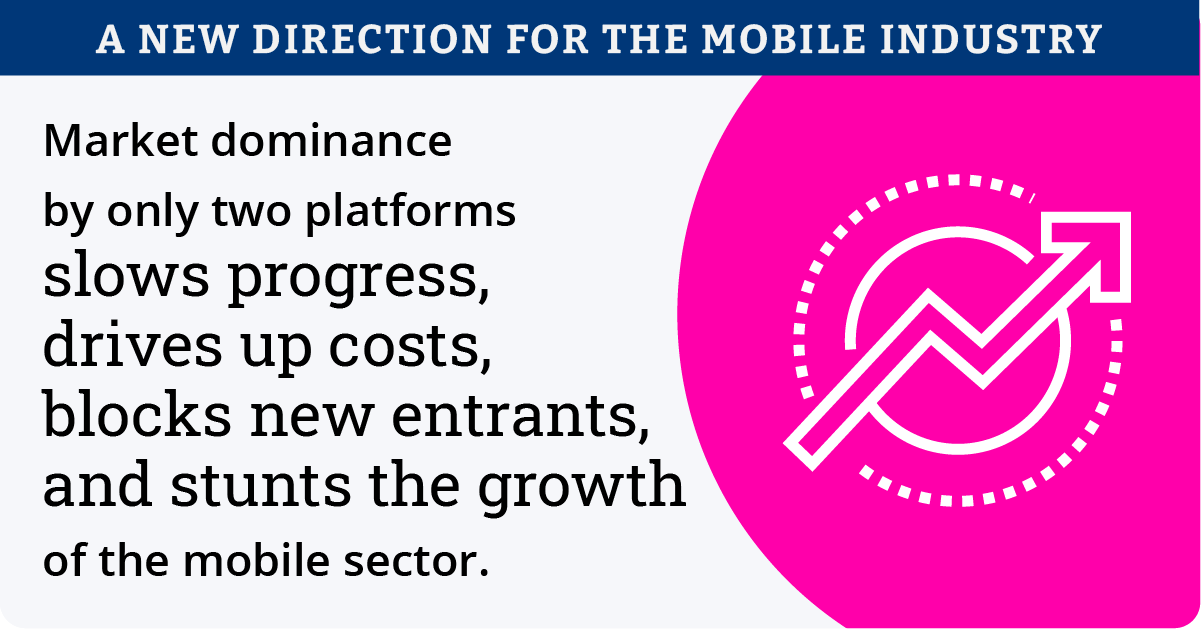 The whitepaper presents the role of open source solutions in reshaping the industry, citing several promising initiatives:
BharOS: Targeted at the Indian market, BharOS offers an alternative mobile operating system stack for device vendors. It aims to break the duopoly by providing a robust, scalable, and cost-effective solution tailored to the needs of the Indian consumer.
Mobile Native Foundation: This initiative provides developers with the infrastructure to build large-scale mobile apps. Offering a set of open source tools and frameworks significantly reduces development time and costs.
NativeScript: NativeScript is an open-source framework for building native mobile apps with Angular, Vue.js, or plain JavaScript. It aims to bridge the gap between the native and web worlds, offering developers the best of both. With NativeScript, developers can use their existing web development skills to build apps that are native to both Android and iOS. This eliminates the need for learning platform-specific languages like Swift or Kotlin, reducing development time and costs. NativeScript also offers a rich ecosystem of plugins and strong community support, making it easier for developers to add native functionalities to their apps without reinventing the wheel.
Overture Maps Foundation: In 2022, tech leaders, including Amazon Web Services, Meta, Microsoft, and TomTom, founded the Overture Maps Foundation (OMF) to democratize global mapping. By mid-2023, OMF released a comprehensive open-source map dataset featuring detailed layers from national boundaries to places of interest. The foundation's leadership highlighted the dataset's industry-changing potential, especially the innovative "Places" layer. While real-time mapping has become more accessible due to smartphone data, creating these comprehensive datasets remains complex. The foundation promotes a collaborative approach, believing that a collective effort can yield a superior, market-grade open map dataset.
Open Mobile Hub: Open Mobile Hub offers an open source alternative to Google Mobile Services (GMS), including compatible API layers that allow existing Android apps to function without requiring new code. This is particularly beneficial for developers looking to break free from the constraints imposed by the dominant platforms.
Gaps to address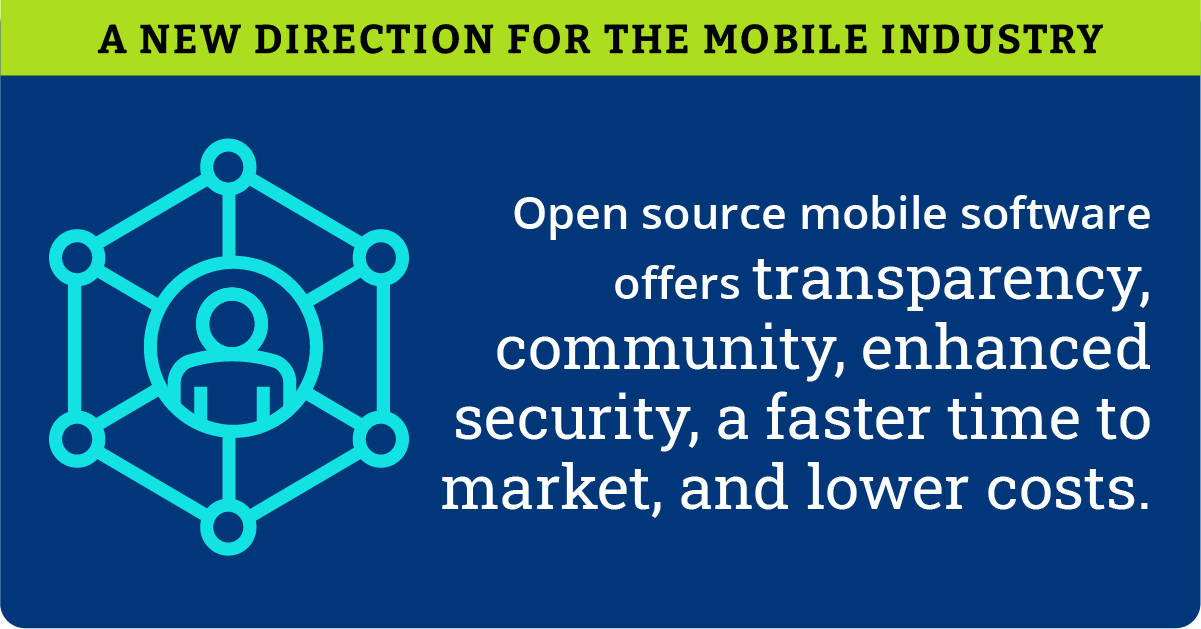 Absence of open ecosystems: The most glaring gap is the lack of a healthy, open ecosystem. Open ecosystems foster innovation and offer benefits to all stakeholders.
Regulatory inaction: Apart from the EU, regulatory bodies worldwide have been slow to act, allowing the duopoly to continue unchallenged.
Slow adoption of open source within the mobile industry: Despite the clear advantages, the adoption rate of open source solutions remains low, primarily due to lack of awareness and the inertia of existing systems.
Get involved
Developers and OEMs: Adopting and contributing to open source projects like BharOS, Mobile Native Foundation, and Open Mobile Hub can offer a way out of the current challenges. These platforms not only reduce costs but also offer greater flexibility and control.
Consumers: Consumers should explore alternatives to the major app stores and support developers trying to break the mold. Consumer choice can be a powerful driver for change.
The industry at large: The industry should actively participate in and contribute to open source initiatives. Open sourcing more components of the mobile software stack can lead to a more resilient and competitive industry.
A New Direction for the Mobile Industry serves as a clarion call for change. By focusing on promising open source initiatives like BharOS, Mobile Native Foundation, and Open Mobile Hub, we can envision a more open, equitable, and innovative future. It's time for all stakeholders to get involved and steer the mobile industry towards a more promising and inclusive future.