4 MIN READ
Insights from the LF Research Energy Transformation Readiness Study
The Linux Foundation | 21 June 2023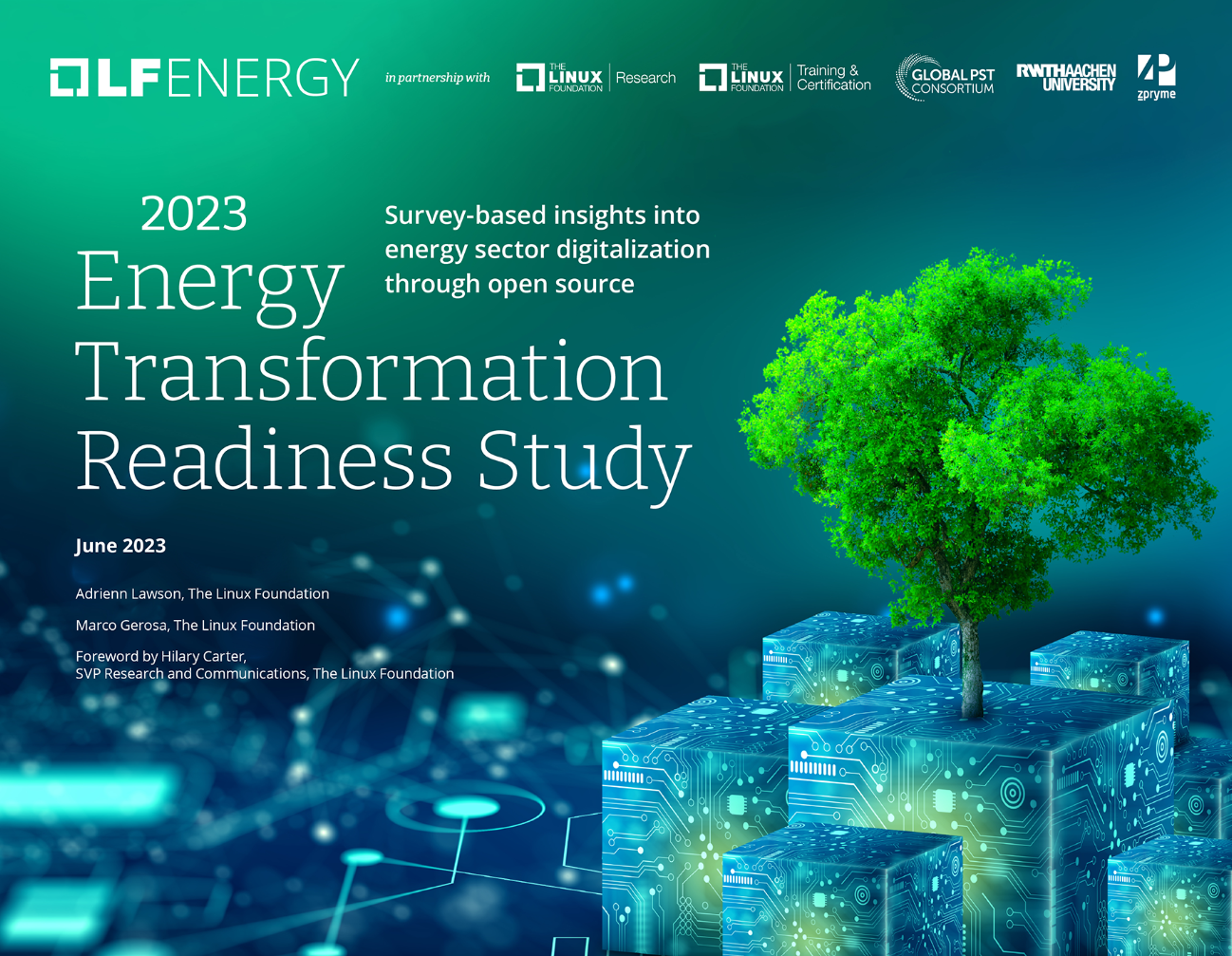 In today's rapidly changing world, the energy sector is undergoing a profound transformation driven by the need to address climate change, the rise of distributed energy resources (DERs), and the increasing adoption of digital technologies. An extensive research collaboration was undertaken to understand the readiness of energy organizations and professionals to embrace this transformation and the role of open source software (OSS) within it. In this blog, we will delve into the reasons behind conducting the Energy Transformation Readiness Study, explore the key findings, and highlight why reading the study report is crucial for industry stakeholders.
The energy sector's transition to a sustainable and decarbonized future is a complex and multifaceted challenge. To navigate this transformation successfully, it is essential to assess the readiness of energy organizations and professionals to embrace digitalization, adopt OSS, and address any associated knowledge gaps. The Energy Transformation Readiness Study, conducted by Linux Foundation Research in partnership with LF Energy, RWTH Aachen, and other stakeholders, aimed to provide insights into these crucial aspects to inform community strategic and programming.
Key insights from the study

Stakeholders are embracing digitalization and data-driven approaches: The study revealed that the vast majority of energy stakeholders actively pursue grid transformation and decarbonization through digitalization. This is welcome news! Organizations understand the benefits of digitalization in enabling new services, automation, and collaboration. However, integrating information technology (IT) and operational technology (OT) processes is ongoing, and digital preparedness remains challenging for many organizations.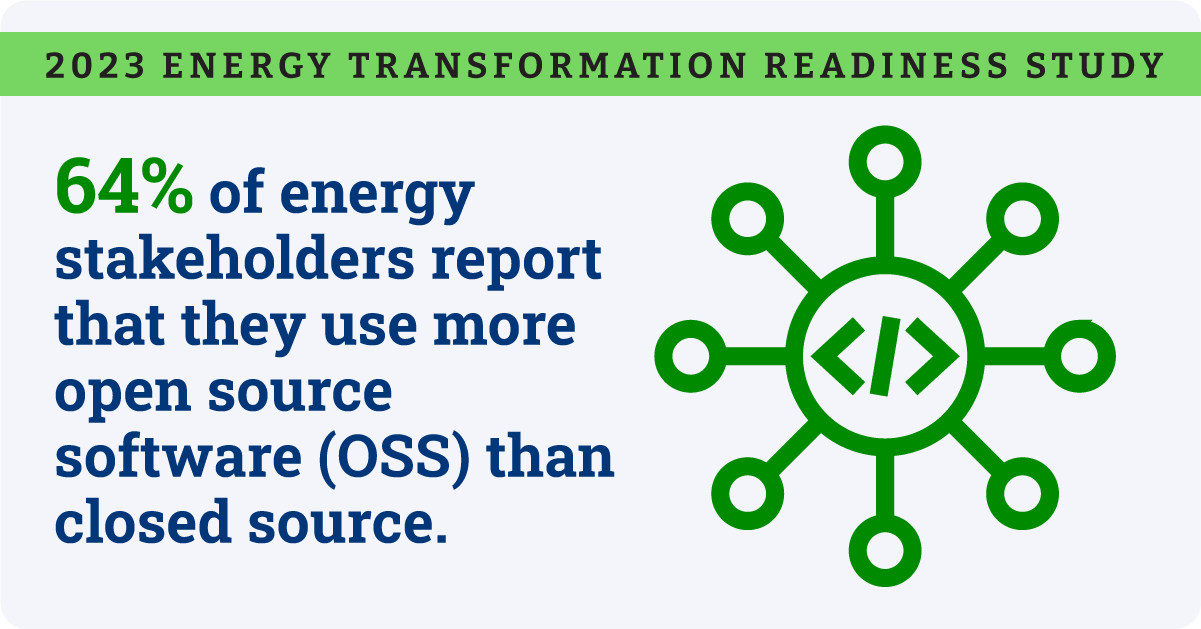 Open source software (OSS) is a powerful tool in the energy transformation equation: OSS emerged as a catalyst for innovation and transformation for nearly two-thirds of survey respondents, which was more welcome news. Energy companies are keen to leverage OSS due to its cost-effectiveness, adaptability, and strong community support. OSS provides the flexibility to develop customized solutions and fosters collaboration and interoperability. However, performance, support, and security concerns must be addressed.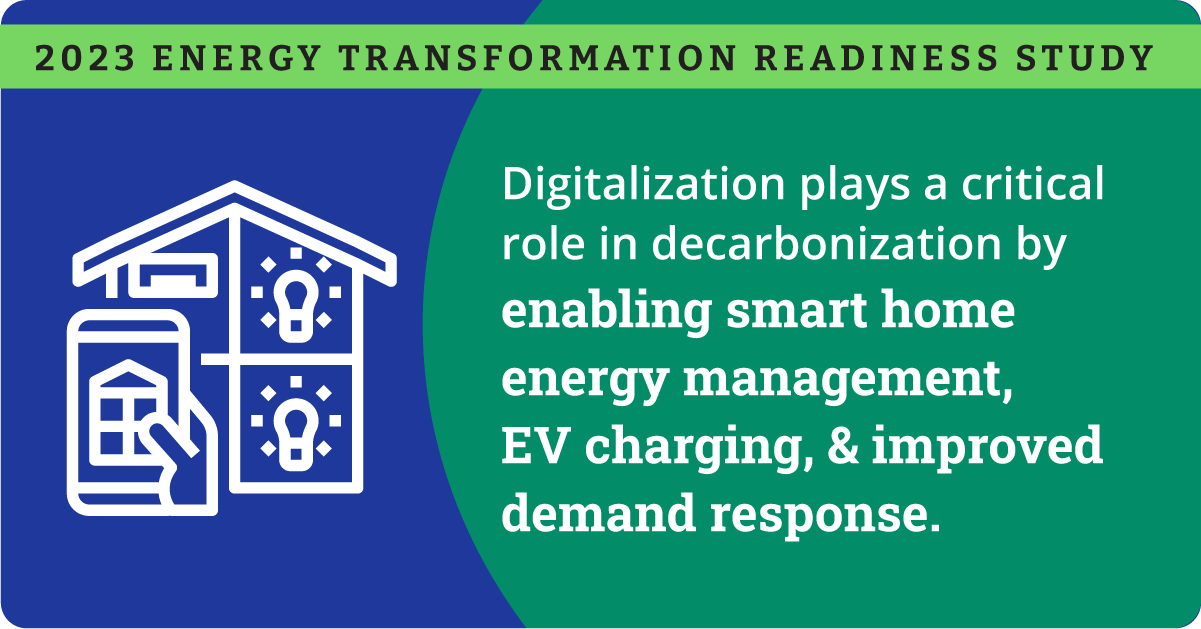 Digitalization enables the advancement towards a sustainable future: The research shed light on the role of open source digitalization in achieving a sustainable energy future. OSS enables the development and deployment of clean energy solutions while ensuring transparency, accountability, and interoperability. Collaboration within OSS communities accelerates innovation, leading to better solutions. The customizability of OSS allows energy stakeholders to tailor software to their specific requirements, fostering local solutions within a global collaboration effort.
Gap analysis
The Energy Transformation Readiness Study aimed to highlight the progress made in the energy sector's digitalization journey and shed light on the existing gaps that need to be addressed. The research identified several gaps encountered by energy stakeholders, providing insight into the challenges energy organizations face. Here, we explore some of these key gaps and pathways to address them effectively.
Digitalization preparedness:

One crucial gap revealed by the study is the varying degrees of digitalization preparedness among energy organizations. While many organizations have recognized the importance of digitalization, integrating IT (Information Technology) and OT (Operational Technology) processes remains a work in progress. This indicates the need for a more systematic change towards digitalization. To bridge this gap, organizations should focus on enhancing their digital readiness by investing in robust IT-OT integration strategies, fostering collaboration between departments, and prioritizing digital transformation initiatives.

Performance, support, and security concerns with OSS:

Despite the growing interest in open source software (OSS) adoption, the study identified concerns regarding performance, support, and security as significant barriers. These concerns highlight the need for the OSS community to address energy stakeholders' apprehensions and build trust. It is imperative for OSS developers and contributors to showcase the capabilities of OSS in terms of performance, robust support mechanisms, and robust security protocols. By actively addressing these concerns, the OSS community can instill confidence among energy organizations and encourage wider adoption of OSS solutions.


Knowledge gap in digital skills: The study brought to light a moderate knowledge gap in digital skills among energy professionals. As the industry increasingly relies on digital technologies and data-driven approaches, bridging this knowledge gap becomes essential. Organizations should prioritize investing in training and development programs focusing on digital skills, such as data analytics, software development, and cybersecurity. By upskilling their workforce, organizations can ensure they have the necessary expertise to leverage digital technologies effectively, make informed decisions, and drive successful energy transformation.
Collaboration and governance compliance: The study emphasized the importance of collaboration and governance compliance in OSS adoption. Energy organizations recognized the role of Open Source Program Offices (OSPOs) in facilitating OSS governance. However, further efforts are required to enhance collaboration and ensure industry standards and regulations compliance. Establishing robust OSPOs and fostering collaborative environments within the energy sector will promote knowledge sharing, best practices, and compliance with governance requirements, driving sustainable OSS adoption.
Addressing these gaps is crucial for the energy sector to successfully navigate the challenges posed by digitalization and achieve its transformation goals. By proactively tackling these challenges, energy organizations can position themselves as leaders in the industry, embracing the potential of digital technologies and OSS to drive innovation, sustainability, and resilience.

Conclusion
The Energy Transformation Readiness Study provides vital insights into the readiness of energy organizations and professionals to embrace the digitalization and decarbonization journey. By reading the report, you will gain a comprehensive understanding of the current landscape, actionable recommendations, and strategies to drive the energy sector's transformation toward a sustainable and decarbonized future.