5 MIN READ
Key Insights from "The European Public Sector Open Source Opportunity"
The Linux Foundation | 21 September 2023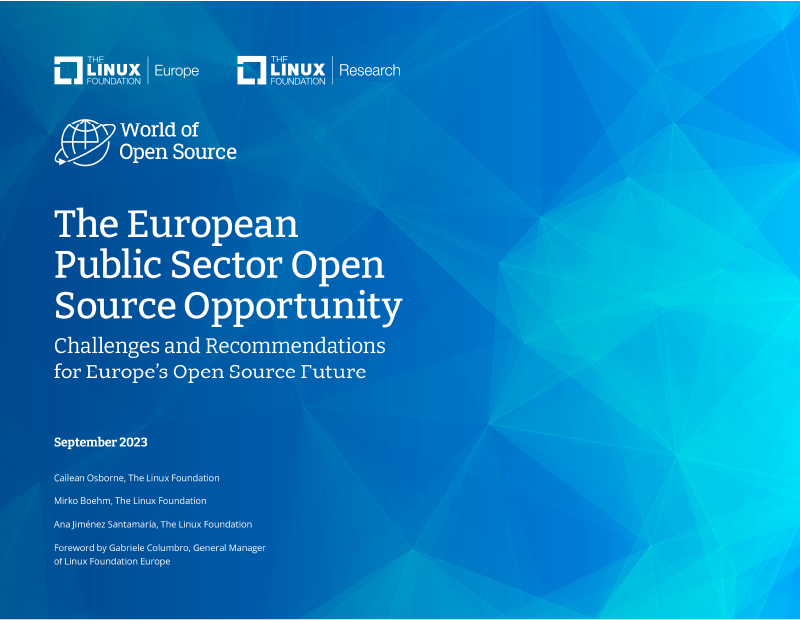 In an era where digital transformation is not just a buzzword but a necessity across industries, Open Source Software (OSS) has emerged as a driver for public sector innovation. The Linux Foundation's groundbreaking report, "The European Public Sector Open Source Opportunity," written by Cailean Osborne, Mirko Boehm, and Ana Jimenez Santamaria, with a foreword by Gabriele Columbro, GM of Linux Foundation Europe, explores the intricate and essential relationship between OSS and public governance.
Why this report is a must-read
For public sector leaders and policymakers
If you are leading a government, a government department agency, a supra-governmental institution, or a municipality, this report will provide inspiration for effectively integrating OSS into public sector strategies. It provides insight into the opportunities created when transitioning from traditional software solutions to more transparent, cost-effective, and secure OSS alternatives.
For tech leaders and developers
For those in the tech industry, especially developers, this report provides a window into the current opportunities available in public sector projects and provides a framework for contributing to these projects, making it a valuable resource for anyone looking to expand their impact. This entails:
Project Identification: Identify public sector projects that align with your skills and interests, ranging from data analytics platforms to public health applications.
Community Engagement: Engage with the existing community around the chosen project, such as participating in forums, attending webinars, or contacting current contributors directly.
Code Contribution: Once you're familiar with the community and have identified the areas where you can contribute, start contributing code; this could be bug fixes, feature additions, or even architectural improvements.
Governance Participation: For those looking to make a long-term impact, the report guides you on how to get involved in the project's governance. This could involve becoming a maintainer, joining steering committees, or participating in decision-making processes.
Ongoing Maintenance: Long-term maintenance is often overlooked. Your contributions don't end once the code is merged; they continue through bug tracking, updates, and community support.
For citizens
As a citizen, you have the most to gain from a transparent and efficient government. Understanding the role of OSS in public governance and the development of cost-effective digital solutions can empower you to hold your government accountable for its digital transformation initiatives and better manage the cost of citizen-centric services.
Key insights
The comprehensive benefits of OSS
Open Source Software (OSS) is a strategic asset for public sector organizations, offering a range of benefits beyond cost-saving. It is pivotal in increasing transparency in digital transformation efforts fostering a culture of openness and accountability. Moreover, OSS benefits from many eyes, creating opportunities for enhanced software security and providing a more robust framework for collaboration in developing public digital infrastructure.
Need for awareness among decision-makers
One of the most significant challenges facing the adoption of OSS in the public sector is the need for more awareness among key decision-makers. Despite the clear advantages, a knowledge gap hinders the full realization of OSS's potential. This lack of understanding is a critical barrier to adopting and effectively utilizing OSS.
A global approach to digital sovereignty
While Europe has been at the forefront of championing digital sovereignty, there is a growing recognition of the need for an inclusive, global approach to OSS. This perspective aims to prevent regional fragmentation and to contribute to a robust, globally competitive OSS ecosystem.
Municipal collaboration
Local governments are increasingly taking an active role in the OSS landscape. Municipalities are collaborating on developing, maintaining, and governing shared OSS solutions, addressing common business needs and community challenges.
The intersection of open source and open government
OSS is not just a technological tool; it's a facilitator of open governance. By enhancing transparency and accountability, OSS enables a more engaged citizenry, fostering a more democratic governance model.
Public-private synergy
The public sector is forming partnerships with private companies to leverage OSS in collecting and releasing open data. This collaborative approach benefits all stakeholders, from government bodies to citizens, and adds another dimension to the value proposition of OSS.
Recommended actions
Bridging the awareness gap
Educational initiatives should be implemented within public sector organizations to address the limited awareness among decision-makers. These could range from workshops to comprehensive training programs aimed at elucidating the strategic value of OSS.
Fostering global collaboration
Europe should collaborate internationally to avoid regional fragmentation while championing digital sovereignty. Efforts could involve sharing best practices, codebases, and even initiating joint OSS projects with other countries.
Empowering municipalities
Local governments should have the resources and training to participate in OSS projects actively. This will solve local issues and contribute to the broader OSS ecosystem.
Encouraging public-private partnerships
Governments should actively seek partnerships with private companies to leverage OSS for mutual benefits, particularly in open data. Such collaborations could be formalized through Memorandums of Understanding (MoUs) or similar agreements.
Gaps identified
Procurement and technical barriers
One of the most significant barriers to OSS adoption in the public sector is the outdated procurement processes, often not designed with OSS in mind. Coupled with this is a need for more technical competencies within public sector organizations, which hinders effective implementation.
Managerial buy-in
Another critical gap is the need for more managerial buy-in. Without the support from upper management, even the most well-planned OSS initiatives can falter. This gap highlights the need for a top-down approach to OSS adoption, where the leadership actively champions OSS projects.
Need for cross-sector coordination
There is an urgent need for greater coordination across different sectors and stakeholders within Europe's OSS community, and it is crucial for a more holistic approach to policy-making and implementation concerning OSS.
Funding mechanisms
A significant gap is the need for dedicated funding mechanisms for OSS projects in the public sector. Following successful models like Germany's Sovereign Tech Fund, governments should establish dedicated funds to support the sustainability of open source digital infrastructure.
Get involved
Policymakers
Don't just read the report—act on it. Engage with multi-stakeholder working groups, incorporate the report's recommendations into your policy drafts, and immerse yourself in OSS community events. To take your commitment to the next level, join Linux Foundation Europe as an Associate Member (free for nonprofit, academic, and government agencies). It's a platform where you can collaborate with like-minded professionals and impact public sector digital transformation.
Developers and non-code contributors
Your skills are needed more than ever. Seek out public sector OSS projects that resonate with your expertise and contribute to solving the challenges identified in the report. To expand your network and collaborate on a larger scale, consider joining The Linux Foundation OSPO Community, the TODO Group. It's an open community of practitioners who aim to create and share knowledge and collaborate on practices, tools, and other ways to run successful and effective Open Source initiatives (AKA OSPOs) within organizations.
Citizens
Knowledge is power. Stay abreast of your government's digital transformation initiatives and hold them accountable for their actions in the OSS space. Your voice matters, and you can amplify it by reading Linux Foundation Europe's news to be an informed participant in shaping the future of OSS in public governance.