5 MIN READ
Linux Foundation Project Communities Collaborate Onsite at OCP Global Summit 2023
The Linux Foundation | 12 October 2023
Linux Foundation projects and communities will be out in full force at the Open Compute Project's OCP Global Summit, October 17-19, in San Jose, CA! As a fellow open source community working towards common goals of working together to accelerate technological transformation, we work closely with OCP in various capacities across both organizations. Read below for an overview of our onsite presence at the event, and we hope to see you there!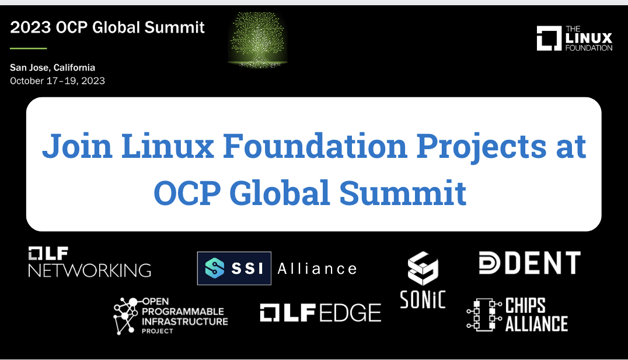 CHIPS Alliance


Come learn about open source hardware collaboration and the exciting ecosystem that CHIPS Alliance is fostering as part of the Linux Foundation. We offer open source hardware IP all the way from chip technology process design kits, electronic design automation, cell libraries, and higher level IP such as the root of trust Caliptra macro that is being showcased here as part of the OCP global summit. Be sure to catch one of the exciting technical talks on Caliptra at OCP.


DENT

Mini-Summit:
Join DENT on October 18 for an inspiring morning filled with insights and innovation as we dive into the future of networking at the DENT Mini-Summit. The event will happen from 8 am to 12 pm inside room LL20A. Come join us as we discuss how DENT is enabling the evolution of customer expectations through Linux Kernel networking. Take a peek at our full schedule.


DENT Booth: Visit the DENT booth, located directly behind the Experience Center at booth C38. Stop by to meet community members, watch demos that spotlight advantages of using DentOS and just how user-friendly the software has become, pick up swag, or just just "Hi!"


And check out all of the DENT-related speaking sessions happening as part of the main OCP event.

SONiC

SONiC Workshop: Join the SONiC community to explore the future of networking at the SONiC Workshop! The Software for Open Networking in the Cloud (SONiC) Foundation would like to invite you to participate in our upcoming SONiC Workshop, a co-located event at the OCP global summit on October 17, 2023 from 1-5 pm at room LL20A. Come learn about the latest developments of SONiC from industry experts including innovations in NOS management, improvements in routing, software defined networking, and system design. Check out the event schedule.

SONiC Booth: Visit the SONiC booth to meet community members, gain in-depth insights into SONiC, watch live demos showcasing its capabilities, and grab fantastic SONiC swag.

The

OCP Global Summit agenda

offers a variety of SONiC-focused sessions. Check out

all the not-to-miss SONiC sessions.




LF Edge

Edge-Native AI Hackathon : LF Edge teamed up with

ETSI

and OCP to engage our collective communities and combine our efforts to see how we could influence Edge with Native AI. Each team was asked to address these 3 challenges:

How best to utilize edge-native and AI into data analytics and automation?
How is edge-native and AI useful to enhance sustainability in applications, services and networks?
How to deploy and utilize AI in 5G edge infrastructure to enable edge-native distributed applications?
The three finalist teams (Green Cyclops, Sheikah Tower / The AI Tower, PaLC.) will present demonstrations/presentations of their hard fought solutions on the expo hall floor. October 18 at 3PM on the Main Expo Hall Stage, there will be a pitch off and winners will be selected and announced.

More info about the hackathon here ▶ https://www.opencompute.org/blog/the-1st-round-of-the-2023-edge-native-ai-hackathon-is-complete

LF Edge community members will be present on site to chat about the projects in booth C37.


SSIA / Open 19

Happy Hour: The SSI Alliance is hosting a happy hour at OCP to foster this much-needed collaboration and while having some fun! The event is Wednesday, October 18, 2020, 6:00-8:30 pm at Mezcal Restaurant, 25 W San Fernando St, San Jose, CA 95113. Please check out more details and RSVP on our Meetup page. You can also check out more about SSIA's involvement at OCP on the events page of our new website.

SSI Alliance community members will be present on site to chat about the projects in booth C38.

Ultra Ethernet Consortium (UEC)

Meet Ultra Ethernet Consortium (UEC) at OCP to discuss important trends in the industry. UEC recently opened doors to new member applications. Join us at booth C39 if you have any questions about joining UEC.

Open Programmable Infrastructure (OPI) Project

The Open Programmable Infrastructure (OPI) Project will show the first real-world use case example built on the OPI framework. This first demo paves the way for using the OPI framework to offload key infrastructure management services like security, load balancing, and API gateways from the host CPU to the DPU.

Stop by the Arm booth (B14) to see the new demo.

LF Networking

Stop by the Linux Foundation booth C37 to learn more about LF Networking and how it collaborates with OCP across the open networking stack.