5 MIN READ
New Research into the State of Open Source in Financial Services Report Points to Growth: And that's Welcome News for the FINOS Community
The Linux Foundation | 17 January 2023
In 2021, the Linux Foundation and the Fintech Open Source Foundation (FINOS) conducted the first annual survey and in-depth study into the State of Open Source in Financial Services. This initial study was important because it was critical to forming a baseline of understanding around what open source activity was taking place within this highly regulated and competitive industry regarding leadership, consumption, contribution, governance, and culture.
The inaugural report's key findings identified that despite widespread open source adoption in financial services, there remained additional opportunities to leverage open source to improve efficiency and innovation.
In continuation of this effort and to gain a broader understanding of the current state of open source in financial services, a second research project was commissioned (with the objective for this activity to take place annually), culminating in the release of a report at FINOS's Open Source in Finance Forum (OSFF) in NYC at the end of 2022.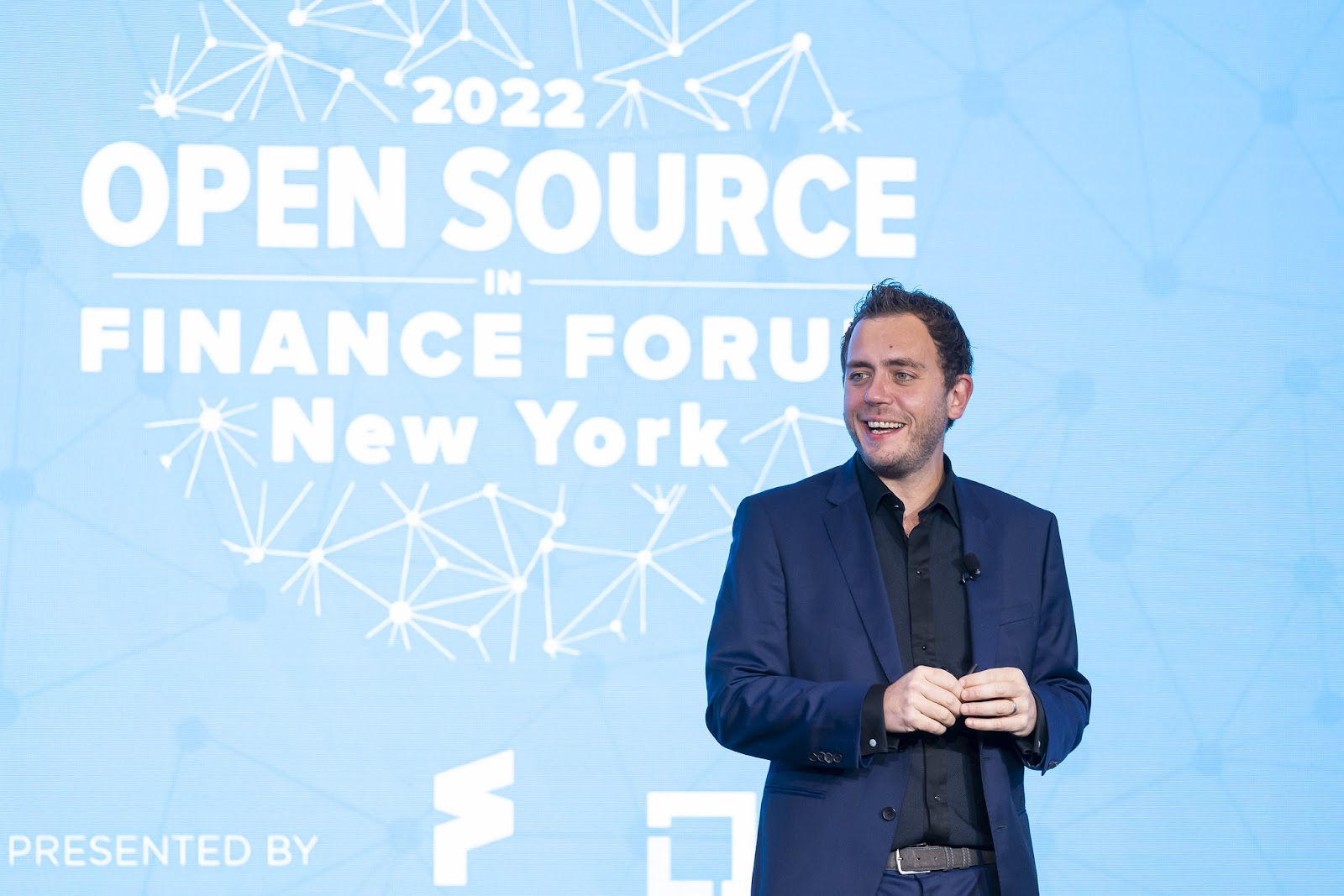 FINOS Executive Director and LF Europe General Manager Gabriele Columbro
The 2022 State of Open Source in Financial Services draws on survey data, industry data, and insights culminating from a series of qualitative interviews and makes year-over-year comparisons to the industry from 2021, using empirical methods to identify trends specific to open source aspirations, consumption, contribution, and leadership, in addition to obstacles and challenges faced by the financial services industry when it comes to open source.
The report was conducted in partnership with GitHub, Linux Foundation Research, Red Hat, and Scott Logic, and contains new insights highlighting industry growth.
Actionable insights
Among the many insights gleaned from the analysis of the study, the 2022 report highlights the following key takeaways:
The industry is making more commits. GitHub repositories with commits from financial services institutions are up 43% over 2021.
Signs point to a greater appreciation of the value of open source. 87% of respondents agree that open source is valuable to the future of the financial services industry.
Consumption is getting a lot of attention. Open source consumption is encouraged in 48% of organizations, almost double the number from 2021.
Contribution could use more attention. Organizations with OSPOs are almost three times more likely to encourage contribution than those without.
Security is still a major focus of contribution efforts. 48% of respondents strongly agree that improving security is a top reason their organization should contribute to open source, up 28% from 2021.
Who should read the report?
The industry has made great strides in addressing long-standing interoperability and innovation challenges. Also, there have been significant increases in the adoption of open source within financial services since the release of our first report. Thus, as with the first iteration, The 2022 State of Open Source in Financial Services should be read by leaders from banks, asset and hedge fund managers, and other financial institutions, including insurance.
Additionally, this report will be relevant to the fintech community and anyone building and integrating products for the financial services industry, such as independent software developers, consulting firms, and SaaS providers leveraging open source technologies, as well as financial regulators and industry bodies working to improve industry standards and software transparency.
Why are the findings significant?
Since 2021, a wave of acceleration in adopting open source swept across the FINOS community and the financial services sector, which was identified by the second annual study.
Last year, we also saw the rise of VC-backed commercial open source fintech startups openly discussing fintech as the next industry to be disrupted by open source. Even regulators worldwide are now acutely aware of the fundamental role that open source plays in financial services and beyond and are increasingly open to collaboration. Finally, established industry consortia and SDOs also recognize open source as the most viable option to drive real adoption for their standards. Unquestionably, 2022 was the year in which we saw all the building blocks for an organic, growing, and sustainable open community fall in place, with the wheels of innovation spinning faster and faster in our ecosystem." – Gabriele Columbro, Executive Director, Fintech Open Source Foundation (FINOS)
As with the 2021 study, the report identifies the extent to which the financial services industry is increasingly active in open source, validating what many in the FINOS community anticipated to be true.
The report sheds light on the significant impact the financial services industry can have on open source as it continues to embrace it, as the number of developers currently engaged in financial services software development rivals, if not currently surpasses "big tech."
As with large technology companies, the financial services industry works heavily with massive amounts of data, AI, and machine learning. Hence, as these financial services organizations open up development, it is likely that we will see major contributions to open source projects with a significant impact overall.
Further, and importantly, the report identifies growth and highlights the obstacles and challenges to overcome in industry-wide collaboration. And through open source and organizations like FINOS, there's a mechanism and a community in place to help address existing challenges.
As Gabriele Columbro stated at OSFF last month, "Open source gives the community a way to turn opinions into actions. Raise an issue. Raise a pull request. Even if it's not code. Your input in terms of use cases and strategies and areas that are a priority for you next year will greatly help to focus our direction and, in turn, will deliver more value back to you."
Often, new research helps shape those opinions and inspire new actions and conversations, whether they relate to inspiring developers to get involved in open source projects or regulators or policymakers to become more fully aware of the important work taking place in open source communities. This year's report is no exception.
What our members say about the 2022 Open Source in Financial Services report
"Open source and industry standards enable us to collaborate with buy-side and sell-side peers to drive innovation and increase interoperability on behalf of our clients." — Madeleine Dassule, Co-Head, Technology, Wellington Management
"Open source software is ubiquitous across industries, and financial services are no exception. Open source is used in some form in around 90 percent of systems. If you include tooling around compilers and runtime and builds and deployment, it's 100 percent." — Elspeth Minty, Managing Director, RBC Capital Markets
"Policies tend to be about things you can't do, not about things you should do. They are designed to prevent bad things from happening, as opposed to enabling opportunity. We have an initiative to create the opportunity to view technology more strategically… some financial services organizations viewed technology as something you purchase versus a strategic component to their business growth. We're now seeing technology decisions as being strategic to business for more firms." – Gil Yehuda, Head of Open Source at U.S. Bank
"If there is an opportunity to engage with regulators to agree what best practices look like for open source in financial services, this could help unlock benefits for the entire industry." – Sally Ellard, Vice President, GT Architecture, Deutsche Bank
"Understanding open source usage can really help drive the conversation on contribution." – Mark Hoare, Open Source Software Lead, Deutsche Bank