5 MIN READ
Open Source: A Pillar for Future Technologies in India
The Linux Foundation | 13 July 2023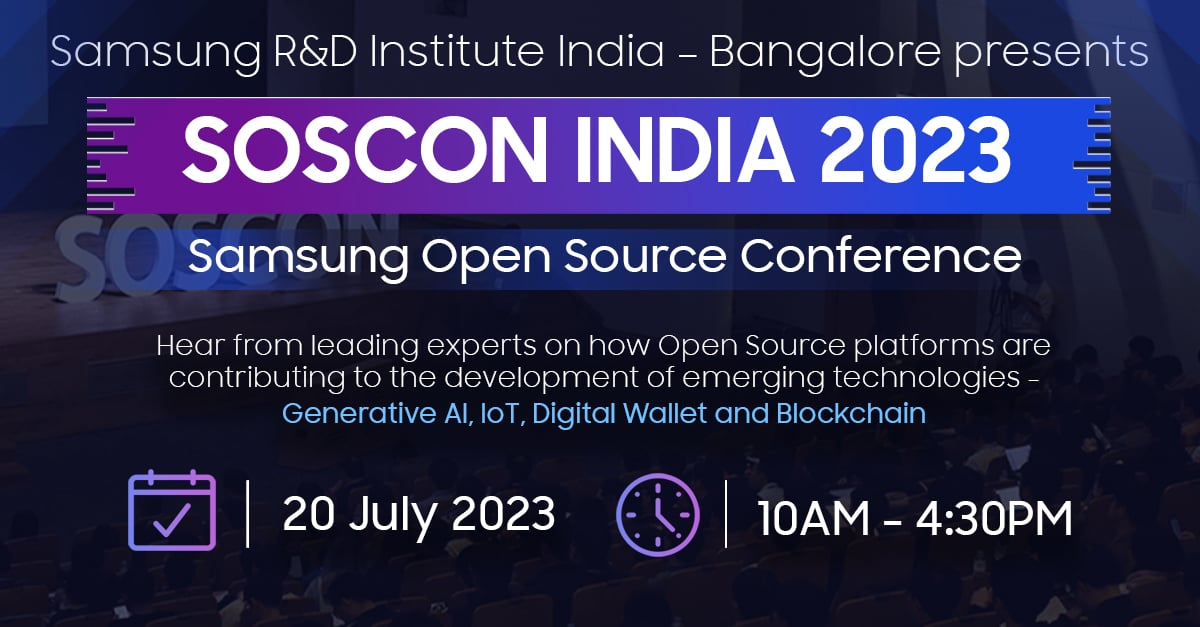 Register for the SOSCON India conference and find out all about emerging technologies.
The open source paradigm is undeniably shaping the future of technology worldwide. India, in particular, is a cradle for open source innovation, forging ahead with groundbreaking advancements in fields such as Artificial Intelligence (AI), the Internet of Things (IoT), digital wallets, and blockchain.
SOSCON India: An open source beacon
Samsung Open Source Conference (SOSCON) India chapter aims to strengthen and promote the Indian open source ecosystem. Born in South Korea in 2014, SOSCON has emerged as a global hub where knowledge on open source technologies is disseminated. The forthcoming 4th Edition of SOSCON India, scheduled for 20th July 2023, aims to explore trending themes in open source like Generative AI, IoT, digital wallets, and blockchain.
Recent open source advancements in India
New open source initiatives in India are happening on almost a weekly cadence. Bloomberg recently highlighted J.P. Morgan's use of blockchain technology for FX trades settlement in India, while a new blockchain impact lab was inaugurated at ISB Hyderabad. During the first Google I/O Connect in Bengaluru in June, Google unveiled innovative AI tools and technologies specifically for local developers, reaffirming India's standing in the open source community.
The NEC Corporation has recently established an open source software technology center in India, indicating the nation's increasing prominence in the sector. WION also reports that the Indian government is pushing for open source software adoption to rejuvenate the tech industry amid global IT layoffs.
Open source as mandated by the Indian government and adoption in the business sector
As recently reported in WION, the Indian government is encouraging open source software (OOS) in the Information Technology (IT) industry to cut costs, enhance security, and improve reliability. The government's Information Technology bill, introduced in 2022, mandates the preference for open source software solutions in government procurement and promotes their adoption across various sectors. India's Ministry of Electronics and Information Technology (MeitY) policy supports the global adoption of open source software to optimize costs.
Indian businesses, including banks and the Kerala Police, have already experienced the benefits of open source solutions, such as cost reduction, improved security, and reliability.
While global IT giants have been laying off employees, open source software offers a potential alternative for professionals in India. SUSE plans to continue hiring in India, leveraging the country's talent pool and driving growth and innovation as an open source innovator. The government's focus on open source solutions presents significant opportunities for India's IT sector.
The impact of Indian universities on global open source development
A significant catalyst propelling this shift is the strong emphasis on relevant skillset development in Indian universities, uniquely positioning the country in the global open source scenario. The Linux Foundation's January 2023 Mentorship in Open Source report highlighted a global shortfall of interdisciplinary software developers, specifically in embedded systems and software engineering. The report indicates that 76% of respondents hailed from the Asia-Pacific region, with India playing a significant role in this statistic.
As the home of Nalanda, which housed nine million books and attracted 10,000 students from around the world, it is not surprising that India continues to be a land of knowledge seekers. India is home to the largest number of engineers, and its 2500+ Engineering colleges, 1400 polytechnics, and 200 schools of planning and architecture produce fifteen lakh (1.5 million) engineering graduates annually.
"In India, English is the primary language of technical education, and with the emphasis on mathematics and computer languages in their curriculum, computer science graduates from Indian universities are very well positioned to take advantage of LFX Mentorships and LF Training resources to become future open source contributors following the footsteps of current open source contributors that graduated from Indian universities." -- Shuah Khan, Kernel Maintainer & Linux Fellow (Alumna of Andhra University College of Engineering)
Linux Foundation Training & Certification is seeing a lot of interest in training and certifications to help students and established IT professionals grow their knowledge and skills. From 2020 to 2022, the number of course enrollments from India grew by 50 percent and is on track to do the same in 2023, despite the tech downturn. The growth trend is similar for professionals pursuing certifications. The Foundation's annual LiFT scholarship program saw significant interest from India.
Open Source via AgriStack provides a pre-competitive common digital infrastructure for India's agritech future
India's agriculture diaspora has initiated AgriStack, a set of tools, software, data services, and core components/utilities that can provide a pre-competitive "boost" to the Indian agribusiness ecosystem. At the Linux Foundation, AgStack already addresses many of these needs, like standardized services for geo-polygons for fieldID mapping, digital advisory services for weather, soil, and satellites, and traceability and compliance platforms for financial services into the agriculture sector (insurance, lending, etc.), thereby providing many of the needs posed by AgriStack. Several Indian and International organizations are increasingly involved and active in this space.
Looking forward to SOSCON and beyond
As SOSCON India 2023 approaches, the stage is set for a powerful convergence of ideas, innovations, and the finest minds in open source technology. The conference will catalyze showcasing and deliberating India's progress in open source and the opportunities ahead.
The keynote sessions and panel discussions will cover the conference's primary themes: Generative AI, IoT, digital wallets, and blockchain. Each of these technologies has been a significant development area in India, and SOSCON 2023 will provide a platform for their deep-dive exploration. With some of the most esteemed speakers worldwide sharing their insights, the conference will illuminate the past and present state of these technologies and offer a glimpse into their exciting future.