11 MIN READ
Open Source for Sustainability: How Linux Foundation projects accelerate progress toward the United Nations Sustainable Development Goals (SDGs)
The Linux Foundation | 15 September 2023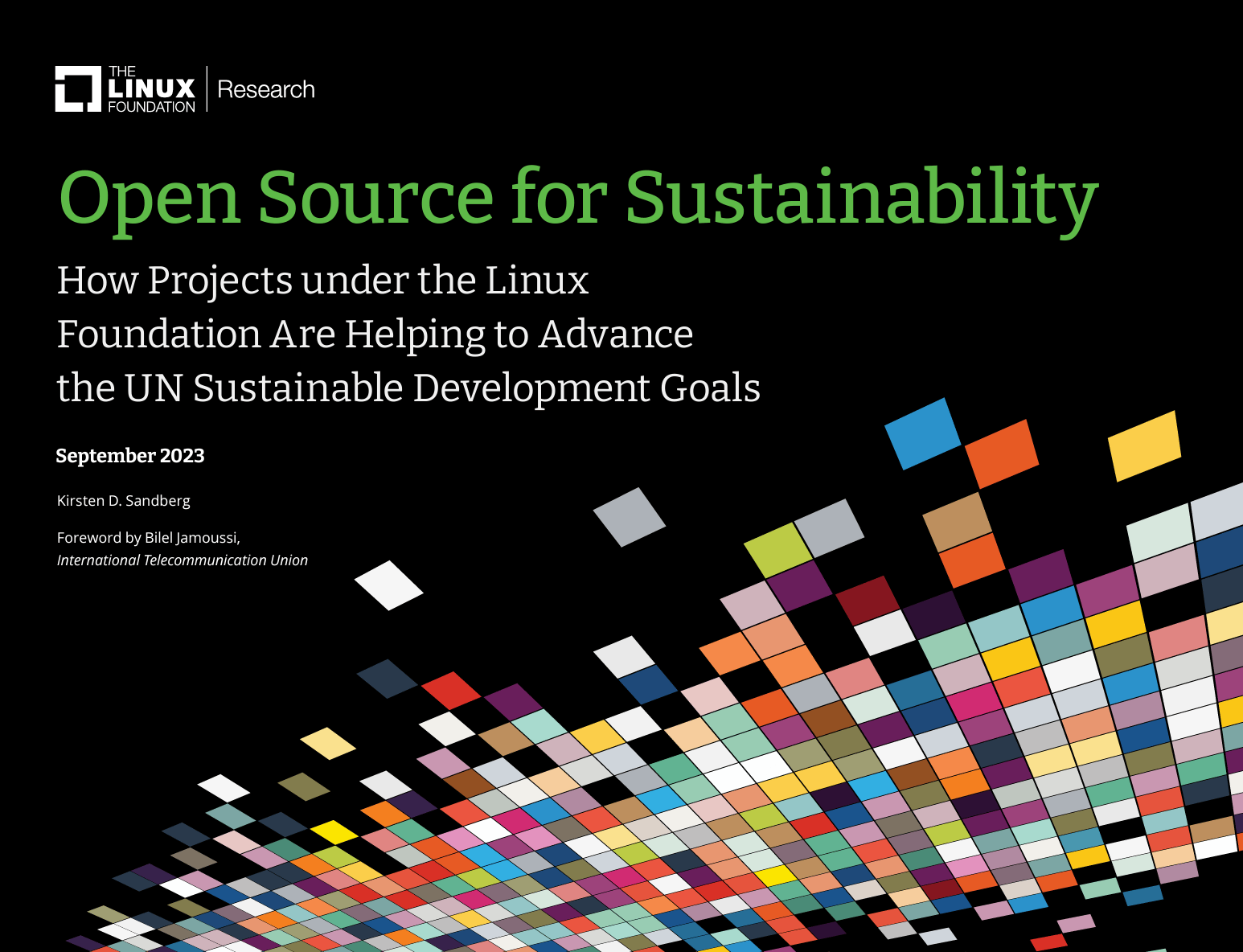 Helping to solve global challenges through shared investment in open source technologies is a large part of the work we do at the Linux Foundation, and describing the impact of our project communities in this capacity – what progress is made, by whom, where, and how, and identifying what the obstacles are to furthering progress through data – is the mission of LF Research.
The latest report from LF Research, Open Source for Sustainability, is the most comprehensive yet in describing the impact of open source projects to address challenges that relate to creating sustainable growth while safeguarding the well-being of people and the planet, and its publication comes at a critical time.
Authored by Kirsten Sandberg, a member of the Journal of Business Models' editorial board and an adjunct faculty at Pace University, and featuring a foreword by Bilel Jamoussi, Deputy-Director Telecommunications Standardization Bureau (TSB),
International Telecommunication Union (ITU) in Geneva, the research underscores the vital role of open source within digital public goods and makes the important connection to sustainability. It makes the case that open standards, open source software, open data, open hardware, open AI models, and open content are fundamental to achieving the United Nations Sustainable Development Goals (SDGs), a global framework for sustainable economic development.
Understanding the UN SDGs and the connection to open source projects
So, how exactly does open source accelerate the SDGs? Broadly, open source powers cost-effective and trusted infrastructure and is a paradigm for cooperation and leveraged industry and startup development, breaking down barriers to innovation at a global scale, reducing waste, and creating cultures of inclusion, transparency, and trust. The Linux Foundation's model of open governance, legal structures, funding enablement, and governance models, in particular, make sustainable development achievable, fostering community health and growth as equally important components to sustainability as the code bases we host.
Why is this significant? The report's timing is noteworthy, as the publication coincides with SDG Digital on September 17th, when the International Telecommunications Union (ITU), United Nations Development Programme (UNDP), and their partners convene at the United Nations Headquarters in New York. Here, leaders from across the globe will explore the role of digital technologies, including open source, as they relate to supporting the 2030 agenda, identifying how to close gaps and accelerate progress.
UN SDGs, as advanced by LF projects and communities
The UN SDGs are 17 interlinked global goals designed to achieve a sustainable future by 2030. Here are singular examples of how Linux Foundation open source projects and communities align with and improve the outcomes that each goal intends:
Goal 1 No Poverty: The Bakong project, underpinned by Hyperledger Iroha, extends Cambodia's mobile payment system to the unbanked population.

Goal 2 Zero Hunger: AgStack's dataset and AI modeling help farmers manage resources effectively and increase crop yields.

Goal 3 Good Health and Well-Being:

IBM's Call for Code myriad projects support alternative digital infrastructure during emergencies, aiding the delivery of food, shelter, and life-saving communications.

Goal 4 Quality Education:

LF's free courses and open content democratize access to practical training and education resources.

Goal 5 Gender Equality:

DEI committees and working groups run through

LF projects like ASWF and CHAOSS to advance minority representation.

Goal 6 Clean Water and Sanitation:

Botanical Water Technologies plant-sourced water exchange, powered by Hyperledger Fabric, ensures clean water by optimizing water usage in agriculture.

Goal 7 Affordable and Clean Energy:

LF Energy projects like OperatorFabric promote clean energy through coordinating energy sources.

Goal 8 Decent Work and Economic Growth:

Internet Security Research fosters economic growth by ensuring secure communication.

Goal 9 Industry, Innovation, and Infrastructure:

CNCF helps organizations shift from on-premises to cloud computing to build sustainable infrastructure that supports the critical building blocks of the new digital economy.

Goal 10 Reduced Inequalities:

LACChain running on Hyperledger Besu reduces inequalities by leveling Latin American socioeconomic disparities.

Goal 11 Sustainable Cities and Communities:

Civil Infrastructure Platform team's OSS components help create sustainable cities.

Goal 12 Responsible Production and Consumption:

3MF Consortium's open specification for 3D print files ensures sustainable production.

Goal 13 Climate Action:

OS-Climate's data commons helps organizations take climate action by guiding investments to protect ecosystems.

Goal 14 Life Below Water:

OS-Climate's tools to identify climate-related risks can help organizations conserve marine resources.

Goal 15 Life on Land:

OpenCollar protects animals with Smart Parks using technology to catch poachers.

Goal 16 Peace, Justice, and Security:

Five-Fifths Voter promotes peace with projects like addressing bias in judicial systems.

Goal 17 Partnerships for the Goals: The LF's collaborative hosting of technology projects enables sustainable development to strengthen partnerships.
Gaps
The research examination of SDG 6 and SDG 14 reveals significant gaps in Clean Water and Sanitation and Life Below Water. These vital goals, crucial to the planet's health, need more attention and action.
Clean Water & Sanitation (SDG 6): This goal emphasizes the human right to clean water and sanitation. It calls for a more holistic approach and collaboration to ensure accessibility and sustainable management. However, current efforts fall short, and more concerted action is needed.
Life Below Water (SDG 14): Our oceans, responsible for a significant part of the world's oxygen, are at risk. Overfishing, pollution, and climate change threaten this goal, calling for urgent conservation and sustainable use of marine resources. The Linux Foundation's Sustainability website underscores the need for a special focus on protecting marine ecosystems.
Our previous blog on the LF's Sustainability initiative acknowledged these goals but did not explore their specific challenges and opportunities. Engaging more stakeholders to understand the interconnectedness of healthy oceans, fresh water, and sanitation is essential. We can progress towards achieving these critical goals by fostering collaboration and mobilizing resources.
Get involved
Sustainable development through open source is not just for tech giants and policymakers; it's a call to action for individuals and organizations of all sizes to be part of the solution. Whether you're a developer, an educator, a business leader, or simply someone passionate about sustainability, there are ways to get involved:
Contribute to open source projects: Many projects mentioned in the report welcome contributions from developers and enthusiasts alike.
Educate and learn: Utilize the open content and free courses the Linux Foundation provides to nurture talent and spread awareness.
Support and collaborate: Businesses can support or collaborate with existing projects or even initiate new ones that align with the SDGs.
Advocate and share: Spread the word about the importance of open source in sustainability and advocate for its adoption within your community or organization.
There's never been a better time to understand open source's critical role in advancing sustainable development. We're fast approaching 2030, and the time for action to meet the time-bound SDGs is now. Digital public goods, enabled by open source technologies, and the role of digital public goods are essential to achieving them. This report will be a vital resource to anyone wanting to learn more about the open source projects at the forefront of this effort.
The path to a sustainable future is a collective journey, and open source provides the tools, community, and vision to make it possible. Join the Linux Foundation and the broader open source community in this vital endeavor. Together, we can harness the power of technology to create a better, more sustainable world.