5 MIN READ
Open Source Program Offices in 2023: Key Insights and Gap Exploration
The Linux Foundation | 26 September 2023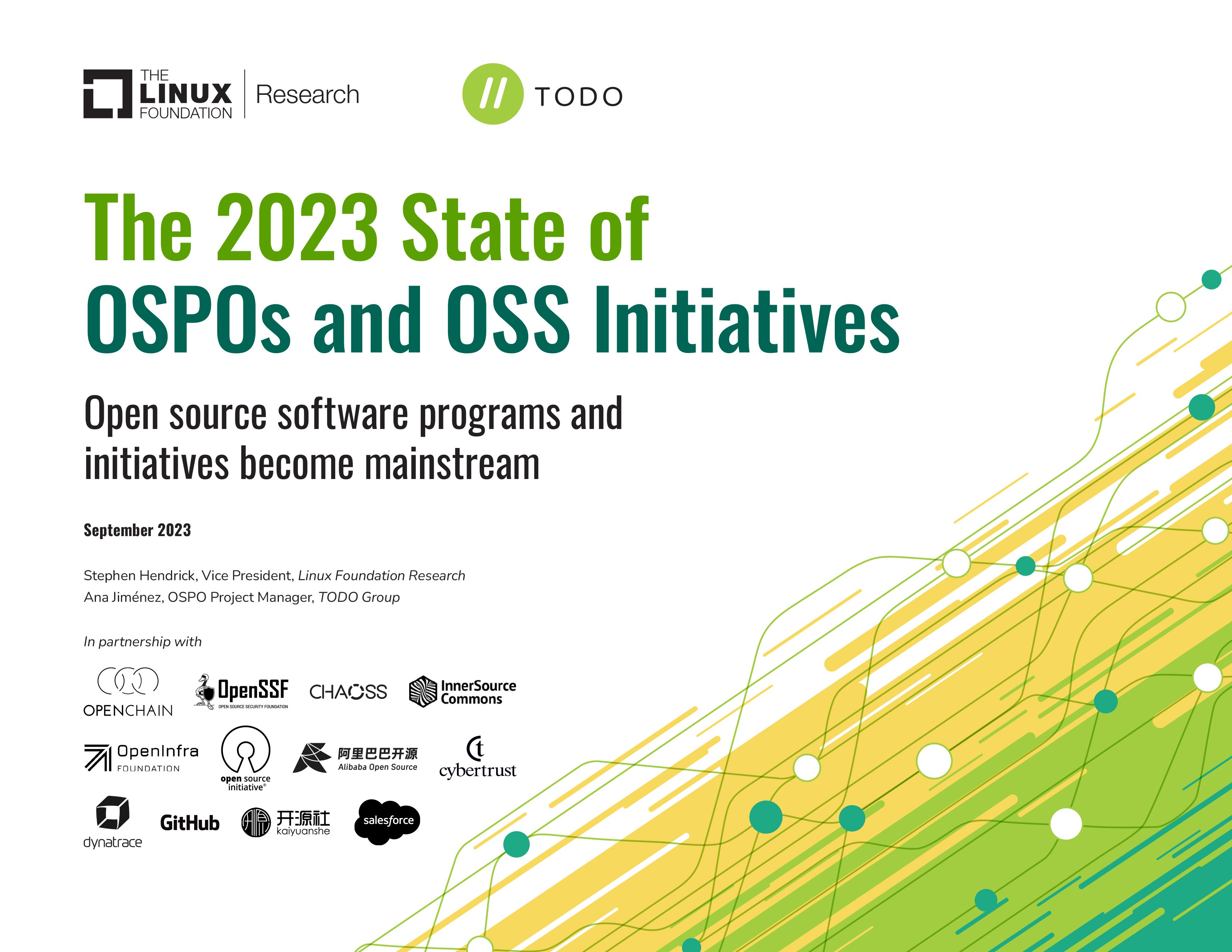 2023 has emerged as a watershed moment in the open source landscape. This year's Open Source Program Office (OSPO) survey by the Linux Foundation and the TODO Group sheds new insights into their pervasiveness within organizations worldwide. The people behind these entities have transitioned from niche to mainstream, serving as critical bridges between organizations and the open source community. Here, we'll explore the report's key findings and the remaining gaps, and discuss the implications for the future of open source.
A surge in adoption, but many organizations are still not on board

The report reveals a significant uptick in adopting OSPOs and OSS initiatives. Specifically, 66% of organizations now have an OSPO or an OSS initiative, marking a 32% increase from 2022. This statistic is more than just a number; it's a testament to the growing recognition of the strategic value of OSS.
While the adoption rate is commendable, it also uncovers a glaring gap: nearly one-third of organizations have yet to establish an OSPO or an OSS initiative. This suggests that despite the mainstreaming of OSS, there's a considerable amount of ground to cover regarding broader organizational adoption.
The implications are twofold: for organizations that have adopted OSS, the focus should now shift to maximizing its potential benefits. For those yet to adopt, the time is ripe to consider integrating OSS into their strategic framework.
Security: A Key Focus for OSPOs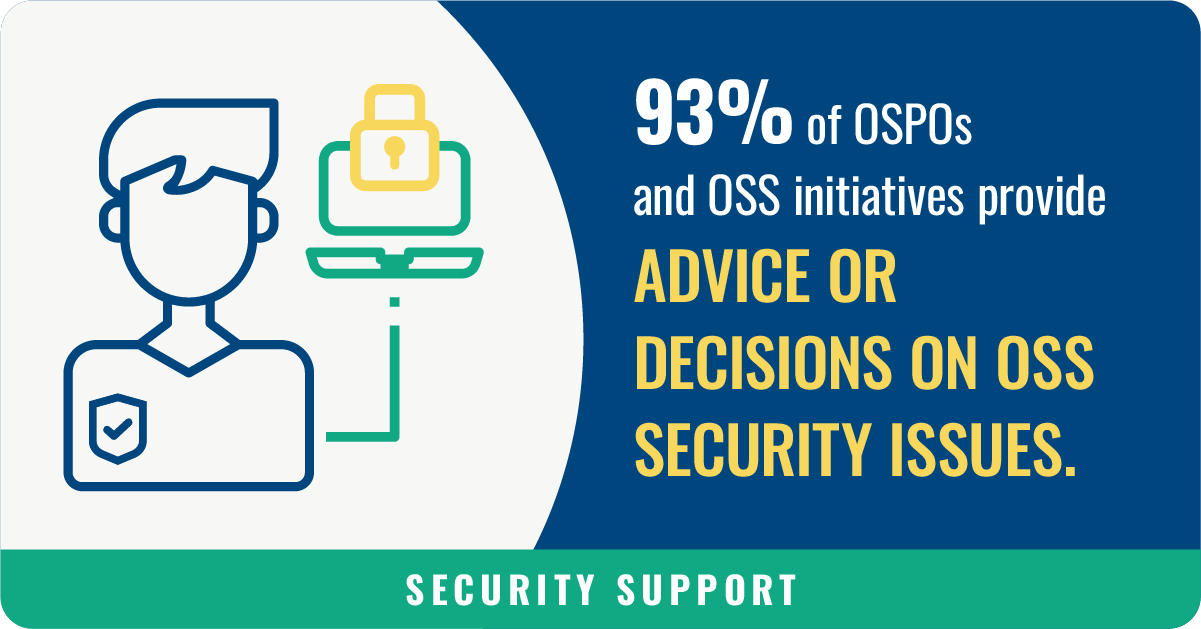 One of the standout findings from the report is that a staggering 93% of OSPOs are actively improving security. This aligns with insights from open source leaders like Nithya Ruff, Chief Open Source Officer at Amazon, who stated during her presentation at OSS Summit NA that "OSPOs are becoming best friends with the CISO/Security team." If security is a priority for your organization, an OSPO can be a game-changer.
The strong IT connection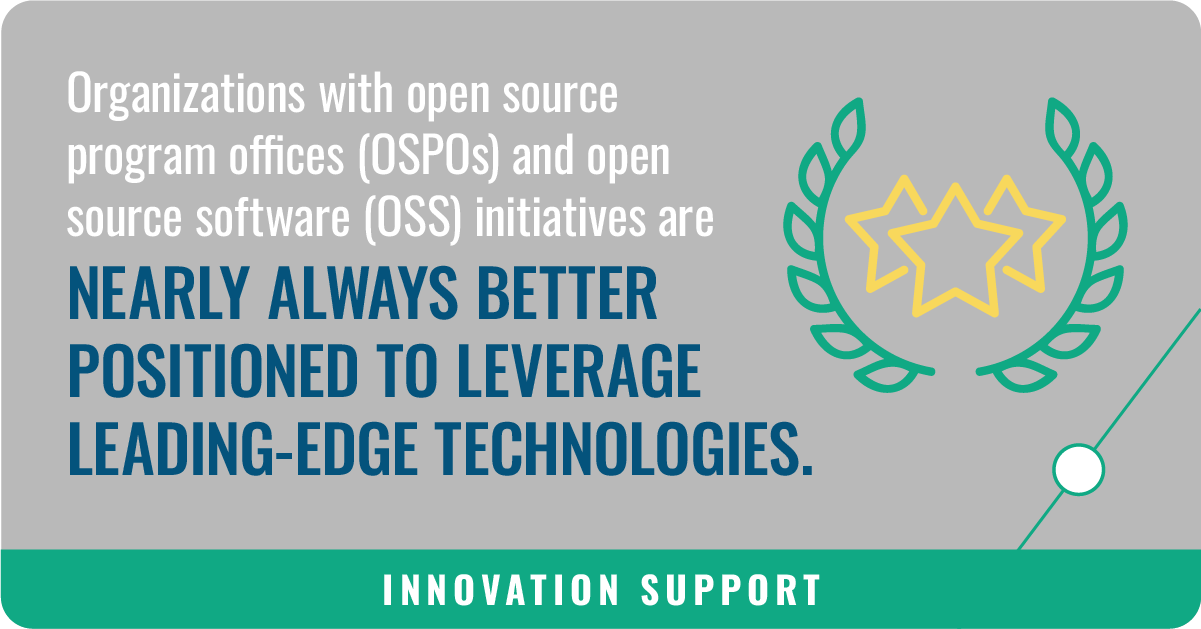 77% of organizations with an OSPO or an OSS initiative place it within the IT domain. This is a crucial insight, indicating that OSS is now integral to IT strategy and not just a 'nice-to-have.'
The remaining 23% of organizations still needing to integrate their OSPOs into their IT domain represent a gap. This could be due to a need for more understanding of how OSS aligns with organizational goals or due to organizational inertia.
The high percentage of OSPOs within the IT domain suggests that IT leaders have increasingly become stewards of open source initiatives. This trend will likely continue, emphasizing the need for IT leaders to acquire open source expertise.
The evolving role of OSPOs
OSPOs have rapidly evolved to become central interfaces for open source strategy and operations, focusing on strategy, compliance, and security, governance, and community.
However, what's revealed are the remaining speed bumps to this evolution. While some OSPOs rapidly adapt to new responsibilities, others may be stuck in traditional roles, missing out on the opportunity to drive innovation.
As the software development landscape changes, OSPOs must adapt and evolve. They will increasingly serve as hubs for innovation, collaboration, and strategic alignment in the open source ecosystem.
Going beyond tech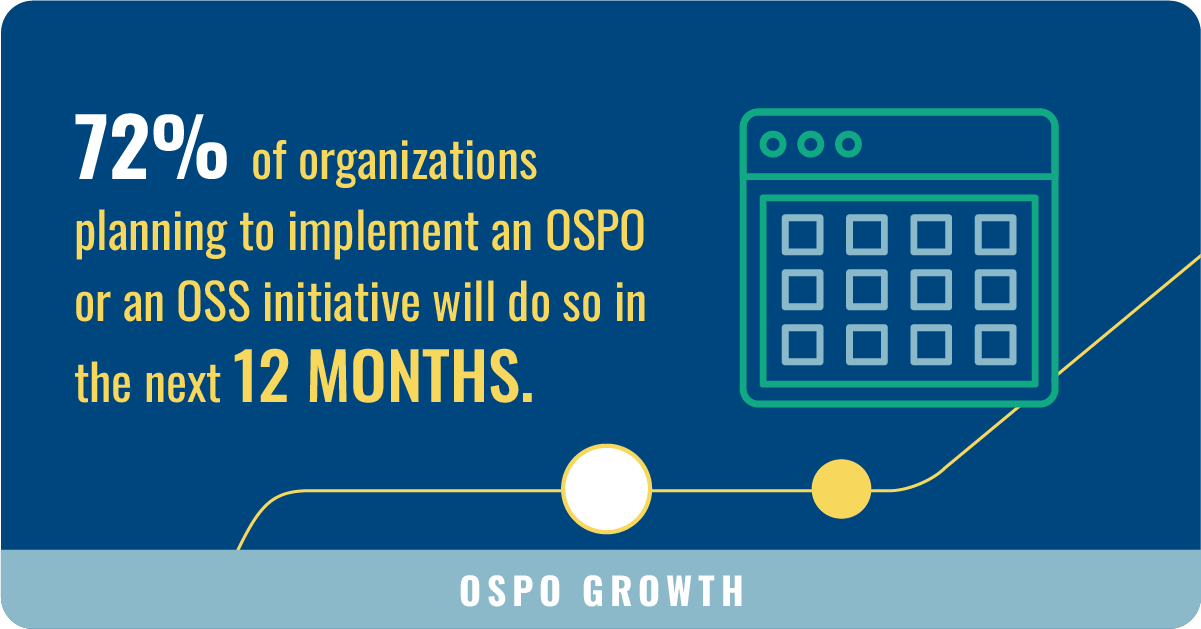 Sectors like Automotive, FinTech, and Financial Services have grown significantly in OSPO adoption. This diversification is a key insight, indicating that the benefits of OSS are universally applicable.
However, the gap here is sectoral. While some industries are rapidly adopting OSPOs, others need to catch up. This could be due to regulatory constraints or simply a need for more awareness about the benefits of OSS.
The diversification of industries adopting OSPOs suggests that the open source model is robust and versatile enough to be applied in various contexts, from manufacturing to finance and beyond.
Diverse participation
Participants in the survey results include diverse organizations, from IT vendors to end-user organizations and even non-profits and academic institutions. This diversity is a key insight as it shows the universal appeal of OSS.
A gap identified reveals the underrepresentation of certain sectors and organization types, such as healthcare and small businesses, which could benefit significantly from OSS but are currently underrepresented in OSPO adoption.
The broad demographic of the survey respondents underscores the universal applicability of OSS, suggesting that any organization, regardless of its size or industry, can benefit from adopting an open source strategy.
Reduction in funding becomes an important challenge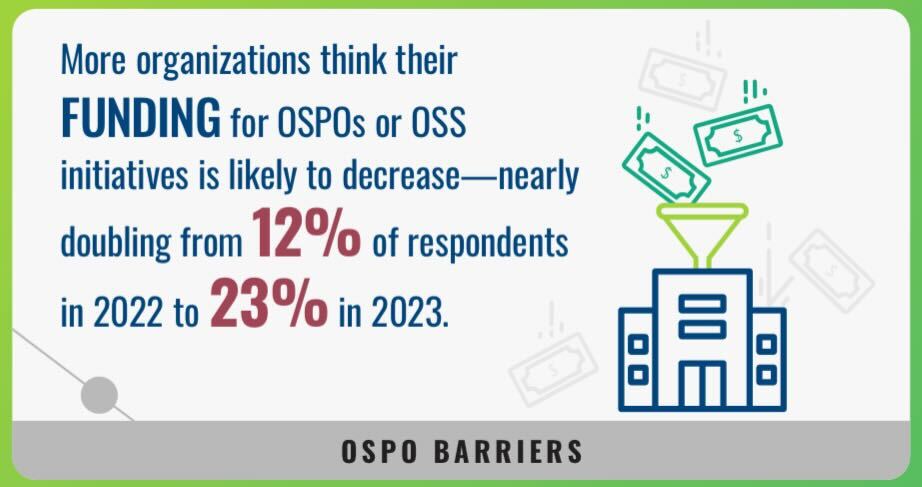 Despite OSPOs becoming mainstream and having proven to have numerous benefits, this year's survey indicates ongoing challenges, such as insufficient budget and executive support.
This raises the importance of implementing OSPO best practices to ensure its sustainability in the organization, such as bringing a holistic approach to open source, encompassing a framework that covers compliance and security, strategy, governance, and community engagement.
Get involved
The 2023 report by the Linux Foundation and TODO Group is clear: Open Source Program Offices (OSPOs) are crucial for the future of open source software. Yet, gaps remain.
Don't let your organization fall behind: If you haven't set up an OSPO, now's the time. If you have one, it's time to take it to the next level. The future of open source is a collective effort, and your organization should be a part of it.

Don't wait: Be proactive.

Joining the TODO Group means you'll be at the forefront of open source innovation and governance and have access to resources and expertise to help you establish or optimize your OSPO.