3 MIN READ
Participate in the first-ever survey to discover digital transformation readiness of energy stakeholders
The Linux Foundation | 22 September 2022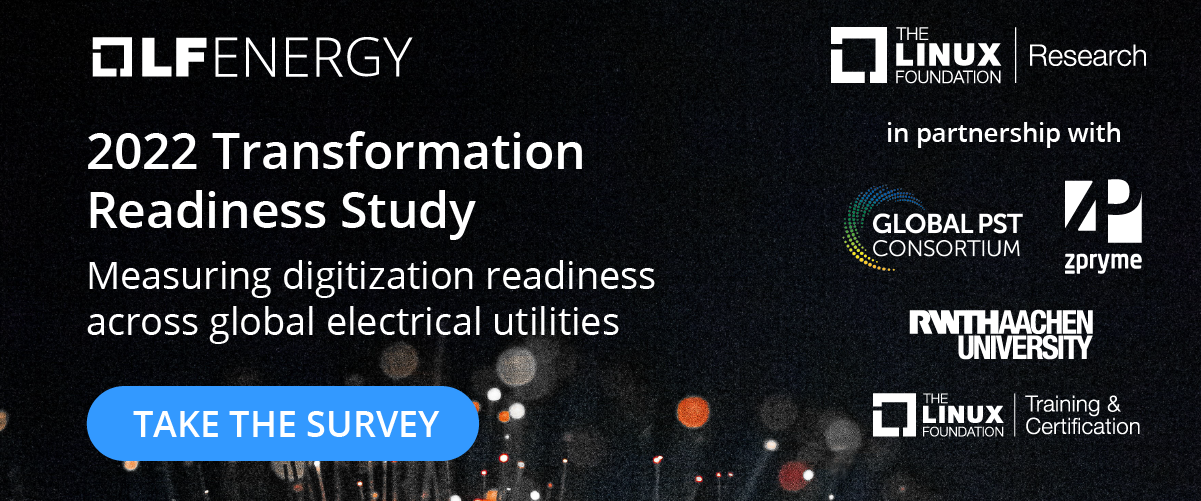 The transition to green energy will be propelled by digital technologies, but are all the stakeholders ready, and what do they need to do to get there? To make progress, one must first identify where stakeholders are, what's lacking, what's preventing it, and what assistance organizations believe they require to move ahead.
LF Energy, in collaboration with Linux Foundation Research and LF Training & Certification, and partners Global Power System Transformation Consortium (G-PST), RWTH Aachen, and Zpryme, are conducting research into how we can accelerate collaboration among generation owners, distributors, transmission operators, and retailers in support of decarbonization and the energy transition. Topics covered in this research will include:
What is the degree of preparedness for power system stakeholders, particularly system operators, in their journey to a green energy shift utilizing digital technologies, such as open source ones?

What gaps in knowledge exist for educational training and human resource development programs on grid digitization and transformation?

How can we inform best practices and influence both contribution and adoption of open source technology stacks vital to achieving climate targets?
Modern digital substations now need more computers to manage a greater number of field devices and apps and a higher level of automation. Are energy providers ready and able to convert their demand and supply management systems to take advantage of greener choices while also digitizing their infrastructure?
Perhaps most importantly, what are the gaps in skill sets, mindsets, and technologies needed to drive the energy transition?
These are insights we hope to uncover with this survey. As with everything, we do more—faster and better—if we do it together.
The world's fate depends on a successful transition to clean energy; we are all invested in the energy transition and the need to move faster. The targets for transforming the power system will not be met at the current speed. Renewable energy and electric vehicle production are causing power supply and demand fluctuations.
Everyone counts, and your contribution is critical, and we need your participation to make informed decisions going forward.
We invite all energy stakeholders, including utilities, traditional suppliers, OEMs, government agencies and standards bodies, the energy, technological, venture capital industries, NGOs, and industry communities, to participate.
Please take the time to complete this survey to share your experience and help us determine the most important priorities moving forward.
BONUS
As a thank you for participating in this research, once you have completed the survey, a code will be displayed on the confirmation page, which can be used for a 25% discount on any Linux Foundation training course or certification exam listed in our catalog*.
*Some restrictions apply
PRIVACY
Your name and company name will not be displayed. Reviews are attributed to your role, company size, and industry. Responses will be subject to the Linux Foundation's Privacy Policy, available at https://linuxfoundation.org/privacy. Please note that members of the LF Energy survey committee who are not LF employees will review the survey results. If you do not want them to have access to your name or email address in connection with the survey, please do not provide your name or email address.
VISIBILITY
We will summarize the survey data and share the learnings later this year on the LF Energy website. In addition, we will produce an in-depth survey report which will be shared with all survey participants.
ABOUT LF Energy
LF Energy is an open source foundation focused on the power systems sector, hosted within The Linux Foundation. LF Energy provides a neutral, collaborative community to build the shared digital investments that will transform the world's relationship to energy. LF Energy leverages transparent, open source development best practices and existing and emerging standards to efficiently scale, modernize and digitally transform the power systems sector. By providing frameworks and reference architectures, LF Energy minimizes toil. It alleviates pain points such as cybersecurity, interoperability, control, automation, virtualization, flexibility, digital orchestration, and balancing supply and demand.