2 MIN READ
Please Participate in the World of Open Source Global Spotlight 2023 Survey
The Linux Foundation | 17 May 2023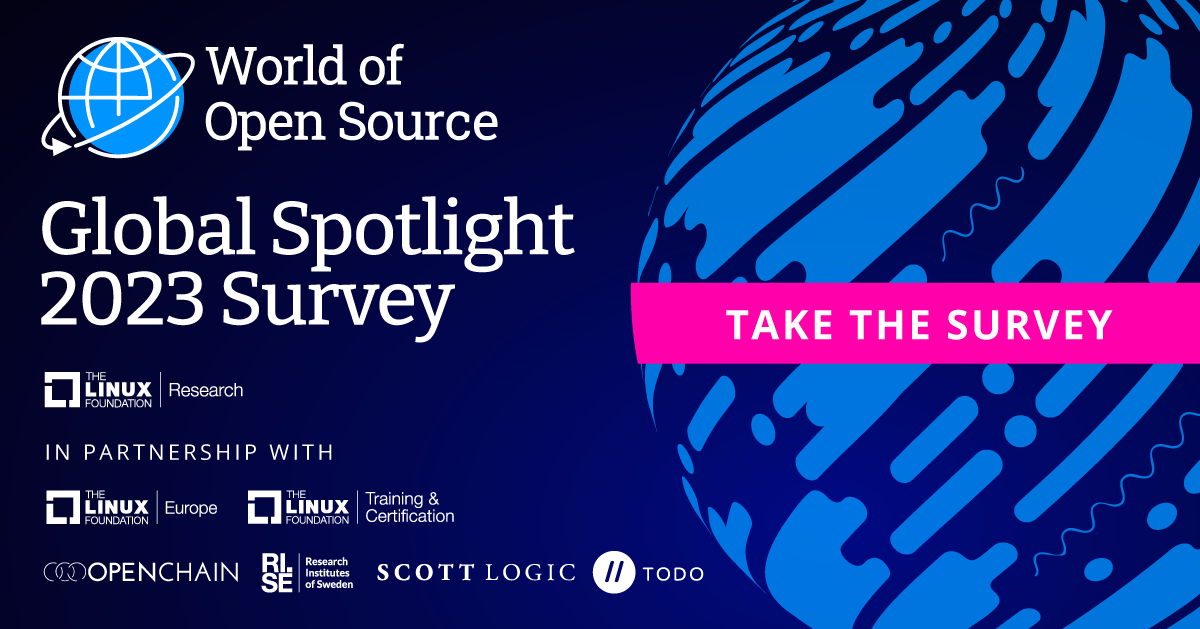 Linux Foundation Research is asking for your help with a new research study on open source trends and opportunities on a global scale. Following the success of the 2022 Europe Spotlight survey and report, the Global Spotlight 2023 project will greatly expand our view of open source participation in different regions, with valuable insight to better understand and support open source participation worldwide.
The 2023 survey will generate insights into regional open source trends, including:
The scope of open source programs across organizations and industries
Opportunities and challenges in private and public sector engagement in open source
The value proposition of open source
The leading open source technologies and best practices
The target sample for this survey is open source contributors and developers who understand the role of open source software in their organization or within a given industry. The research is relevant to decision-makers from all functions and sectors, including managers, executives, policymakers, and others involved in open source initiatives.
The results of this survey will help us identify regional trends and opportunities and will facilitate the development of this year's Europe Spotlight, Japan Spotlight, and other region-specific reports.
Your anonymous responses will be used to compile a report to be released later this year.
As a thank you for participating in this research, once you have completed the survey, a code will be displayed on the confirmation page which can be used for a 25% discount on any Linux Foundation training course or certification exam listed in our catalog: https://training.linuxfoundation.org/full-catalog/.
Take the survey in your language below!