5 MIN READ
PyTorch Foundation: The First Six Months
PyTorch Foundation Team | 30 March 2023
In September 2022, we welcomed PyTorch to the Linux Foundation from Meta, which formed the PyTorch Foundation with founding members AMD, Amazon Web Services, Google, Meta, Microsoft, and NVIDIA.
We're celebrating the first six months of open governance and are elated to share some of the below milestones achieved alongside the community.
Growing Our Community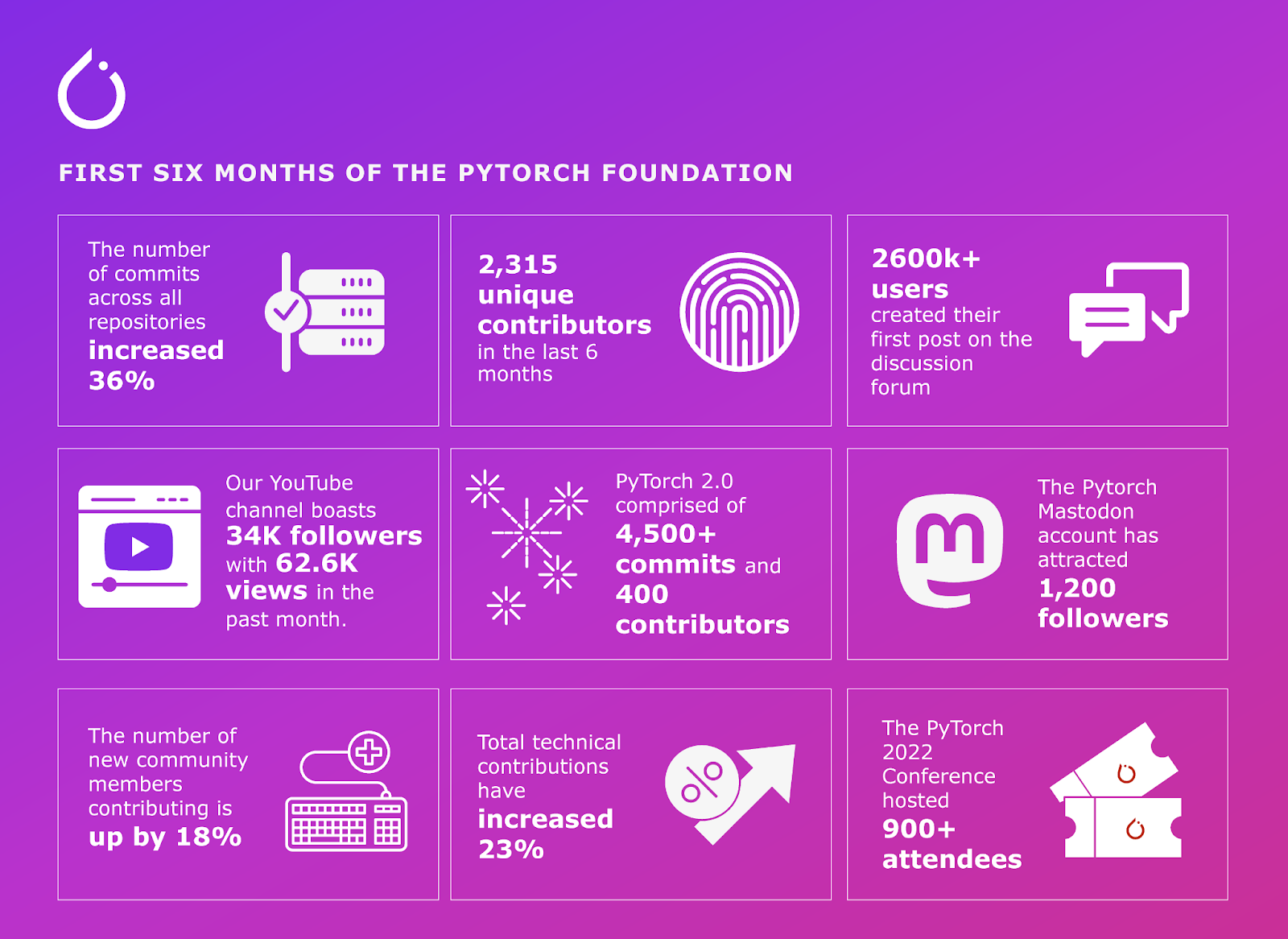 PyTorch has grown tremendously across platforms in the last six months, including GitHub and PyTorch Dev Discuss. Notably, the number of commits across all repositories increased by 36%, unique contributors grew by over 2,000, and new community contributions grew by 18%.
PyTorch 2.0 Release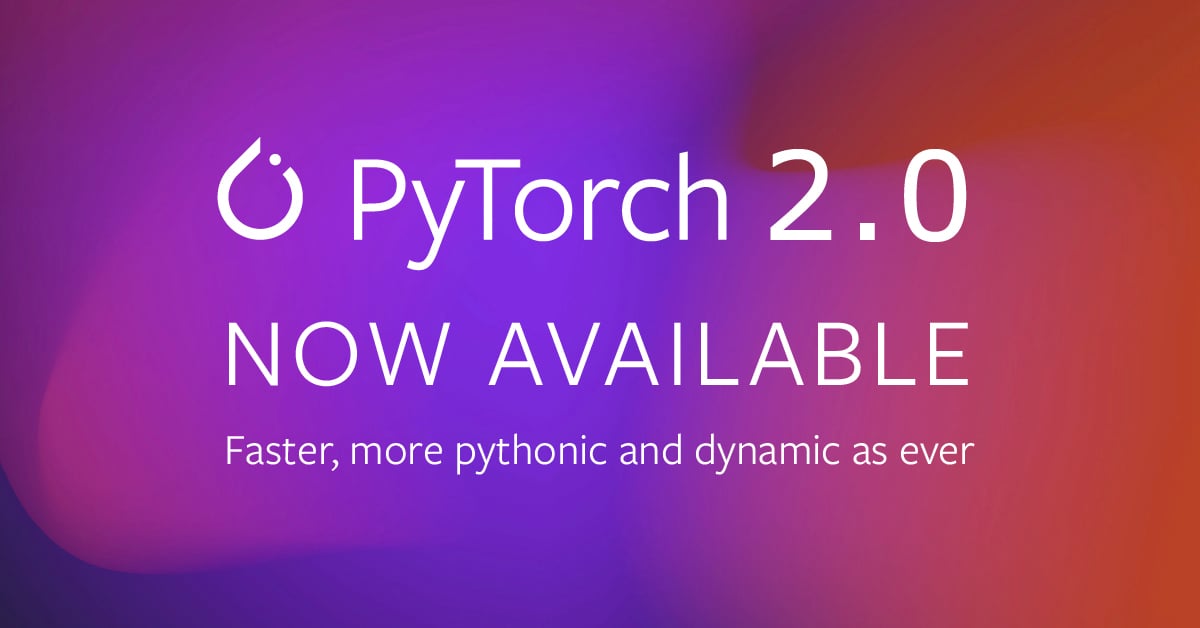 On March 16th, we announced the latest release of PyTorch 2.0. The Stable API version of PyTorch 2.0 is now available, bringing the next generation of cutting-edge ML frameworks.
PyTorch 2.0 offers the same eager-mode development and user experience and supercharges how PyTorch operates at the compiler level under the hood, resulting in faster performance and support for Dynamic Shapes and Distributed.
"We are particularly excited about the significant performance enhancements in this next generation of PyTorch series, which empowers developers with greater innovation to shape the future of PyTorch," said Ibrahim Haddad, executive director of the PyTorch Foundation.
PyTorch 2.0 comprises more than 4,500 commits and 400 Contributors. We're grateful to everyone who made the launch successful.
For more information about PyTorch 2.0, check out these blog posts:
Ask the Engineers Live Q&A Series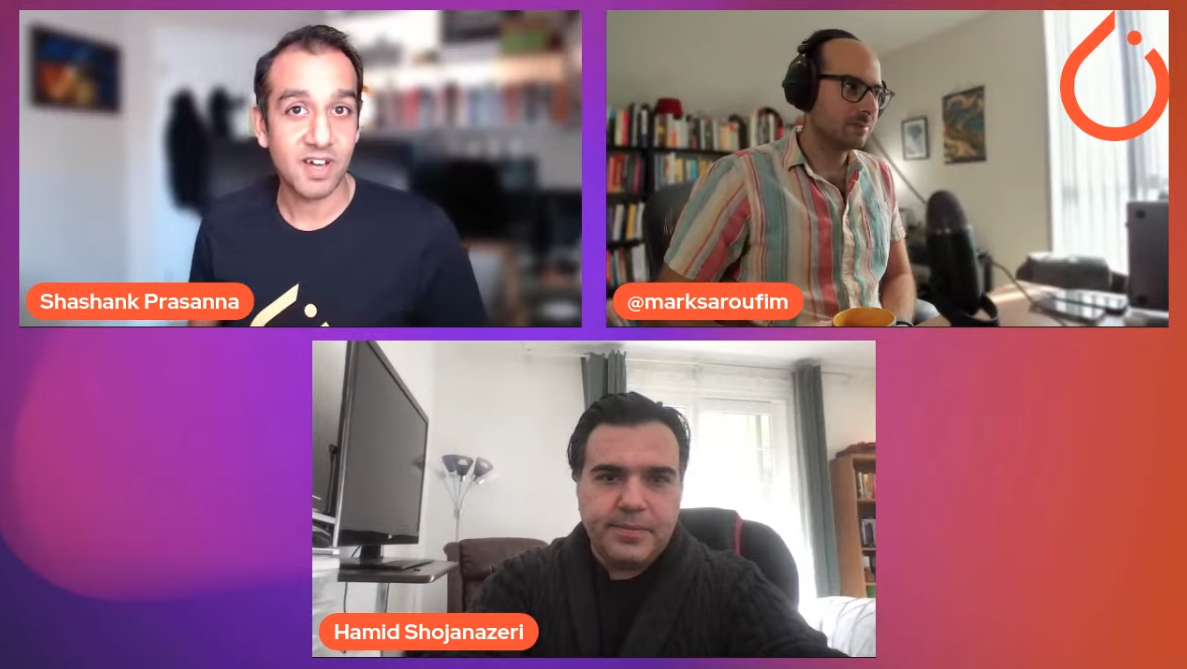 With the announcement of PyTorch 2.0, we held our first Q&A Series to produce live Q&A webinars, sharing insights on new features. Catch all of the past sessions on our YouTube, and follow us on LinkedIn and Twitter for the latest updates on new webinars.
A special thank you to our developer advocate hosts, Shashank Prasanna and Justin Jeffress, for their moderation of these sessions.
PyTorch Events
PyTorch Conference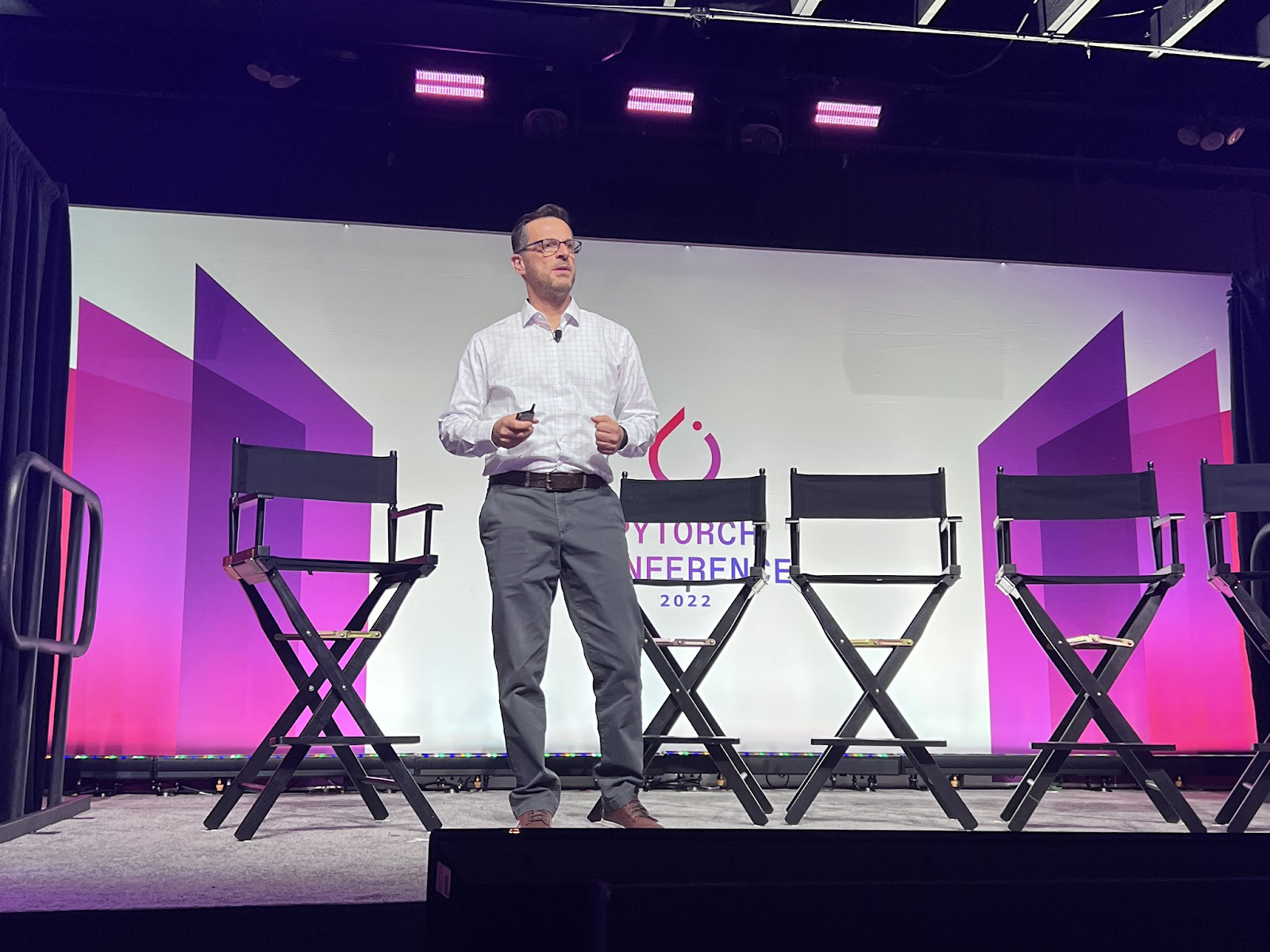 In December 2022, the PyTorch Conference brought over 900 of our PyTorch community members together in New Orleans, LA, to share recent innovations through technical talks and breakout sessions.
Many partners and contributors shared their experience with the PyTorch poster session, now available on our website.
And if you missed it, all sessions are available on demand on our PyTorch YouTube Channel.
We hope to see you at the PyTorch Conference 2023. Planning is underway, and we're excited to share more details soon.
Meetups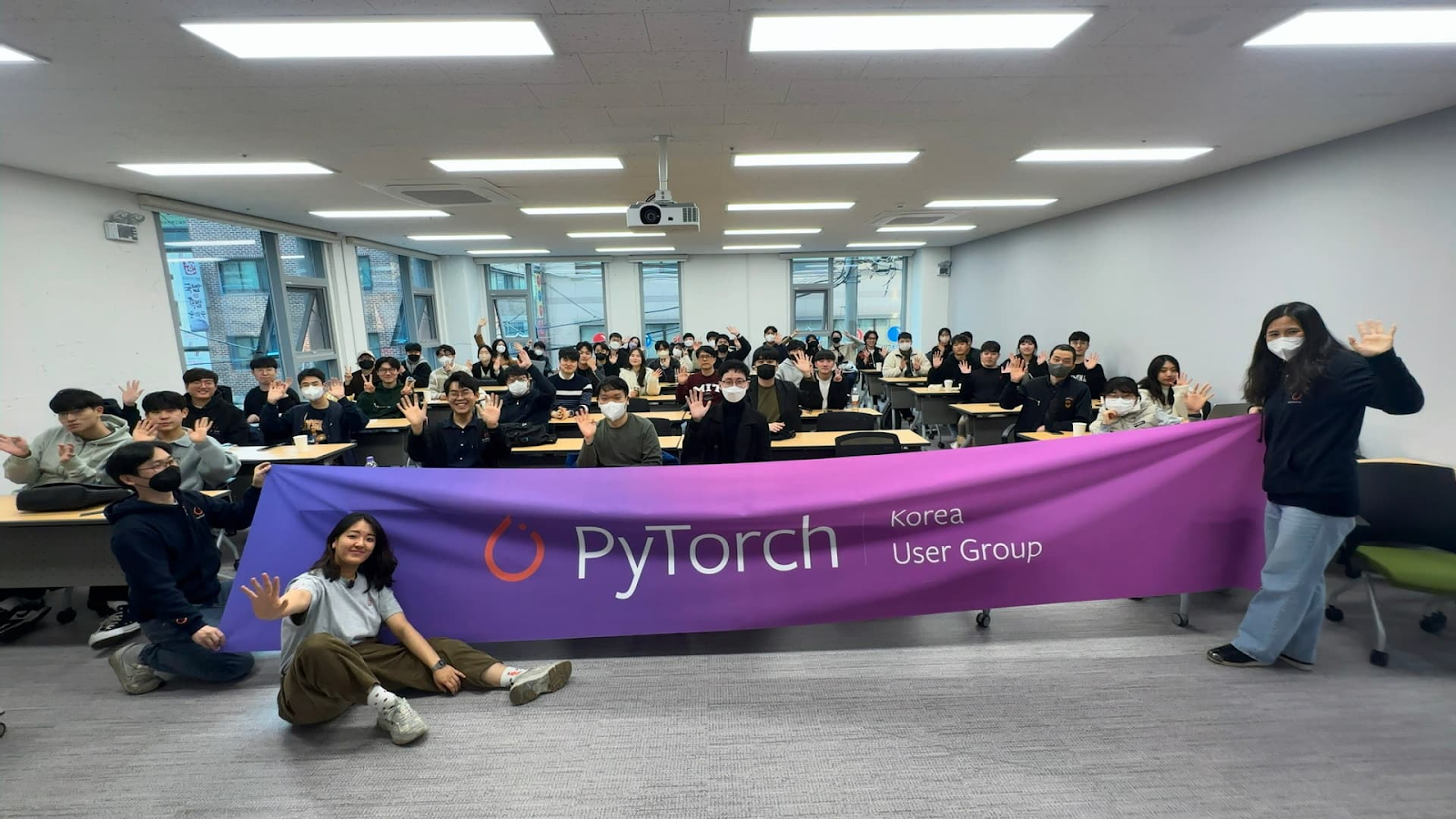 We love supporting our various PyTorch communities around the globe. Earlier this month, we hosted a virtual meetup for our PyTorch New York group, which discussed the new features in 2.0 - check it out on YouTube. We also posted a welcome video from Dr. Haddad, which is available for your community events.
If you're interested in hosting a meetup for your local PyTorch community, drop us a note in our contact us form.
Open Source Summit North America
This year, we're participating in the Linux Foundation's Open Source Summit in Vancouver, Canada. In addition, we'll have a PyTorch Foundation Mini Summit there on May 9th, 2023. Registration is now available through the Linux Foundation.
Celebrating the Work of Our Ecosystem
We look forward to the many contributions that our members will make to PyTorch and the foundation. Recently, we've shared highlights on what AMD is doing to democratize AI with ROCm™ support for PyTorch, how Google is creating efficient PyTorch training with Vertex AI, the PyTorch team at Meta's efforts to open source Holistic Trace Analysis, and at Microsoft, who built Text Analytics for Health with PyTorch.
We have posted great submissions through our PyTorch Ecosystem program, including projects like Fashable, Colossal-AI, and FuseMedML.
Are you interested in joining the PyTorch ecosystem? Details are on our website.
Thank You
We appreciate all of the support from our community on the formation of the PyTorch Foundation. We look forward to seeing this community grow and thrive, and we're excited about the future of PyTorch!