6 MIN READ
Unlocking the Future of Finance IT: Key Insights from The 2023 Open Source in Financial Services Report
The Linux Foundation | 01 November 2023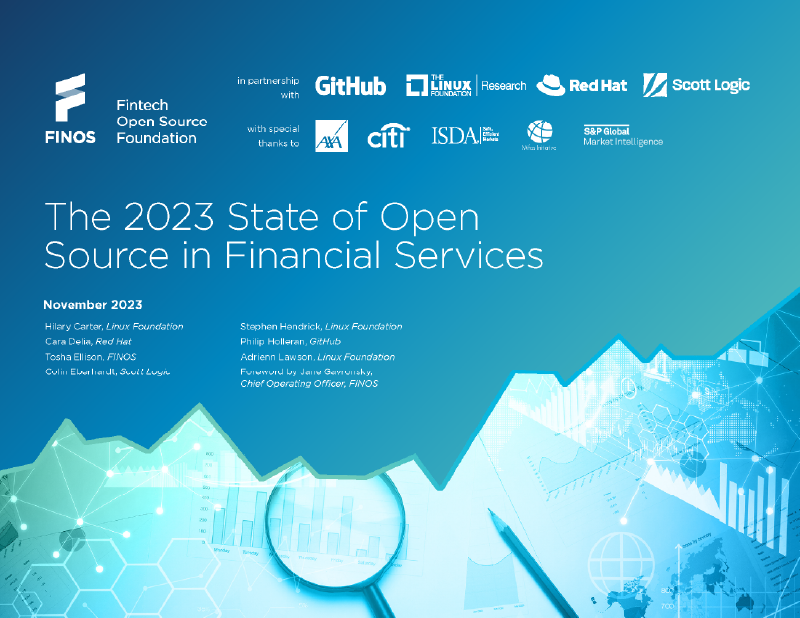 The 2023 State of Open Source in Financial Services report, published by LF Research in partnership with FINOS, Scott Logic, Red Hat, and GitHub, offers a granular look into the adoption, challenges, and future of open source in the financial sector. The report is a treasure trove of data-driven insights based on a worldwide survey conducted from June to August 2023.
This year marks the third iteration of this increasingly influential report, solidifying its status as one of the most foundational illustrations of industry-specific open source trends. The report stands out for engaging open source stakeholders in the research process, including authors, interviewees, dataset contributors, and survey distribution partners. For Colin Eberhardt of Scott Logic, this is the third time co-authoring the report, and for Cara Delia at Red Hat, it's her second year contributing. Once again, Phil Holleran from GitHub provided valuable datasets.
The annual study has become a critical benchmark for the industry, which, as this year's report reveals, reflects the growing importance of open source in financial services and a positive trajectory for policy and leadership. It is a testament to the industry's evolution and ongoing commitment to leveraging open source for innovation and collaboration.
"We have been delighted to work on the third annual State of Open Source in Financial Services report with FINOS and the Linux Foundation. This year's findings are just as impactful as previous years and paint a narrative of remarkable progress, a testament to the industry's embrace of open source as a strength for innovation.
Two years ago, our findings showed that a lack of adoption of open source would result in missed opportunities. Today, we celebrate a landscape transformation. Open Source Program Offices (OSPOs) stand not only as markers of progress but as vibrant hubs, steering the industry toward collaborative excellence.
I also want to thank the survey participants, as without their insights and commitment, this report would not be possible. May this third annual survey ignite a spark within you, inspiring deeper engagement within the FINOS community. I look forward to seeing what the future of open source in financial services holds and how it develops in 2024." – Colin Eberhardt, Chief Technology Officer, Scott Logic
Here's a summary of the key findings, challenges, and actionable insights.
Key insights
The growing importance of open source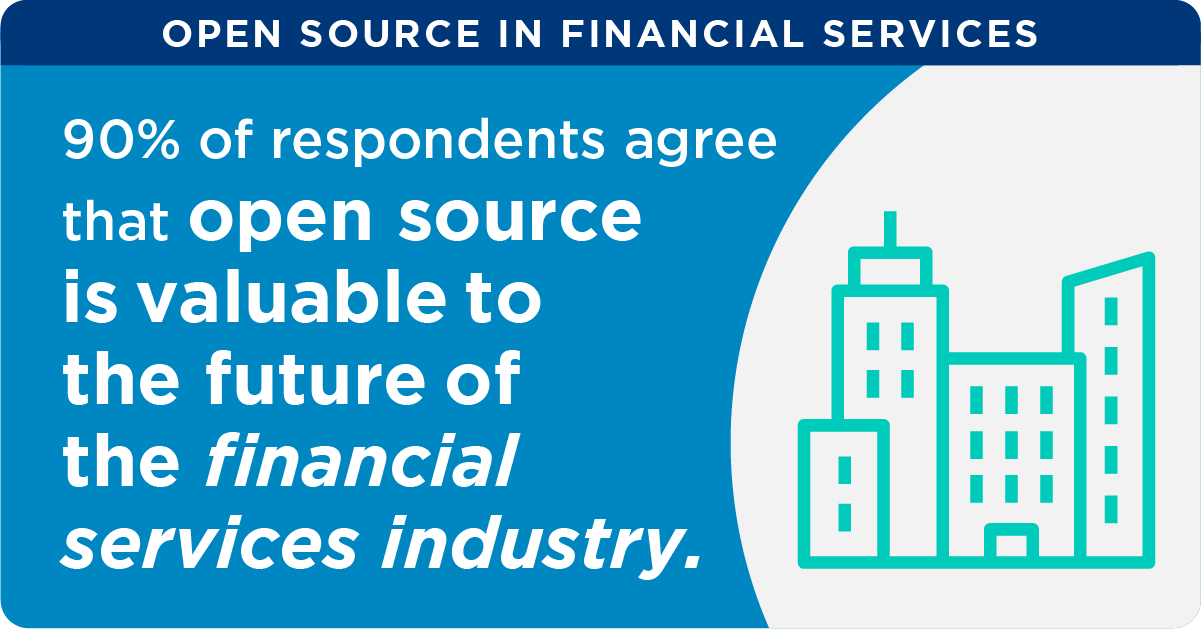 A striking 90% of respondents agree that open source is valuable to the future of the financial services industry, indicating a significant shift in industry perception. Additionally, 88% of respondents find open source valuable to their specific organization, showing that this positive sentiment is both industry-wide and deeply ingrained within individual organizations.
The rise of Open Source Program Offices (OSPOs)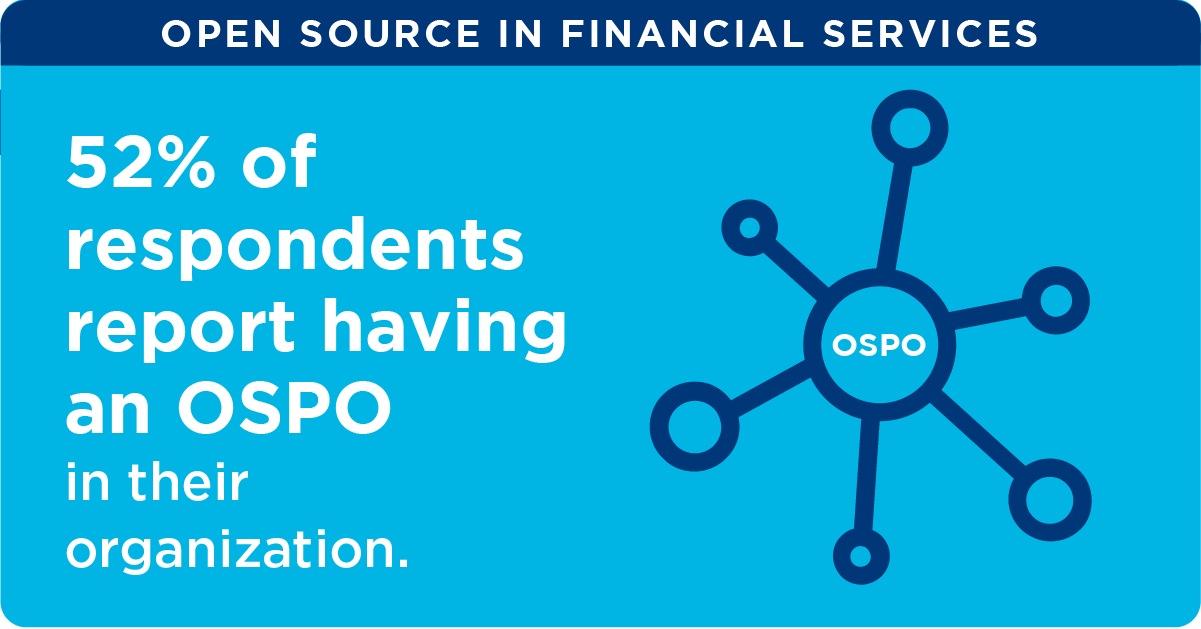 Open Source Program Offices (OSPOs) are gaining prominence within organizations, and financial services are no exception. These offices are crucial for aligning open source strategies with business objectives. A notable 52% of respondents report having an OSPO in their organization, and those with OSPOs are 80% more likely to have a formal review process for evaluating open source components.
Technology focus areas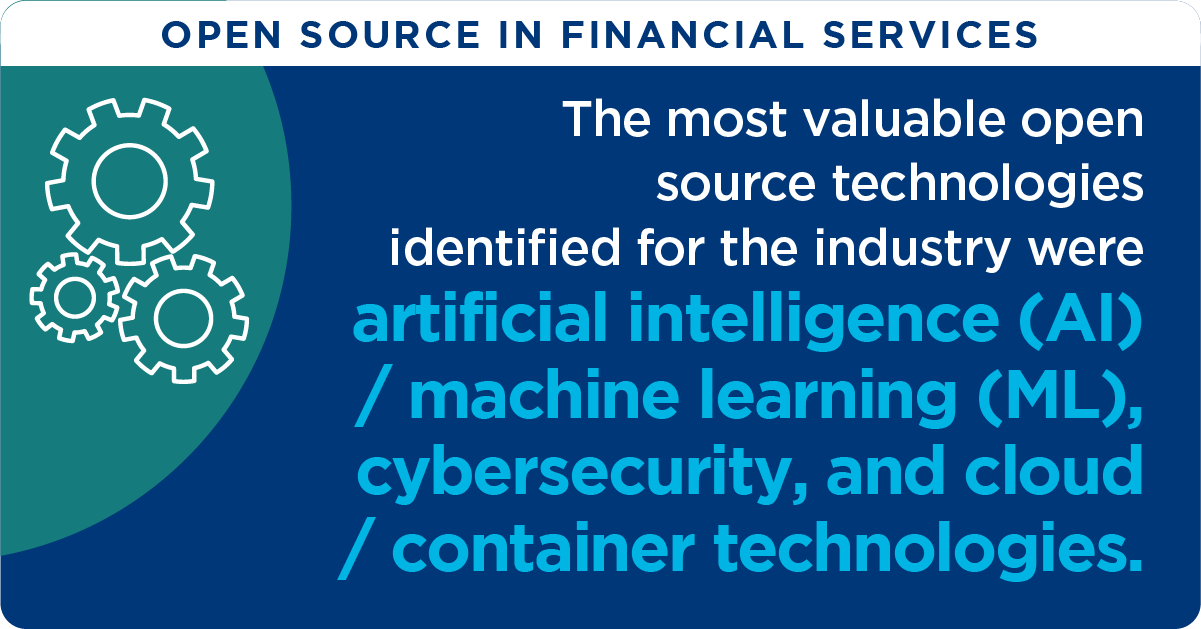 The report identifies AI/ML, cybersecurity, and cloud/container technologies as the most valuable open source technologies for the industry's future. These are not mere buzzwords but are actively shaping the financial services landscape.
Reasons for engagement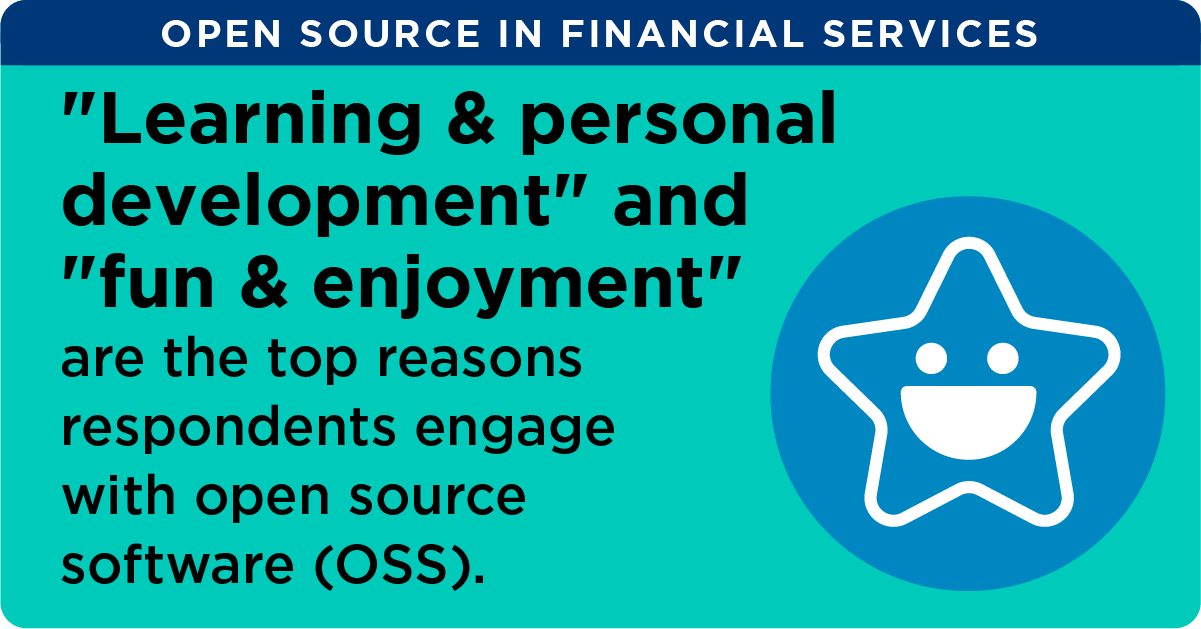 "Learning & personal development" and "fun & enjoyment" are the top reasons for individual engagement with open source. This highlights the personal and professional benefits of engaging with open source projects, which has been a factor since the study's initial launch in 2021.
Challenges and gaps
"The accelerated pace of open source consumption underscores its pivotal role in modern finance. But true industry value in accelerating the digital transformation, time to market, and overall ROI lies in active contribution, as firms can influence the direction of open source projects and directly contribute upstream." – Gabriele Columbro, Executive Director of FINOS
Regulatory hurdles
The regulatory environment poses a significant challenge, particularly the requirement for financial services organizations to document external employee communications, which limits engagement with the broader open source community.
Security concerns
Security is a significant concern limiting open source adoption, especially given the sensitive nature of financial data.
Cultural and organizational barriers
Cultural challenges exist, particularly within larger organizations. Smaller organizations are making a significant impact, while larger financial institutions are slower to shift their internal culture to fully embrace open source.
Actionable insights
"Developers have long seen the advantages of open source as not wasting precious time by building something repeatedly, especially when it is not proprietary or secret sauce to their organization. It is exciting to see the value of open source in financial services extending beyond scrum meetings to board meetings.
From survey data and personal interviews, we saw that many business leaders in financial services are addressing the need for open source in their organization- especially through the investment in Open Source Program Offices (OSPOs). The OSPOs work across the organization to drive the strategy, governance, and process for contributing, consuming, and engaging in open source communities. It is encouraging to see how open source values and community are making their way into financial services firms to change the internal culture and break down silos through the implementation of InnerSource.
The opportunities open source principles provide internally and externally in the community can advance innovations faster within the industry." - Cara Delia, Sr. Principal Community Architect, FSI & Climate Sustainability, Red Hat
Establish an OSPO
If your organization doesn't have an OSPO, you're falling behind. An OSPO can guide all open source activities, ensuring alignment with business objectives.
Developer engagement
The report advocates for encouraging developer engagement through training and mentoring programs, enhancing the skill set within the organization, and fostering a culture of collaboration and knowledge sharing.
Use collaborative platforms
Platforms like GitHub and Slack are not just tools but enablers that facilitate collaboration and engagement with the broader open source community.
Regulatory collaboration
Open source can unlock value in comprehending and standardizing regulatory requirements and compliance.
Get involved
The 2023 State of Open Source in Financial Services report offers a 360-degree view of the state of open source in the financial industry. It provides actionable insights and identifies gaps and challenges, making it essential reading for anyone involved in financial services. Whether you are a decision-maker, a developer, or an industry analyst, this report has something for everyone.
If your financial services organization is not yet engaged in the open source community, now is the time to get started, and if you want to become more involved, there are many pathways to further your journey. As the report identifies, one effective way to formalize and structure your open source efforts is by establishing an Open Source Program Office (OSPO). Organizations like FINOS and the TODO Group offer invaluable resources, best practices, and case studies to guide you. By joining such organizations, you and your organization don't have to "go it alone." You'll be equipped with a wealth of knowledge, tools, and a supportive network to help you maximize your open source opportunity.