5 MIN READ
What's the state of open source in Europe? And why does it matter now?
The Linux Foundation | 20 September 2022
When we think of the achievements of Europe, perhaps the first thing that comes to mind is the building of its great cities, such as London, Paris, and Rome. Many think of Europe as the home of early advancements in science, music, literature, and the industrial revolution. Or, perhaps we associate Europe as the cradle of democratic governance as we know it today.
But what about the more modern achievements of Europe? In particular, those that have arisen from the post-war industrial complex and, most recently, achievements defined by digital technology, including Europe's embrace of open source software, hardware, and standards.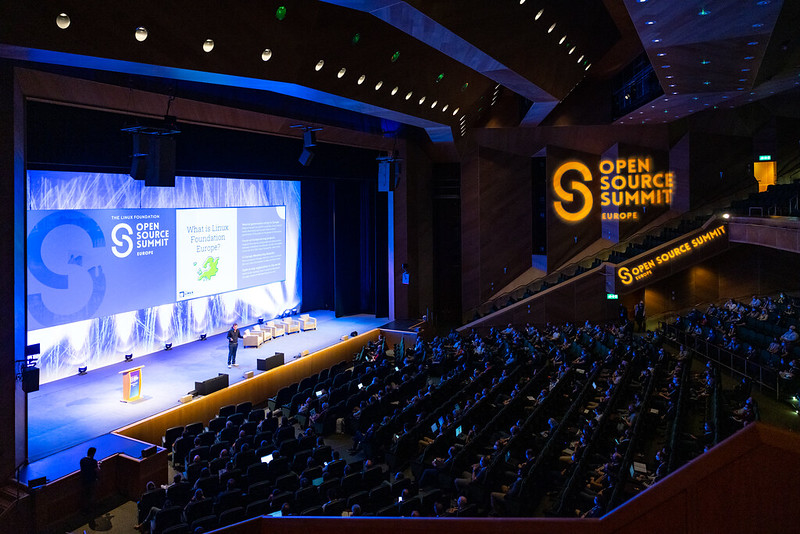 LF Europe being announced at Open Source Summit Europe 2022 (Image: The Linux Foundation)
For decades, Europe has been a leader in open source development. More than 30 years ago, Finnish-born Linus Torvalds created the Linux kernel, which has become the world's most widely used operating system kernel, and arguably the most important open source project in the world. The Web and its open HTTP protocol and resulting standards at the W3C and other Internet standards organizations originated from Sir Tim Berners-Lee's original work at CERN, the European particle physics laboratory.
In a recent keynote address at Open Source Summit Europe in Dublin, Ireland, Linux Foundation executive director Jim Zemlin described the regional opportunity as follows:
"We see different regions worldwide saying, 'we want to have our own digital community and big digital economy. We want to create new jobs, spur innovation regionally because of our region's special circumstances, or because people here understand each other and collaborate more quickly.' And so you have this balance where the free, organic, global innovation engine is open source."
Europe has also been a pioneer in the development of open source hardware. Raspberry Pi, a low-cost, credit-card-sized computer used for many applications, was developed in the UK. And Europe is also home to several other open source hardware projects, such as the Italian-born Arduino platform, which is popular with makers and hobbyists.
Moreover, Europe is home to many significant open source companies, such as Canonical (the company behind the Ubuntu operating system), SUSE (a leading provider of enterprise-grade Linux solutions), and GitLab have been at the forefront of free and open source software (FOSS) development for decades.
There's no slowing down, either. Dozens of European companies are creating open source software solutions. The European market has more than 3 million contributing open source developers, which according to GitHub, is larger than the United States. Two countries, the UK and Germany, are among the largest in the world in open source activity. And among the fastest growing countries are the Netherlands, Ireland, Portugal, and Turkey.
Europe also leads in open source policy initiatives such as the European Union directive on government use of FOSS, adopted in 2009. Individual European nations, such as France, Germany, and Italy, have supported FOSS with initiatives such as the French National Gendarmerie's use of Linux on its workstations.
And recently, as of February 2022, amendments to the EU Radio Equipment Directive (RED) will significantly impact how electronic equipment is designed and manufactured in (and for) the EU, as it mandates the use of open source software for all radio equipment, including smartphones, personal computers, and IoT devices.

To sum up, Europe has been a driving force in the open source movement, and the momentum is only accelerating. With its rich history of success across many industries, there's plenty of fertile ground to nurture future innovation.
Since the formation of the Linux Foundation, it's been important to work globally and encourage participation from different regions. We see how crucial collaborative innovation is in open source, where anyone, anywhere, can participate in open source project development, and anyone, anywhere, can use open source code to build the innovations of tomorrow. At the same time, we see regions like Europe wanting to carve out a digital community that meets the unique needs of all participants.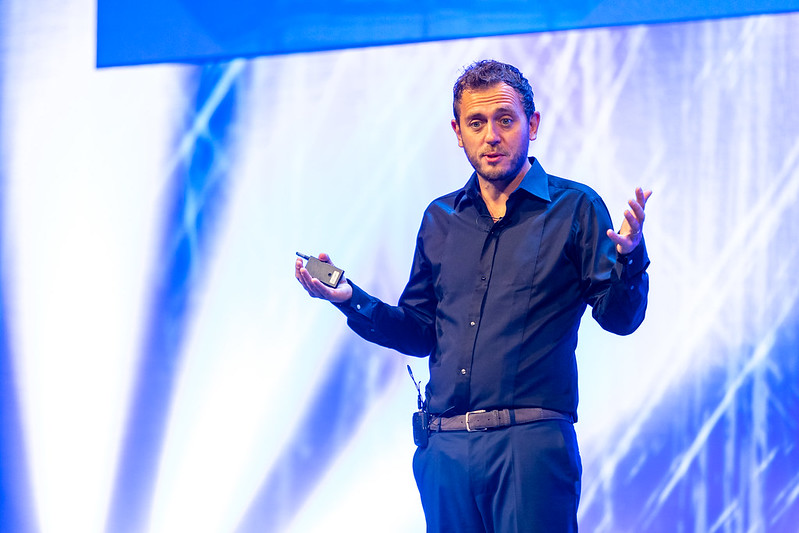 Linux Foundation Europe GM Gabriele Columbro at Open Source Summit Europe 2022 (Image: The Linux Foundation)
These dynamics influenced the LF's recent establishment of Linux Foundation Europe, officially launched in Dublin last week. According to Linux Foundation Europe's newly appointed General Manager, Gabriele Columbro,
The LF is already in Europe. More than a third of our members are from Europe, split evenly across regions. So why are we launching a European branch of the Linux Foundation? The first and foremost reason is that Europe is a unique region that includes a supranational entity (the EU) that aligns goals and defines a collaboration framework that crosses borders. And we realized there was a need to support this type of collaboration.
To ensure that supporting the European open source ecosystem would be truly "data-driven," Linux Foundation Research led the effort to explore current trends in European open source through a new empirical research project focused on the region. To achieve as large a dataset as possible, LF Research joined forces with several engaged European partners to help distribute a survey exploring opportunities and challenges for open source consumption, contribution, governance, and beyond. We are grateful to the many leaders and organizations who joined forces in this effort, reinforcing the notion that when we work together, we create better outcomes.
It was equally important that a Europe-based team partner with us to lead the empirical research process, and we were thrilled to work with Scott Logic, a UK-based software consultancy with deep expertise in open source, in this endeavor. Combining survey results with a series of qualitative interviews, the authors, led by Scott Logic CTO Colin Eberhardt, provide new insight to support the thriving European open source ecosystem, identifying challenges and opportunities for open source across the European continent.
World of Open Source: Europe Spotlight 2022 is a must-read for all who seek to understand the European open source community today.
A sneak peek at the findings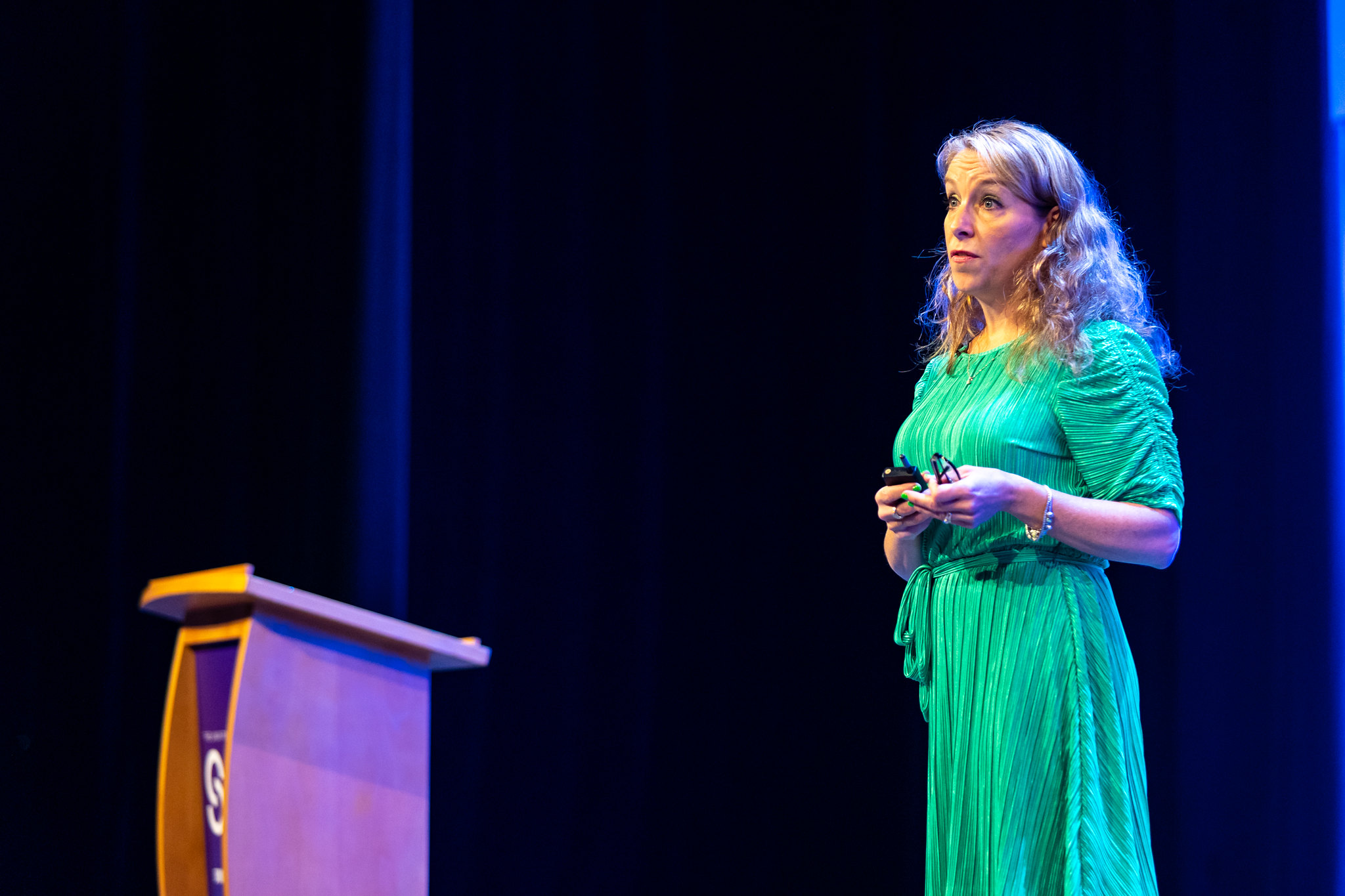 Hilary Carter, VP of LF Research at Open Source Summit Europe 2022 (Image: The Linux Foundation)
At Open Source Summit Europe, Hilary Carter, vice president of LF Research, emphasized the importance of research to examine the disparity between contributions and consumption and the motivators for developers. According to Carter,
Our survey results reveal that, once again, open source is an environment that is a fun and enriching space to be in, and an environment our survey respondents feel is a place where they can learn new skills, which is consistent with other research that we've done across Linux Foundation Research. This study also shows that open source remains an apolitical key to fostering the digital commons, enabling innovations that can originate in Europe and become de facto standards used worldwide.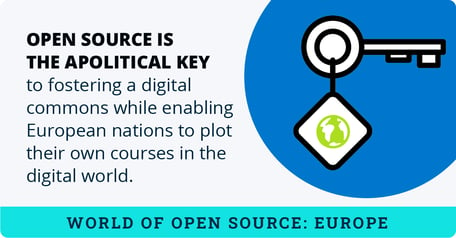 Carter adds,
According to the survey, most respondents have policies that openly encourage the consumption of open source technologies. However, there is an imbalance concerning upstream contribution. And that does create some challenges for the sustainability of open source communities. Encouraging upstream contribution is consistently a challenge that we need to work to overcome.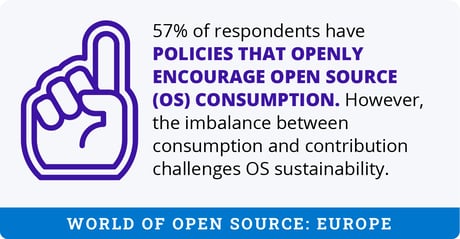 And for Columbro, leading Linux Foundation Europe is personally gratifying. He says,
It's personally a pleasure to be able to focus on Europe, a region that I think has major potential for innovation leadership through open source. We want to make sure that we enable collaborations that can start here, in Europe, but then bring their excellence to a global scale.
We're excited to support him, and the European open source community, through future studies of this kind.
Download the report to learn about the value proposition for open source in Europe, better understand the unique nature of the European open source ecosystem, and help your organization ensure European open source sustainability over the long term.