4 MIN READ
World of Open Source Europe Spotlight 2023: Why It Matters and What It Reveals
The Linux Foundation | 19 September 2023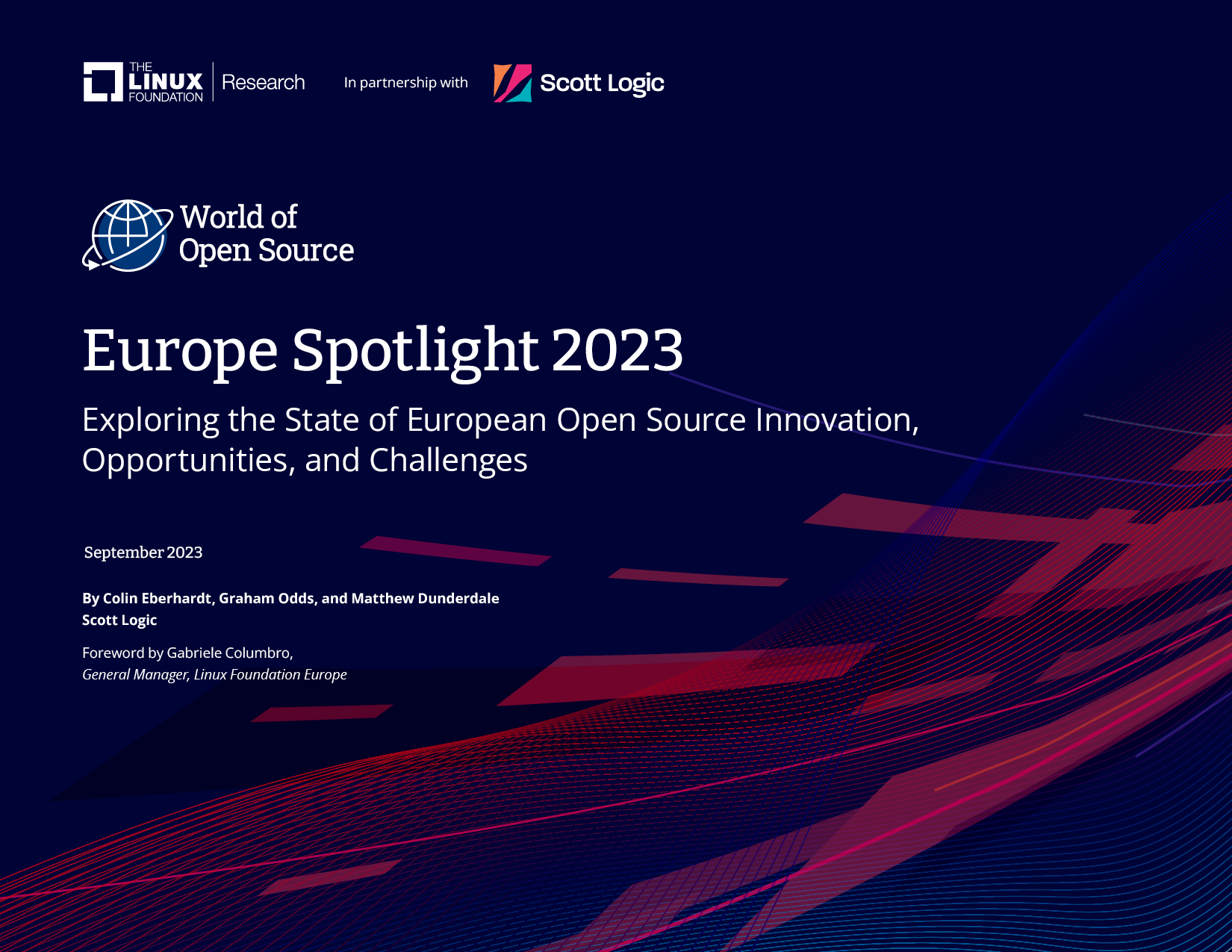 In an era where technological advancements are shaping the future, understanding the role and impact of open source technology is more critical than ever. This is the driving force behind the "World of Open Source: Europe Spotlight 2023" report, a comprehensive study to shed light on the current state and future prospects of open source technology in Europe. Authored by industry experts from Scott Logic, the report is a valuable resource for organizations, policymakers, and the open source community.
"Scott Logic is delighted to have played a part in creating the 'World of Open Source: Europe Spotlight 2023' report, and it is remarkable to see the tangible impact of open source technology across a range of sectors in 2023. With over 15 years of both personal and professional open source contribution, I've witnessed its profound influence firsthand. I look forward to seeing how we all use the findings of the report to enhance the accessibility, sustainability, and value of open source—for ourselves, our organisations, and the wider European community in which we operate." – Colin Eberhardt, Chief Technology Officer, Scott Logic
Here are some key insights uncovered in the report:
The growing relevance of open source
The report provides compelling data that 57% of organizations surveyed have observed an increase in the value they place on open source over the past year. This underscores the growing recognition of open source as a critical tool for addressing complex societal challenges, such as climate change and social inequality.
"When I began contributing to open source over 15 years ago, I couldn't have imagined its transformative power. Today, it's not just about code; it's a force for collective innovation that's changing the world. We're at a pivotal moment where technology, talent, and timing have converged. Open source has transitioned from being a 'nice-to-have' to an absolute 'must-have' in our technology stack." – Gabriele Columbro, Executive Director, LF Europe and FINOS
Cross-sectoral impact of open source: What the numbers say
The report goes beyond the IT sector, revealing that 91% of respondents, including 72% from non-IT sectors, consider open source crucial for their industry's future. The report further identifies the public sector (35%), IT (31%), and education (29%) as the sectors most likely to benefit from open source. These findings suggest that open source technology has a broad and far-reaching impact across various sectors.
Benefits and limitations: A balanced view
The report enumerates several advantages of open source technology, such as improved productivity, innovation, and talent acquisition. It also highlights its role in advancements in generative AI technologies. However, the report also points out a perceived stagnation in the value derived from open source within the public sector. Specifically, 53% of respondents in this sector indicate that the value has remained constant, contrasting with only 25% in other sectors. This discrepancy signals a potential area for further research and intervention.
The gap between utilization and contribution: An area for improvement
The report discusses a notable disparity between the value organizations derive from using open source technology and their contributions back to the community. While 59% of respondents acknowledge an increase in the value of using open source, there is a marked shortfall in contributions, particularly from the public sector. This gap suggests a need for strategies to align open source adoption with investment in its long-term sustainability.
"As we benefit from open source, we must also give back. It's a two-way street. Contributing to its sustainability is not just ethical; it's a strategic necessity for the ecosystem to thrive. The public sector has its own set of challenges and opportunities in leveraging open source. Understanding these dynamics is crucial for creating inclusive communities and driving social impact." – Gabriele Columbro
Community engagement: The driving force
The report reveals that 62% of respondents contribute weekly to open source projects during their personal time. This level of engagement serves as an indicator of the robustness and vitality of the open source community.
Public sector engagement: A call to action
The report identifies a gap between the public sector's current role and its potential impact on open source technology. While the sector either disagrees or is unaware of this potential, those outside the public sector advocate for a more central role for public institutions in adopting and promoting open source technology.
"Regulation is a double-edged sword. While it signifies the maturity of open source, we must tread carefully to ensure it doesn't stifle the innovation and ethos that make it unique. Security in open source is a shared responsibility. We must transition from being passive consumers to active participants, investing in the sustainability and security of the open source components we rely on." – Gabriele Columbro
Get involved
The "Europe Spotlight 2023" report provides a comprehensive guide for understanding Europe's complex landscape of open source technology. While it highlights the growing importance and broad impact of open source, it also identifies specific areas that require further attention, such as public sector engagement.
"After almost a decade hosting open collaborations in a very conservative and highly regulated industry like Financial Services, and now almost one year at the helm of Linux Foundation Europe, I have seen firsthand the transformative impact of open source in every industry undergoing digital transformation. The future is open, and it's up to us to shape it. This report isn't just for reading; it's a catalyst for action. Let's not be passive consumers of this report but active participants in this incredible journey. We hope this report can shine a light where your contributions will matter the most." – Gabriele Columbro
For those interested in contributing to the open source community in Europe, Linux Foundation Europe offers multiple avenues for engagement across various projects. We recommend reading the full report to gain a nuanced understanding of the state of open source in Europe and to identify opportunities for active participation.