36 MIN READ
Linux Foundation Newsletter: May 2023
The Linux Foundation | 18 May 2023
In this edition, catch up on the new LF Connectivity project, Open Source Summit North America announcements, the 2023 Tech Talent Report, four new LF Research surveys, LFX Mentorship news, and more.
Contents
Training & Certification deals
New "LF Connectivity" project to improve enhanced access to networks
Participate in Linux Foundation Research surveys
Open Source Summit North America in Vancouver made a big splash
Diversity, equity, and inclusion
Linux Foundation project news and updates
Training & Certification deals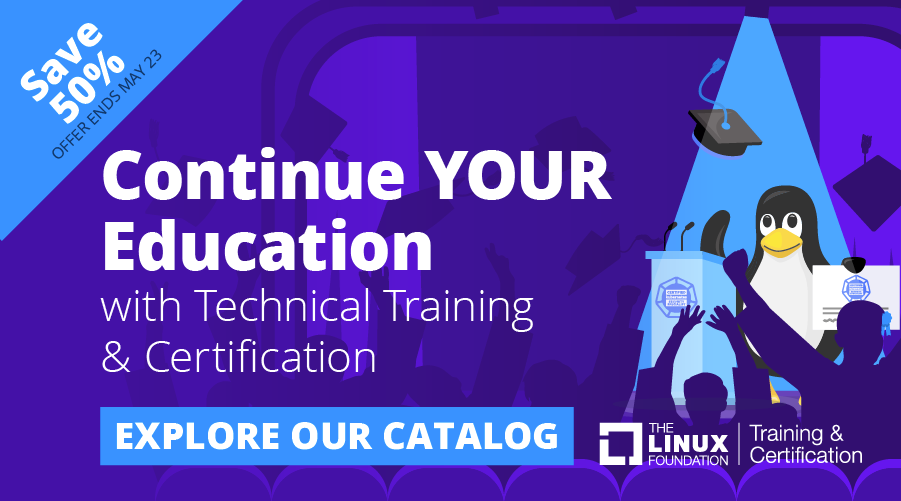 Continue your education, invest in yourself, and save up to 50% on training courses and certifications through May 23rd. Shop now!
Interested in reading our Training newsletter? Click here to subscribe.
New "LF Connectivity" project to improve enhanced access to networks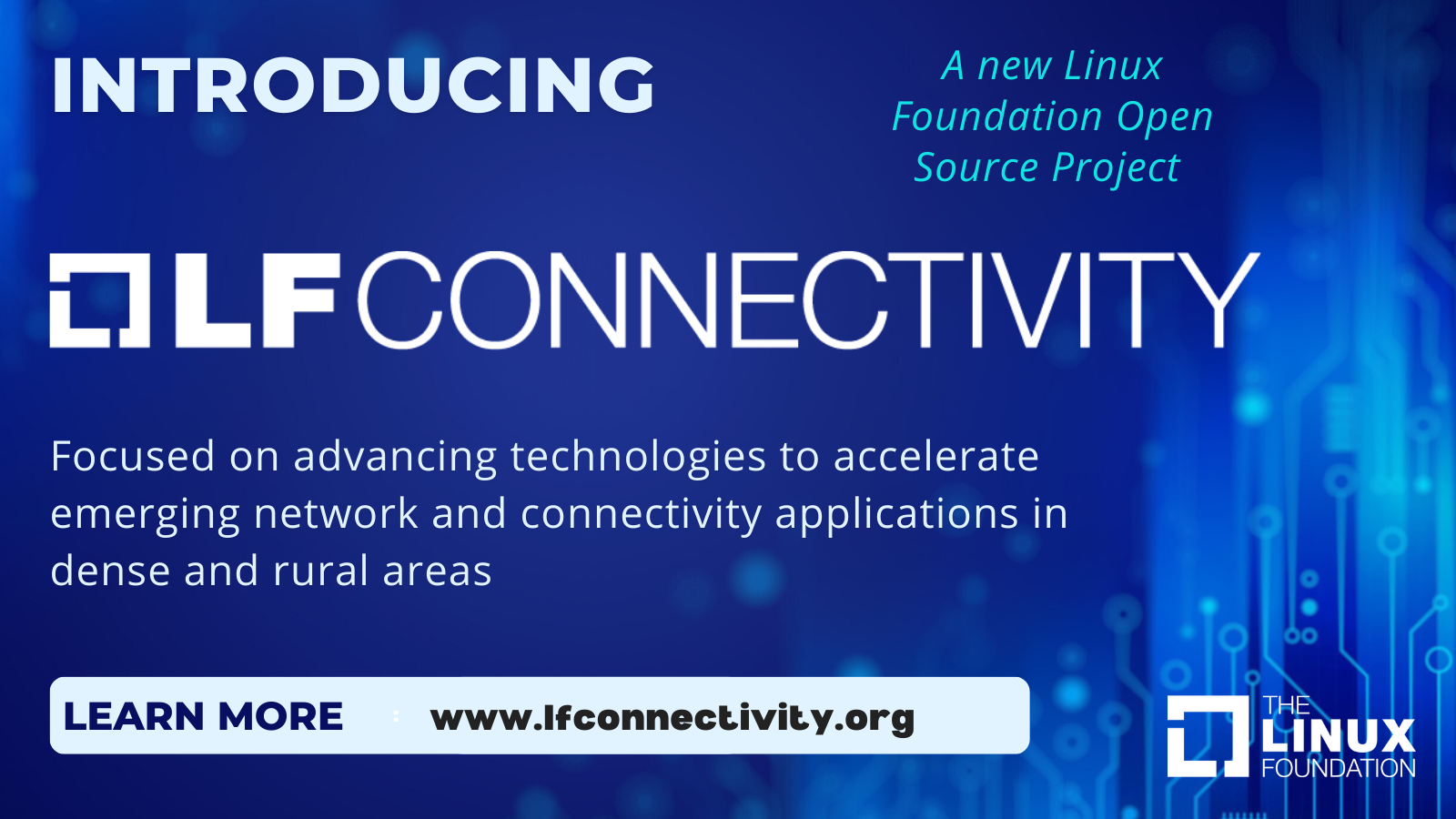 The Linux Foundation, in collaboration with Meta, has announced a new open source project, LF Connectivity, designed to advance technologies that will accelerate network and connectivity applications. Under the auspices of the Linux Foundation— as the network ecosystem's open source center of gravity—LF Connectivity will address connectivity challenges within high-bandwidth fixed and mobile connectivity, sharing its home with other leading open-source networking projects.
In collaboration with industry partners, Meta is making significant contributions to the LF Connectivity project by introducing three initial sub-projects: Terragraph, Open M-Plane, and Maveric:
These contributions by Meta aim to advance mobile wireless connectivity and network optimization, providing operators with greater flexibility and efficiency in deploying their networks.
LF Connectivity's vision is to create a sustainable open ecosystem that will enable various communication service providers to leverage open source tools and technologies to meet the performance and quality of experience requirements of emerging applications.
In addition to Meta's significant contributions, supporting organizations include AMD, Cambium Networks, Capgemini, Edgecore Networks, Siklu Communications, University of Delhi, VIAVI, and Virginia Tech are among the supporting organizations for this initiative.
Resources
Participate in Linux Foundation Research surveys

Image: Hilary Carter, Linux Foundation SVP of Research and Communications, addresses the audience during her keynote during Open Source Summit North America 2023
Hyperledger Brand Survey
In collaboration with Hyperledger, Linux Foundation Research is conducting a brand awareness study to measure familiarity and understanding of business blockchain technology, the Hyperledger tenets, and the individual frameworks and tools developed within it. This survey data will help guide Hyperledger and its surrounding ecosystem in its mission to advance enterprise-grade blockchain adoption through open source collaboration.
World of Open Source: Global Spotlight 2023 Survey
Take the Linux Foundation's

World of Open Source: Global Spotlight 2023 Survey

and share your perspective on the state of open source worldwide. The survey will explore regional open source trends and investigate using and adopting open source technologies and best practices.
2023 Open Source Program Office (OSPO) Survey
The TODO Group and Linux Foundation Research are conducting a survey as part of a research project on the prevalence and outcomes of open source programs and similar open source initiatives operating across the globe.
OpenSSF Software Security Awareness Survey
Open Source Summit North America in Vancouver made a big splash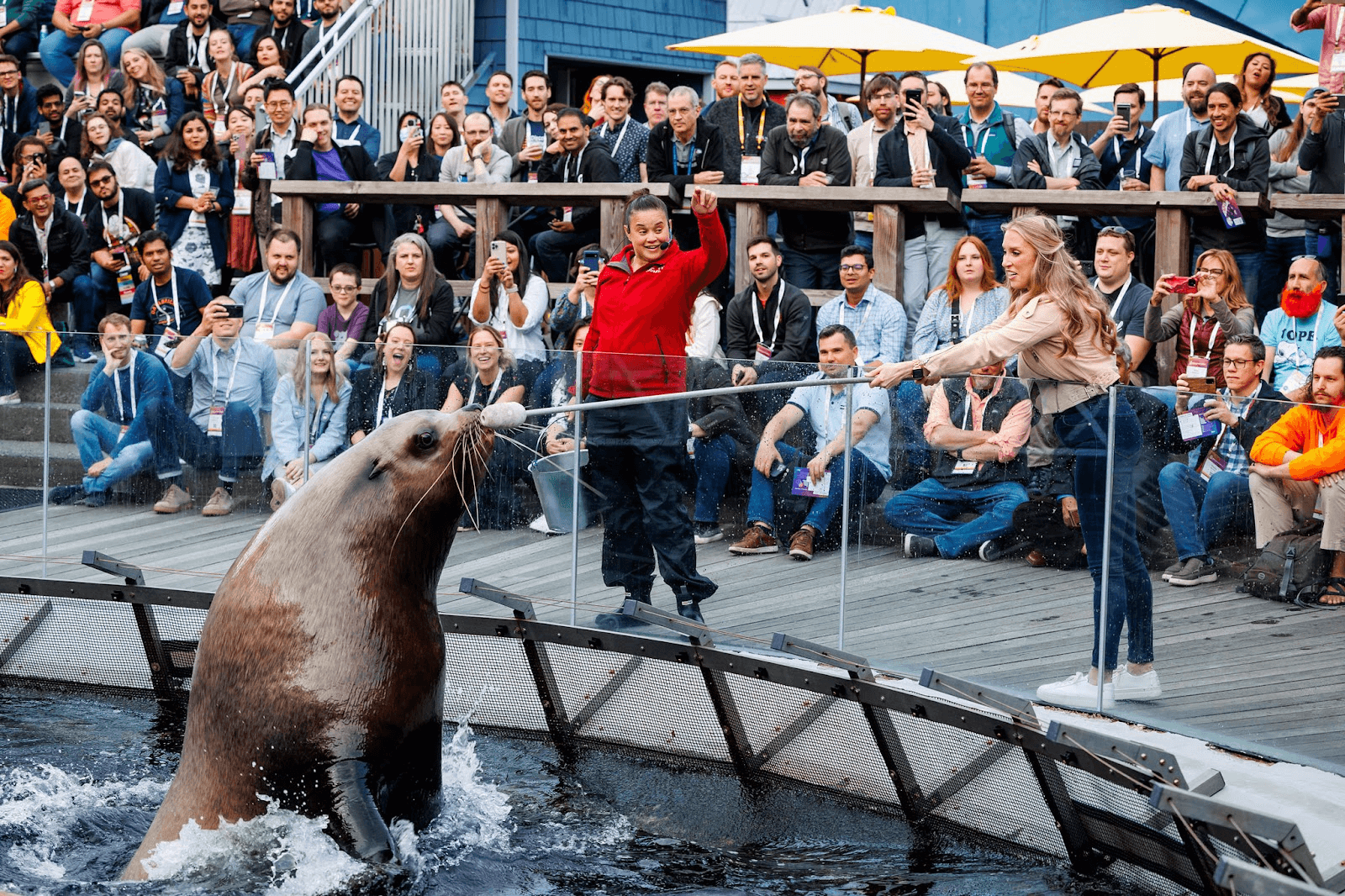 Image: Amak, the 930+ kg (2000 lb) Steller sea lion, greets OSSNA attendees at the event reception at Vancouver Aquarium on May 11, 2023.
From May 8 to May 12, more than 2000 people from the open source community and over 1400 virtual attendees gathered in Vancouver, British Columbia, for the Linux Foundation's premier annual conference, Open Source Summit North America (OSSNA), and related community events. It was an exciting week!
Community events like the Linux Security Summit, OpenSSF Day North America, Linux Storage, Filesystem, MM & BPF Summit, CD Con / GitOps Con, Spinnaker Summit, and Open JS Collaborator Summit kicked off the week.
OSSNA featured over a dozen micro-conferences that focused on critical technologies, topics, and issues in open source. These micro-conferences were presented as tracks during the summit. Some notable first-time events included Sustainability Con, which addressed technological solutions for decarbonizing the global economy and combating climate change, and the inaugural Open Metaverse Summit, where industry leaders explored the Metaverse using open technologies.


Linux Foundation Research and LF Training and Certification released the 2023 State of Tech Talent Report, which sheds light on the priorities, challenges, and changes this year brings to the tech workforce.
LFX Mentorship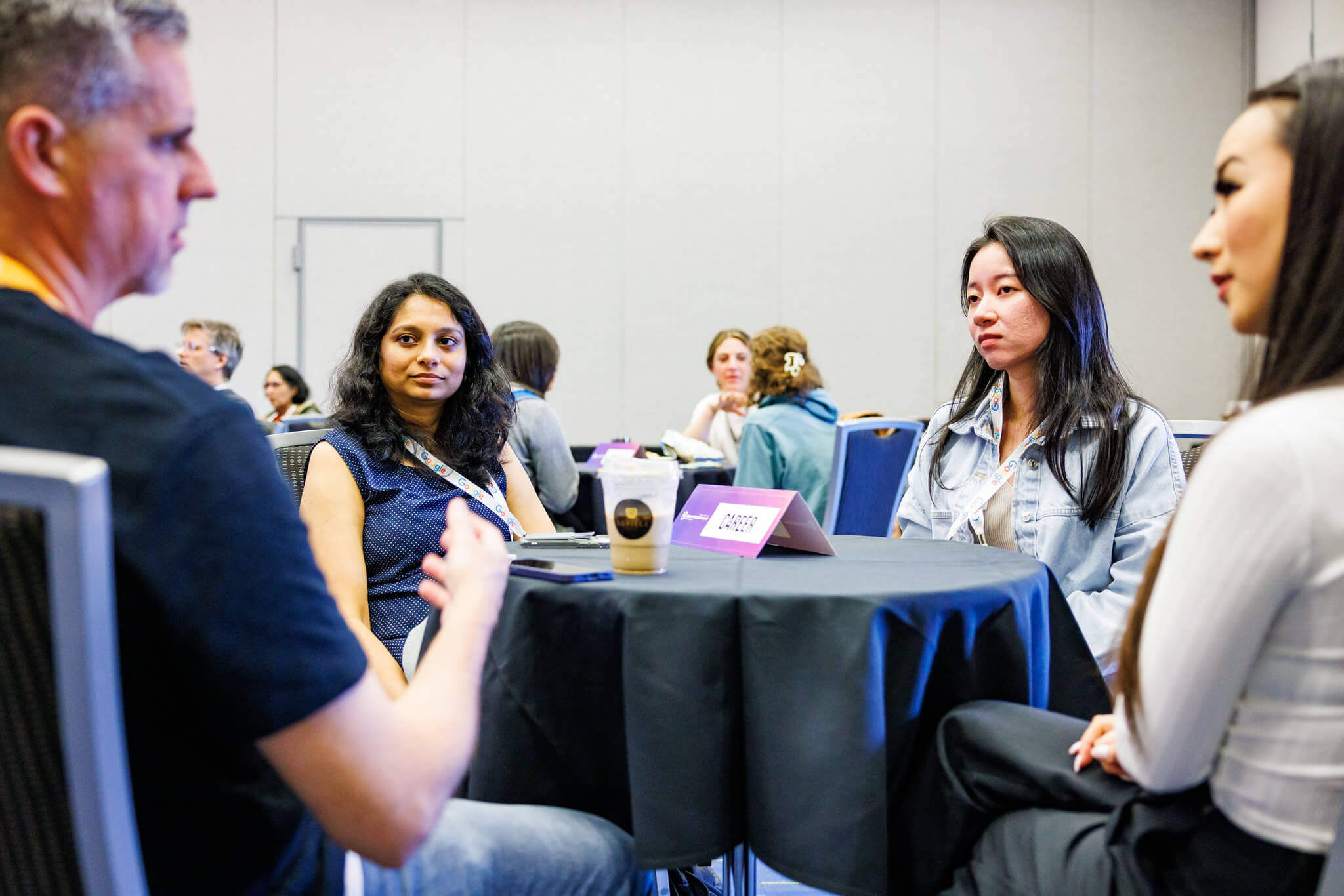 Image: Speed Mentoring Session at Open Source Summit North America 2023 in Vancouver
Upcoming events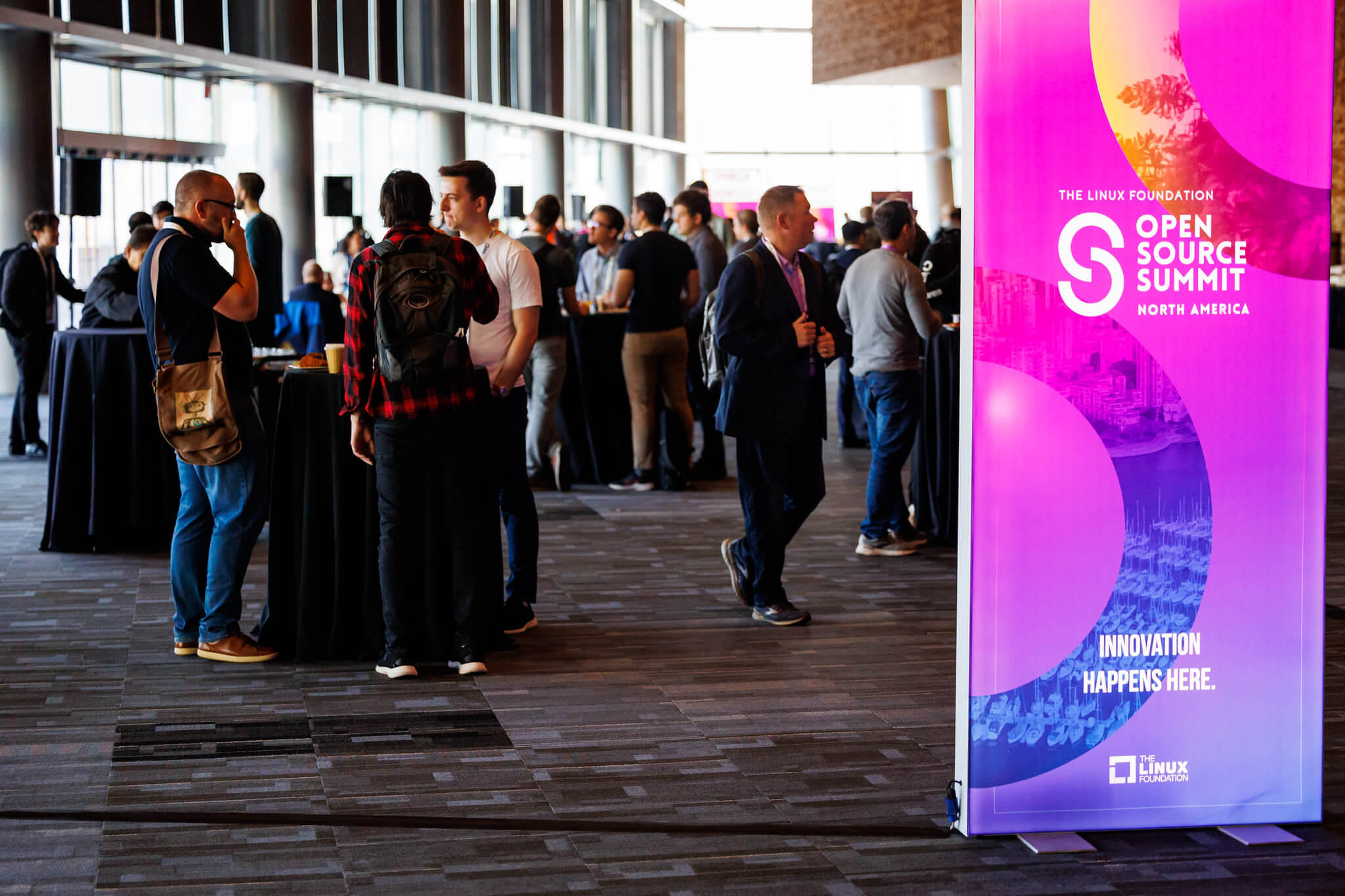 Image: Attendees enjoying a coffee break at the Vancouver Convention Centre during Open Source Summit North America
To register (for in-person attendance or virtual), please view our full calendar of events here, and be sure to subscribe to our events newsletter. Check out our Flickr stream for photos of past events!
Diversity, equity, and inclusion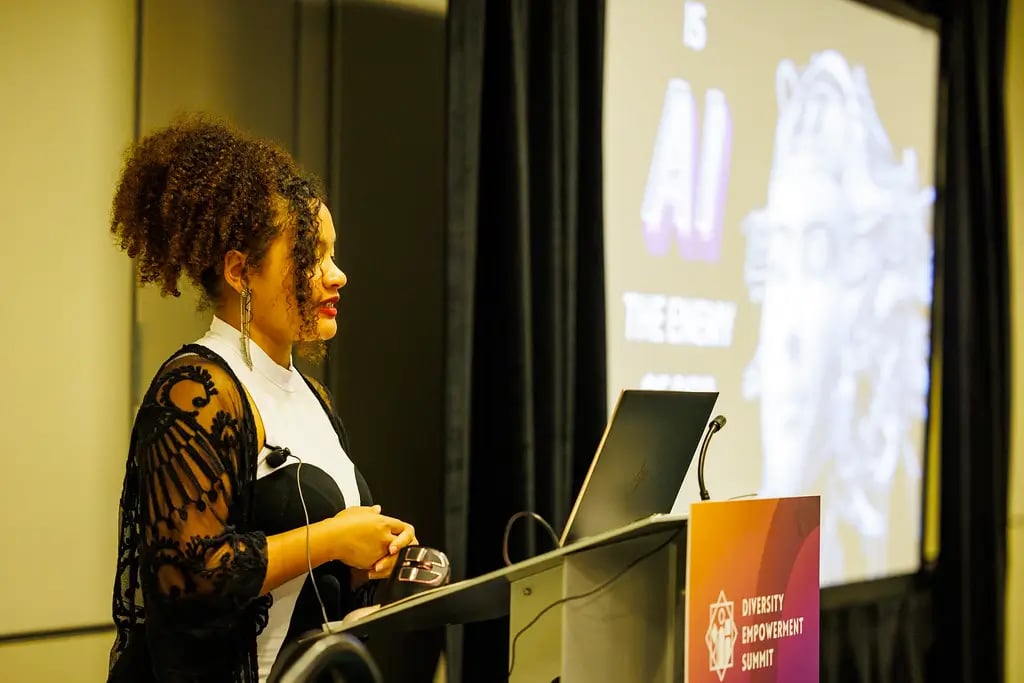 Image: Quiana Casandra Berry from Red Hat speaking at Diversity Empowerment Summit 2023 in Vancouver
Open Mainframe Project is

celebrating AAPI Heritage Month

. You can also celebrate it by donating to an organization that advances the AAPI community, asking your AAPI colleagues and team members to share their stories, and even ordering lunch from a local restaurant to highlight a part of the culture.

Missed

the

Empowering LGBTQIA+

webinar?

Don't worry, catch the replay!

Led by DEI consultant Jess Pettitt, the webinar featured renowned panelists who discussed the importance of community, self-expression, and relationship-building for creating safe spaces. Dan Brown from

LF Energy

shared insights on the impact of cultural polarization and the significance of inclusivity in the tech ecosystem and beyond.
Check out our new

Diversity & Inclusivity resources page

; Diversity Scholarships are offered for events. For more eligibility information and how to apply, please visit the individual event's website (

all listed here

), click the "Attend" tab, and select the "Registration Scholarships" option.
The Linux Foundation's Travel Fund provides open source developers and community members with financial support to attend events they may not have been able to otherwise and prioritizes those from underrepresented or lower socioeconomic groups.

Learn more about the fund and how to apply.
Linux Foundation project news and updates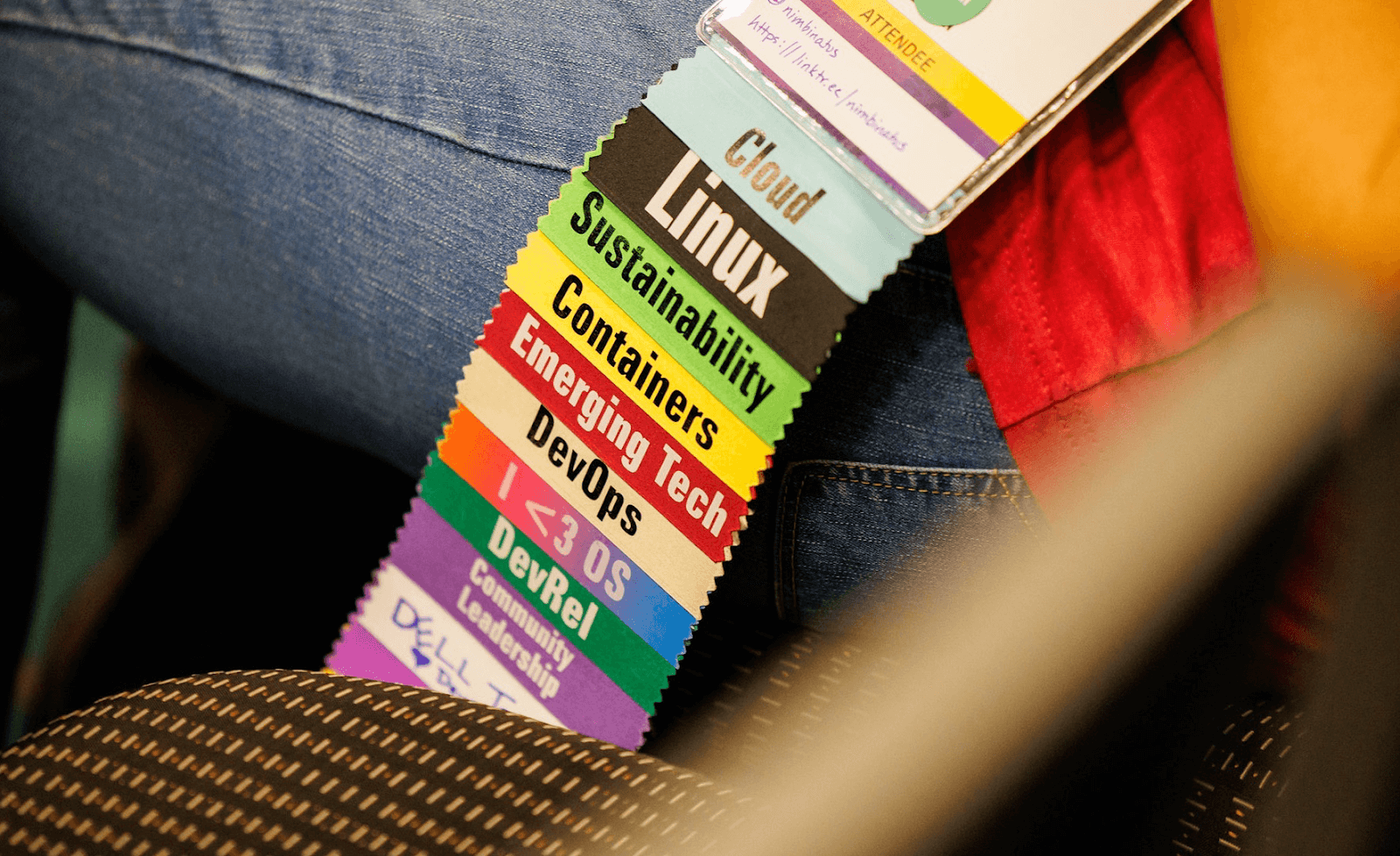 Image: A diverse conference track ribbon worn by an Open Source Summit North America 2023 attendee

Overture Maps Foundation
CD Foundation
Fatih Degirmenci, CD Foundation Executive Director, made exciting announcements at cdCon + GitOpsCon in Vancouver:
Save the date for the

Continuous Delivery Mini Summit

on September 18 in Bilbao, Spain, alongside Open Source Summit EU. The Call for Papers is open until May 23 at 11:59 PM PST.
Cloud Native Computing Foundation
Delta Lake
Delta Lake rust lang API v0.11 released with delete operations, write command improvements, Databricks Unity Catalog support, and unit tests.

Check out the release notes.

Join the Data + AI Summit in San Francisco on June 26-29, 2023, or virtually on June 28-29, and explore the world of data. Use code ETLINUX400 to save $400 on the full conference pass (expires 6/2).

Learn more.

Upgrade to Delta 2.3 for exciting features and benefits.

Discover why and how to upgrade here.
Dronecode Foundation
ELISA Project
LF Energy
FinOps Foundation
Join

FinOps X

, the premier conference for professionals seeking to advance their FinOps career, expand their knowledge, and network with practitioners worldwide.
FINOS
Hyperledger Foundation
OpenJS Foundation
Open 3D Engine (O3DE)
PyTorch Foundation
PyTorch Docathon announced

: a hackathon-style event to improve documentation with community involvement.

Registration is open

; event dates: May 31-June 15.

Introducing Hidet

, a deep learning compiler for efficient model serving. Ideal for PyTorch users seeking improved inference performance and optimized custom operators.
Registration and call for proposals for

PyTorch Conference 2023

are now open. The event is scheduled for October 16-17 in San Francisco, California.
RISC-V
OpenSSF
Omkhar Arasaratnam

joins as the new General Manager

, while Brian Behlendorf transitions to CTO, focusing on technical and policy challenges in securing the software supply chain.
OpenSSF

expands membership

with Hitachi, Lockheed Martin, Salesforce, and SAP, and receives $5 million in funding for the

Alpha-Omega Project

from Microsoft and Google.
Community presentations on

SLSA, vulnerability disclosures, Scorecard, Sigstore, Best Practices Badge, and developer tooling

at OpenSSF Day and SupplyChainSecurityCon.

The 2023 Technical Advisory Council

(TAC) and Security Community Individual Representative (SCIR) announced by OpenSSF.
Save the date for the

second OSS Security Meetup in Japan

on June 2nd in Tokyo, hosted by OpenSSF members.
Blogs:
SPDX (SBOMs)
The Software Package Data Exchange (

SPDX

) project has

unveiled the SPDX 3.0 release candidate

, a major milestone in expanding this open standard to cover a wider range of use cases. SPDX 3.0 introduces enhancements for transparency in AI/ML applications, training datasets, and secure supply chain infrastructure. This release greatly simplifies software licensing compliance and enhances the modularity of the specification.
TODO Group (OSPOs)
Interview

with TODO Group's Ana Jiménez Santamaria on Girl Code Coffee Chat. Naturally, the topic is open source!
The third OSPO Share & Learn micro-conference will be held in Germany, catering to European regional needs to implement Open Source Program Offices (OSPOs) effectively. Join OSPOlogy Live, co-organized by OSPO at SAP, TODO, InnerSourceCommons, LF Energy, OpenChain, SPDX, CHAOSS, and OpenSSF projects.

Register now.
LF Networking
LF Edge
Congrats to Fledge for advancing to the Impact stage! Explore how

Fledge

can help unleash the potential of your industrial data.
Get insights from LF Edge leader Michael Maxey, VP of Business Development at ZEDEDA, on his journey in the edge computing industry and the importance of planning for IoT and edge growth.

Read the complete interview.
Open Mainframe Project
Nephio
Nephio's highly anticipated Release 1 is coming in June, promising groundbreaking advancements in cloud computing. Expect unmatched performance, scalability, and security. Stay informed on R1's progress by subscribing to the

Nephio-dev mailing list

.
SONiC
Zephyr Project
Antmicro introduces platform-agnostic integration between Zephyr, CMock, and Unity for improved testing workflow.

This tutorial

teaches how to utilize the CMock/Unity integration and replicate tests in Renode.
Lilbit, a top IoT pet tracker provider, incorporates Zephyr RTOS in their LilDog and LilCat products. CTO Herbert Wikheim

highlights the advantages of the RTOS

, including streamlined development, reduced time to market, and delivering high-quality customer-centric products.
LF in the media
Follow us
Follow the Linux Foundation on social media to get all the latest info, updates on upcoming events, and breaking news and announcements from the global open source ecosystem. Follow us here: Mastodon, Twitter, Facebook, and LinkedIn.