61 MIN READ
Linux Foundation Newsletter: October 2023
The Linux Foundation | 19 October 2023
This month's newsletter will be one of our biggest ever! In October, our communities met in person at the Open Source Summit Europe in Bilbao and KubeCon + CloudNativeCon + OSS in Shanghai, China. At OpenSSF's Secure Open Source Summit in Washington, DC, we continued advancing important conversations to improve the security of software supply chains. We had a record month at LF Research, with four new reports published since our last newsletter on brand new topics, including the mobile industry and Europe's public sector, and year-over-year trends specific to European open source and the state of the OSPO. And, of course, there's lots of project news for you to catch up on, including the announcement of OpenPubkey, a zero-trust passwordless authentication system for Docker.
Contents
---
New blog: How open source foundations protect the licensing integrity of open source projects
What if the Linux kernel switched its license to a Business Source License (BUSL)? A recent blog post by Mike Dolan, SVP of Projects at the Linux Foundation, explores this hypothetical scenario to emphasize the critical role of open source foundations as stewards of license continuity. The article highlights how foundations like the LF, as neutral, openly governed collaboration hubs, mitigate license change risk and preserve the integrity of open source projects.
---
October event recaps
Open Source Summit Europe 2023 (Bilbao, Spain)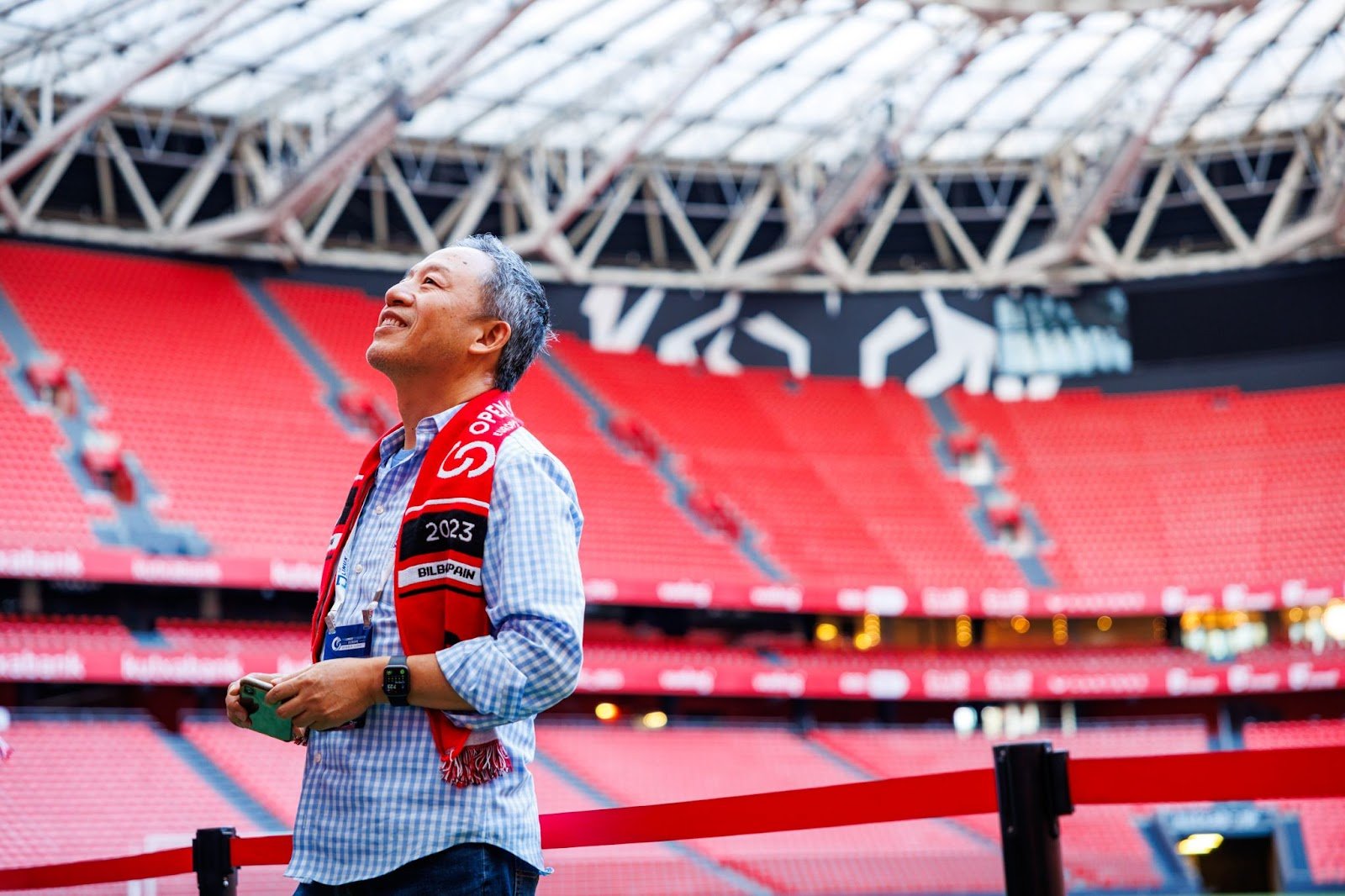 Futurewei's Wenjing Chu enjoys a moment at the OSSEU attendee reception at San Mamés stadium in Bilbao
Open Source Summit Europe kicked off with several mini summits, such as the CD Mini Summit, Open Wallet Mini Summit, Node.js Collaborator Summit, OpenSSF Day Europe, the Linux Foundation Europe Member Summit, ONE Summit regional day, LLM Avalanche Bilbao, Confidential Computing Mini Summit, SPDX mini summit and more. These gatherings allowed participants to dive deeper into specific open source topics and collaborate with experts in the field.
The official program commenced with opening remarks from Gabriele Columbro, Executive Director of FINOS and General Manager of Linux Foundation Europe. He discussed Linux Foundation Europe's journey since its launch a year ago, delved into hot topics like the Cyber Resilience Act, unveiled the World of Open Source Europe Spotlight 2023 and Europe's Public Sector Opportunity reports from LF Research and highlighted OpenWallet Foundation's role in uniting the private and public sectors.
Keynote highlights: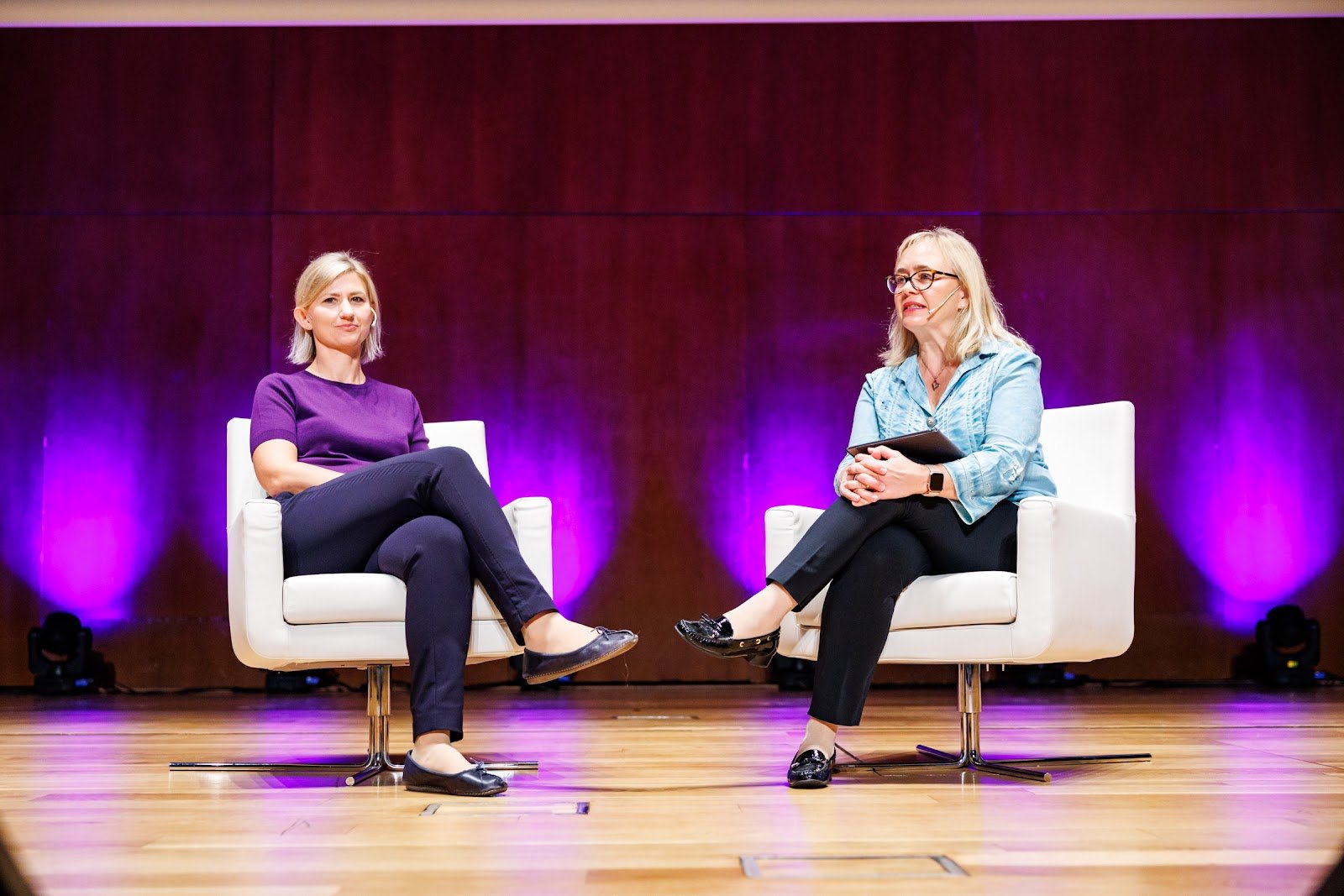 Ola Ben Har, Global Head of Developer Relations, Google Pay and Wallet & Marie Austenaa, Head of Digital Identity, Visa
Sessions included discussions on various technical topics, such as Kubernetes, open source communities, and best practices. The day also featured Ask the Expert Sessions, where participants had the opportunity to engage with industry leaders and gain insights into their areas of expertise.
Beyond the stimulating sessions, attendees enjoyed visiting San Mamés Stadium, which offered a unique glimpse into local Basque culture and history. The stadium is an architectural marvel, winning first prize at the World Architecture Festival for its distinctive design.
Throughout the summit, attendees had the chance to network, engage in lively discussions, and gain valuable insights into the world of open source technology. We thank all who joined us in Bilbao for an unforgettable experience.
---
#FixTheCRA
Amidst the conference sessions, hallway tracks, San Memés stadium, and Guggenheim museum tours, OSSEU participants were given a sobering reminder of current threats to open source. The CRA is approaching the plenary vote in the EU parliament, and time is running out. As we asked our community in Bilbao, we reiterate to everyone in this month's newsletter: Please join our campaign to help #FixTheCRA by contacting industry leaders and policymakers to raise your concerns. The time to act is NOW!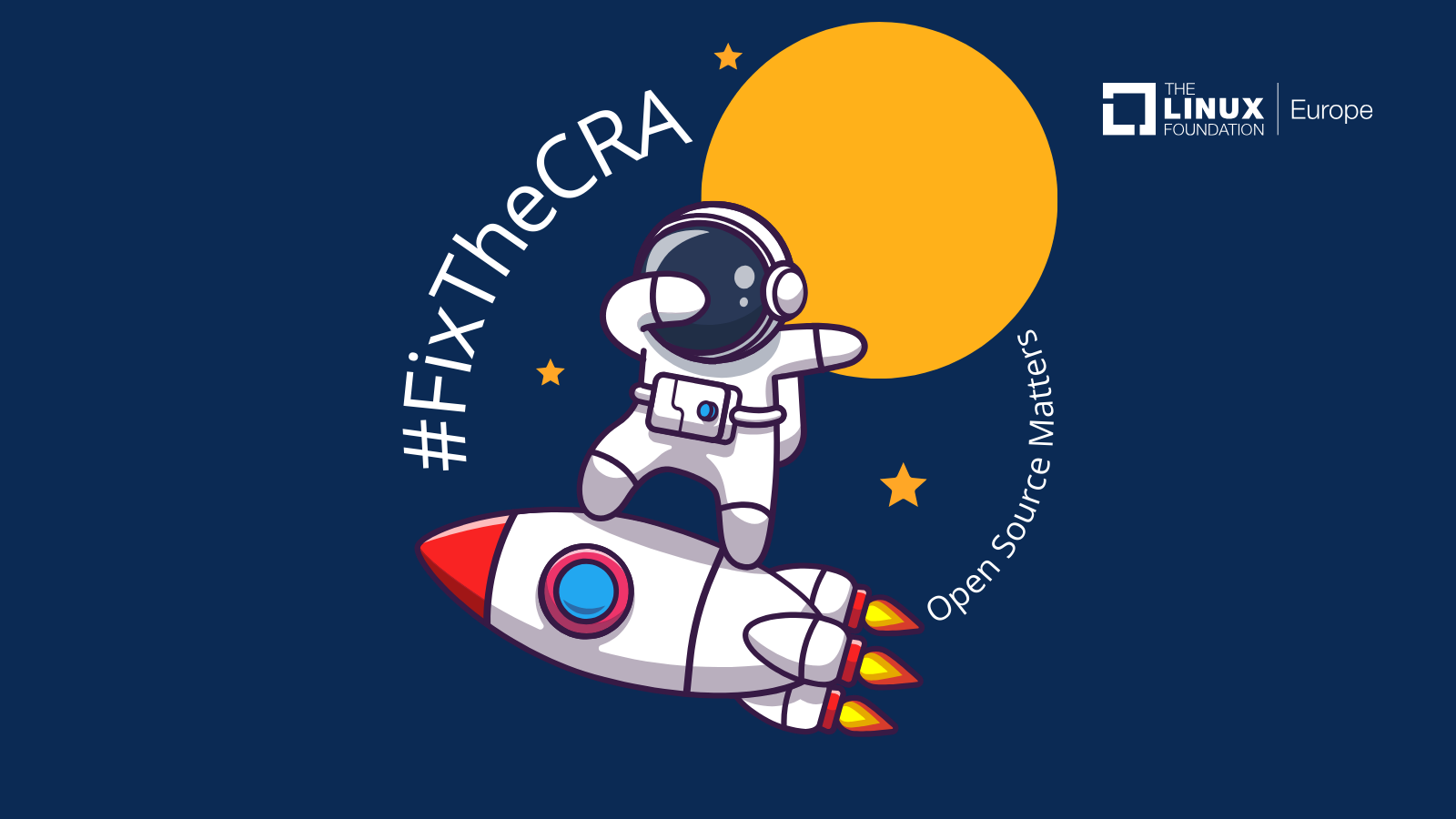 Catch up on the latest CRA-focused content, including from keynotes and panels at OSS EU and recently published blogs:
---
LF Member Summit Europe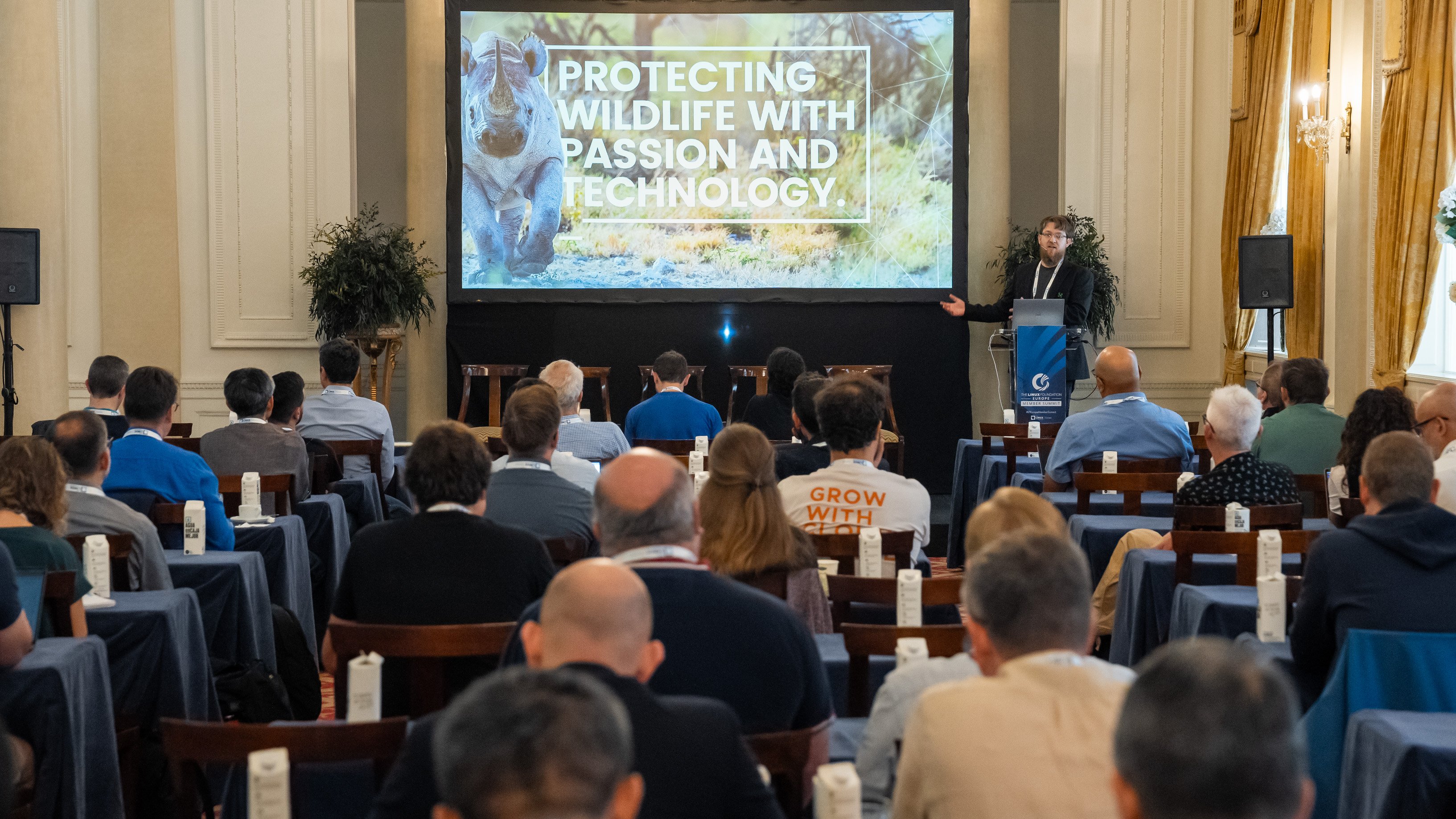 Attendees of the 2023 LF Member Summit in Bilbao watch Luka Mustafa's presentation on Protecting Wildlife with OpenCollar Running Zephyr OS
Linux Foundation Europe proudly hosted its first Annual Member Summit! This milestone event marked its inaugural year, bringing together LF Europe members for an unforgettable gathering. The summit served as a groundbreaking platform for fostering collaboration, open innovation, and strategic partnerships among individuals and organizations in the private and public sectors. Read the blog recapping the event, and watch the one-year recap video here.
---
KubeCon + CloudNativeCon + Open Source Summit China 2023 (Shanghai)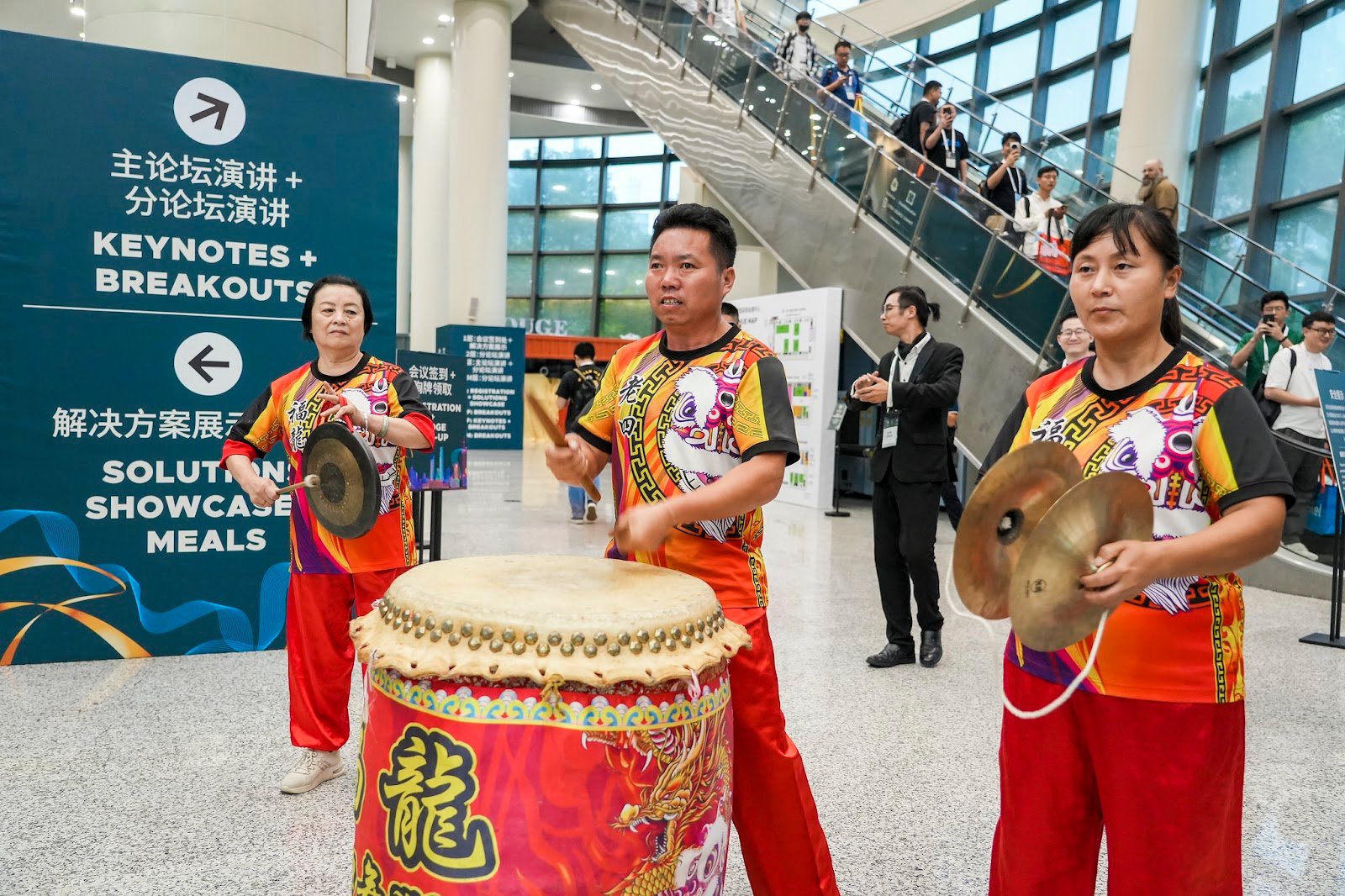 Chinese traditional drummers & percussionists playing at Open Source Summit China 2023 in Shanghai
KubeCon + CloudNativeCon + Open Source Summit China 2023 in Shanghai is a wrap! Thank you to all the attendees, speakers, and sponsors who joined us in Shanghai. Below are the key takeaways from the event keynotes hosted by Co-Chairs Kevin Wang and Fog Dong:
---
Training & certification deals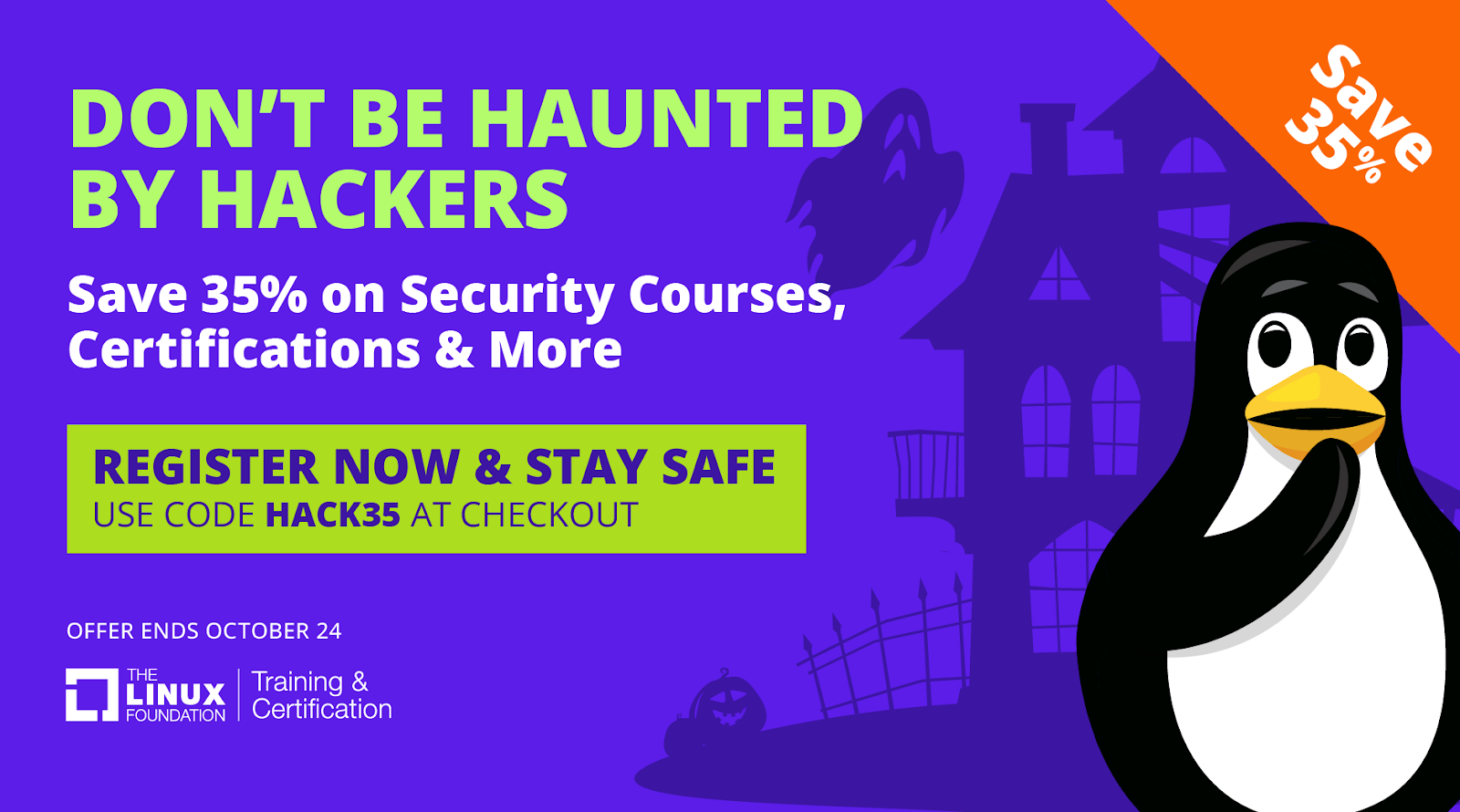 Keep current with IT skills that can help you advance your technology career by saving 35% on security training and certification with HACK35 at checkout. Offer Ends October 24, 2023.Interested in reading our Training newsletter?
Click here to subscribe.
---
LF Research
Recent publications

LF Research is excited to announce its latest report, A New Direction for the Mobile Industry: Making the Case for More Open and Transparent Mobile Software!
Our mobile phone industry is dominated by siloed companies that cause vendor lock-in, inflexible terms, higher costs, and ultimately stunted growth. This negatively impacts consumers, app developers, manufacturers, and regulators. This research report, sponsored by Futurewei and in partnership with numerous open source projects, features interviews from subject matter experts to understand the current state of the mobile industry, the challenges this industry faces, and how these challenges could be addressed by open sourcing the mobile technology stack. Critical to this shift are open standards, which provide cross-industry consensus for the development of the stack.
Read the full report by Gordon Graham:
---
New reports launched at Open Source Summit Europe in Bilbao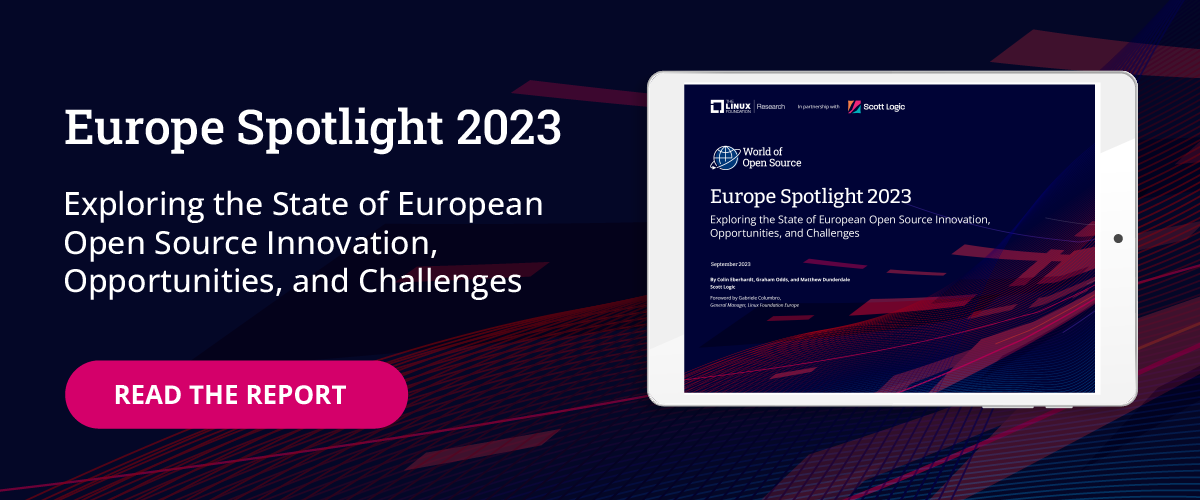 Europe Spotlight 2023: Exploring the State of European Open Source Innovation, Opportunities, and Challenges follows in the footsteps of its 2022 report, covering a wide range of topics and concerns relating to open source within Europe. Data was collected from the worldwide survey launched earlier this year and interviews with stakeholders in the European open source community. This report incorporates year-over-year comparisons with 2022 findings to understand the directional shifts in this ecosystem. Findings indicate that while the value of open source has increased in the last year, there is progress to be made in contributions, public sector perceptions, and SBOMs.
Read more about these findings and the challenges and opportunities for the region in the full report by Colin Eberhardt, Graham Odds, and Matthew Dunderdale of Scott Logic:
---
---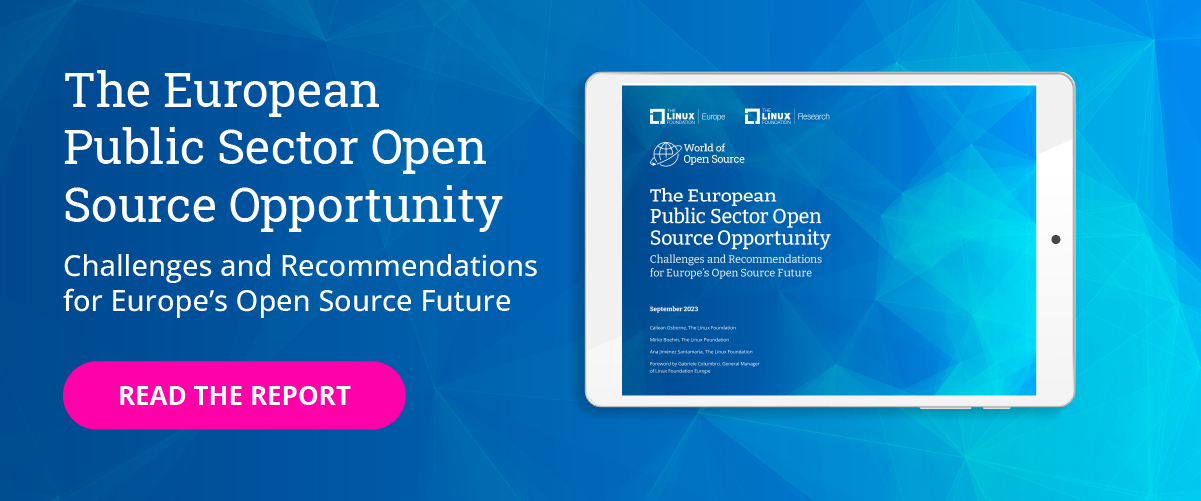 After taking an industry-wide view in our Europe Spotlight report, The European Public Sector Open Source Opportunity: Challenges and Recommendations for Europe's Open Source Future zooms in on Europe's public sector. This qualitative report examines the trends, challenges, and opportunities for OSS adoption in this sector. It emphasizes the need for a cultural shift for open source to reach its full potential in Europe. Synthesizing case studies and interviews with subject matter experts, the report identifies pathways to encourage greater public sector adoption, engagement, and participation.

Read more about the needs and recommendations for the sector in the full report by Cailean Osborne, Mirko Boehm, and Ana Jimenez Santamaria:
---
Once again, the TODO Group partnered with Linux Foundation Research to run its sixth annual study, with findings now available in The 2023 State of OSPOs and OSS Initiatives. This year's survey found that as OSS use and contributions become more mainstream, the role of OSPOs and OSS initiatives is better understood. This translates to greater support for innovation, compliance, security, and growth in OSPO adoption and increased project sustainability. However, there are important financial and cultural concerns that may hinder growth.
Read more about these findings in the full report by Stephen Hendrick, Linux Foundation Research, and Ana Jimenez Santamaria, TODO Group:
---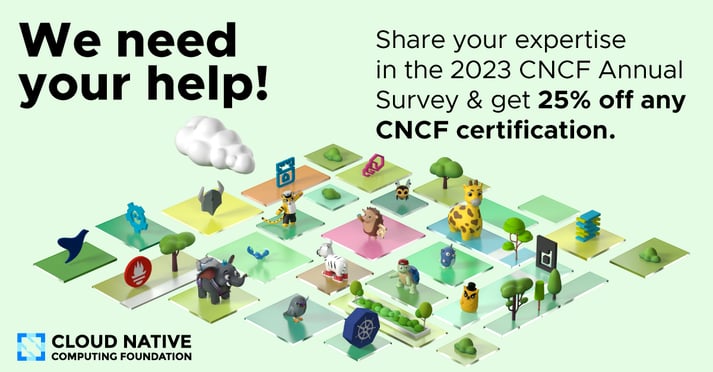 Since our initial launch of the 2023 CNCF Annual Survey, we've corrected missing or misclassified projects in our incubating versus graduated lists as of the CNCF interactive landscape as of September 29, 2023. We thank community members for pointing out these discrepancies and reiterating that research is collaborative. s always, your feedback matters, so if you took the survey previously when it initially launched, we would be grateful if you would consider taking it again (and we will include responses only from the most recent of any duplicate IP addresses). You'll get a bonus e-learning course or certification exam discount code.
Thank you. We appreciate your helping us create insights to benefit all cloud native community members.
---
Upcoming events
To register (for in-person attendance or virtual), please view our full calendar of events here, and be sure to subscribe to our events newsletter. Check out our Flickr stream for photos of past events!
---
LFX Mentorship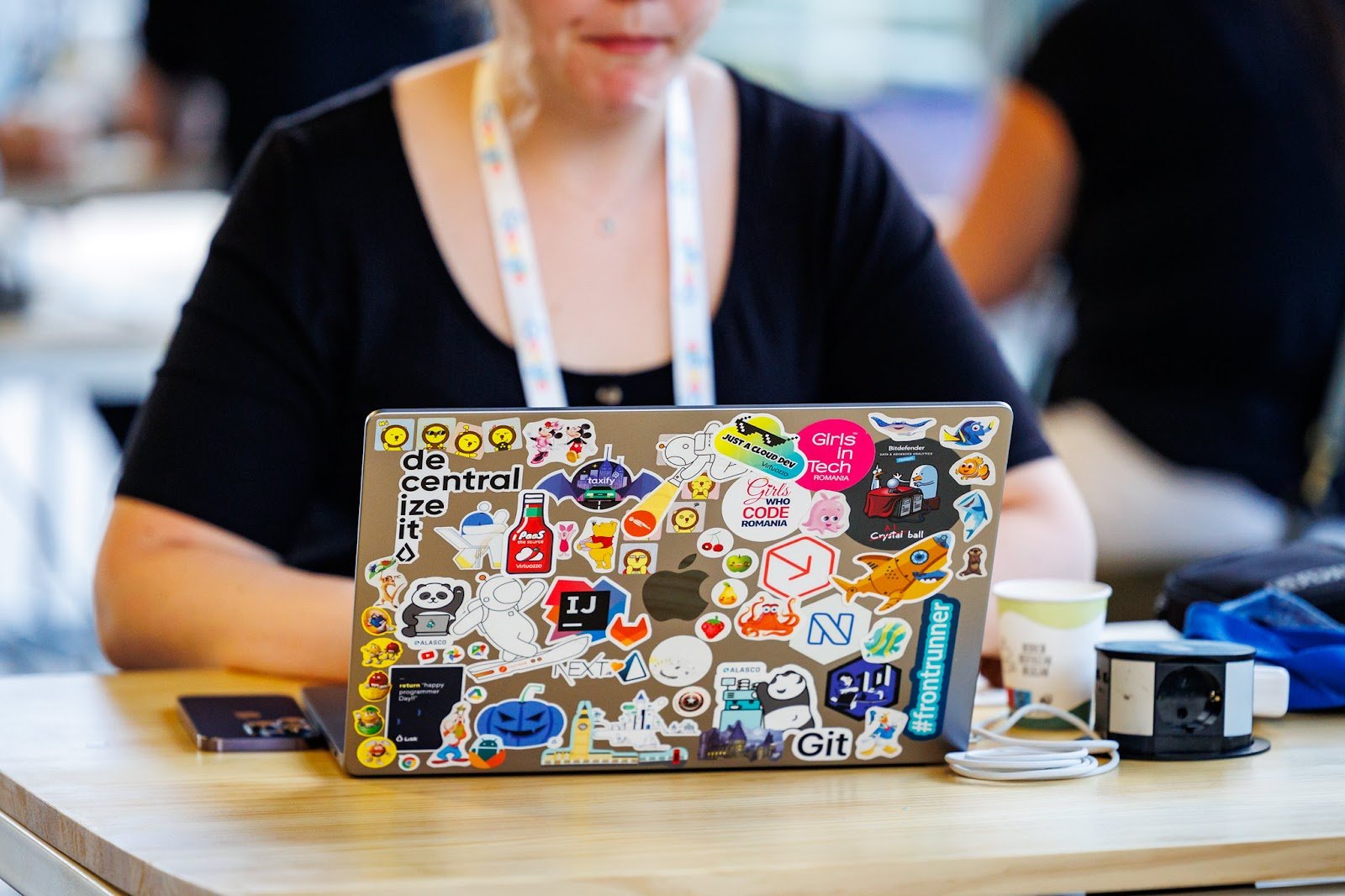 ---
Diversity, equity, and inclusion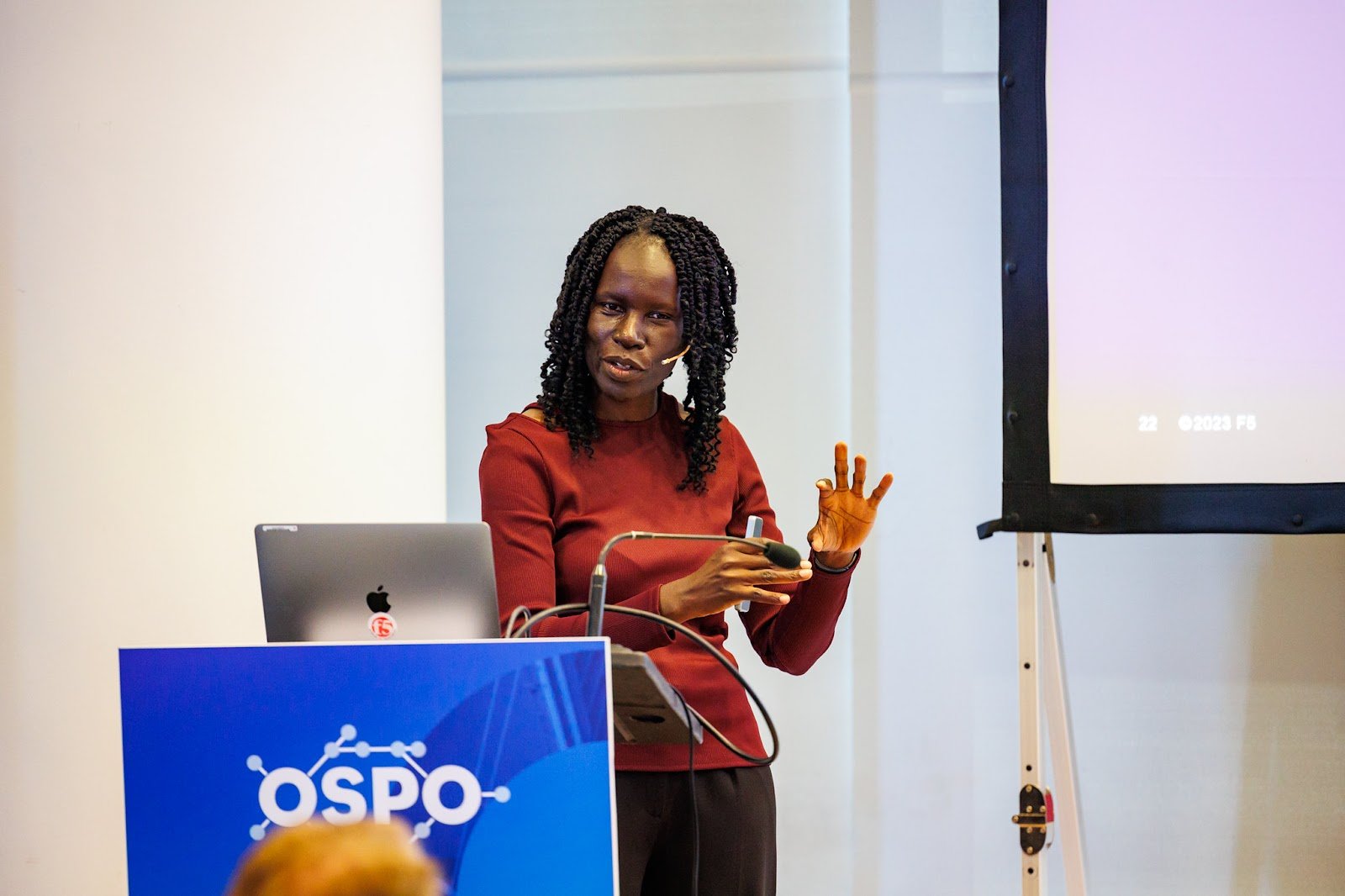 Christine Abernathy, Sr. Director of Open Source, F5, presents at OSPOCon at Open Source Summit Europe 2023

Open Mainframe Project celebrated National Hispanic Heritage Month from September 15 to October 15 by spotlighting several project leaders and contributors. Get to know:

---
Linux Foundation project news and

updates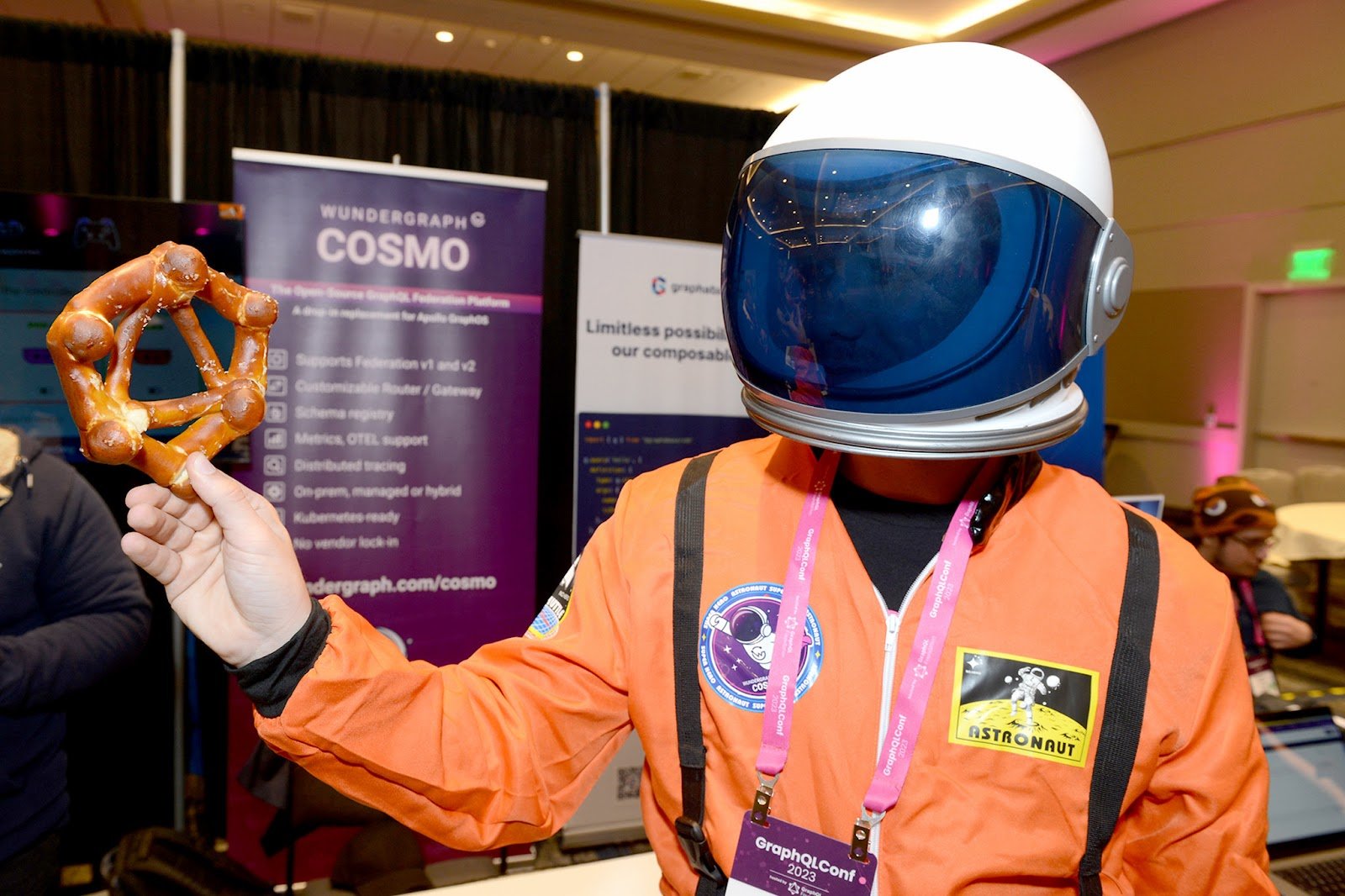 Attendee wearing a spacesuit at GraphQLConf 2023 in San Francisco


OpenTofu
Want to get started with the new OpenTofu Alpha release? Check out this new blog on The New Stack, written by Sebastian Stadil, CEO and Founder of Scalr.
Announcing OpenPubkey
On October 4, 2023, the Linux Foundation, BastionZero, and Docker announced the launch of OpenPubkey, an open source project aimed at enhancing security in the open source software ecosystem through zero-trust passwordless authentication. Developed as part of BastionZero's secure infrastructure, OpenPubkey allows users to bind cryptographic keys securely by transforming an OpenID Connect Identity Provider into a Certificate Authority. This integration enables Docker users to improve software supply chain security. The initiative aims to strengthen digital signatures, secure remote access, and enhance features like signed builds and code commits. Want to get involved? Check out OpenPubKey's reference implementation GitHub repository and read the specification.
---
LF AI & Data / PyTorch Foundation
AI & Data
PyTorch Foundation
Delta Lake
We're excited to announce the general availability of Delta Lake 3.0! This groundbreaking release of the renowned open source Delta Lake project unifies lakehouse storage formats and gives users flexibility and control over their data. Key features of Delta Lake 3.0 include: Delta Universal Format (UniForm), Delta Kernel, & dramatically Faster MERGE and Updates. For a complete list of features, fixes, and improvements,

visit the release notes.
Our latest blog highlights a few of the Delta Lake 3.0 features that are going to have an impact on performance and interoperability.

Read here!
ELISA
As part of the ELISA Seminar Series, ELISA welcomed Luigi Pellecchia, Senior Software Quality Engineer at Red Hat, to give an introduction to Basil, an open source tool for tracing requirements, code & tests, and Stefano Stabellini, Fellow at AMD, and Xen Hypervisor & Linux Kernel Maintainer, to present the activities to make Xen easier to safety-certify.
Kate Stewart, Vice President of Dependable Embedded Systems at the Linux Foundation, and Nicole Pappler, CTO and Founder of AlectoMetis, also presented a webinar titled "Automating Adherence to Safety Profiles After Fixing Vulnerabilities." This video includes a model using SPDX that allows for automated checks for integrity and availability of evidence to prove the systematic capability of software consumed by critical systems.
On November 1, ELISA hosts a webinar by Ivan Perez Dominguez, Senior Research Scientist, KBR Inc. at NASA Ames Research Center, focusing on "The Road to Safe Space Exploration." Register here.
LF Energy
FinOps Foundation
FINOS
FSOSD Exam
This year, the Open Source Readiness SIG and the Linux Foundation Certification team have worked very hard to build the FINOS Certified Financial Services Open Source Developer exam, or FSOSD, designed for developers contributing to open source projects while working in financial institutions internationally. Read more in Rob's blog post here. We're looking for volunteers who would like to participate in the FSOSD beta and become one of the first to get certified; participants will be granted the exam badge, if passed, plus a $250 credit for certifications available at https://training.linuxfoundation.org/certification-catalog.If you're interested, please fill in the form. If you're having issues (i.e., accessing the form), please email help@finos.org
Other events
Green Software Foundation
State of Green Software 2023:
This digital publication offers global insights to help decarbonize software at scale.
Hyperledger Foundation
Open Mainframe Project
Networking Projects
LF Networking and LF Edge recently co-hosted two ONE Summit Regional Day events, which are smaller, localized one-day & one-track versions of Open Networking & Edge Summits. Session videos will be available shortly.
ONE Summit Regional Day: Spain, co-located with Open Source Summit Europe, featured six sessions with ecosystem experts from across the region speaking on 5G Super Blue Print, 6G, CAMARA & Sylva integration, Anuket & Sylva integration, and more.
ONE Summit Regional Day: China, co-located with Open Sources Summit & KubeCon & CloudNativeCon China, featured 11 sessions touching on topics like Open Source Best Practices for Telcos, EdgeX Foundry Implementations, Commercialization of CAMARA APIs, Gen AI in Telco, and more.
LF Networking
The Nephio project has been inducted into LF Networking as a Graduated project to accelerate collaboration and automated cloud native deployments across Telecom, Cloud Service Providers, and Enterprises.
Nephio hosted its Nephio R2 Technical Summit in Mountain View, CA, October 10-11, with a packed agenda of sessions on the latest tech enabled by Nephio's second release. Session videos will be available shortly.
The Call for Proposals (CFP) for the 2024 Open Networking & Edge (ONE) Summit is NOW OPEN! Industry thought leaders are encouraged to submit to speak across an updated collection of tracks to be part of the event, happening April 29-May 1 in San Jose, CA.
The LFN Developer & Testing Forum takes place in Budapest, Hungary, November 14-16, where LFN ecosystem developers will gather in person and virtually to accelerate the future of networking. Free registration is still open!
The next ONE Summit Regional Day will occur November 30 in Bangalore, India, with member company Infosys. The packed agenda will feature local ecosystem experts sharing insights across the open networking and edge space. Register for free today.
LF Edge
The project announced the upcoming availability of the LF Edge Sandbox, a self-service platform to deploy LF Edge projects and solutions to edge devices.
LF Edge co-hosted the Edge Native AI Hackathon with Open Compute Project (OCP) and ETSI, culminating in a final show-down of 3 finalists onsite at the OCP Summit on October 18. The hackathon aimed to see how the collective communities could influence Edge with Native AI.
LF Edge's "Secure Device Onboard (SDO)" project has now become the "FIDO Device Onboard" project. The FDO specification is a new, open IoT standard that enables devices to simply and securely onboard to cloud and on-premise management platforms.
SONiC
The SONiC Foundation is hosting a SONiC Workshop, a co-located event at the OCP global summit on October 17, 2023, from 1-5 p.m. Learn about the latest developments of SONiC from industry experts, including innovations in NOS management, improvements in routing, software defined networking and system design. Check out the event agenda
Check out all SONiC activities at the OCP Global Summit.
Catch up with the winners of the SONiC Hackathon 2022 in the new blog series: SONiC Hackathon 2022 Winners Where Are They Now. Read the interview with the winning team from Marvell, who worked on optimizing SONiC and reducing SONiC bare metal costs and received the "Most Wanted By Users" award.
CAMARA
Open Programmable Infrastructure (OPI) Project
OPI Project leverages members to enable HW, SW, and environments to bring an almost turn-key solution with great performance and utilization. Now, all the project needs is use cases. Elad Blatt, Global Head of Business Development Telco Networking at NVIDIA, shares OPI's Use Case Working Group mission and how to get involved in this new blog.
Marvell, F5 Networks, and Arm, all premier members of the OPI Project, have collaborated to develop the first real-world use case example built on the OPI framework, which will be shown in the Arm booth at the OCP Summit on October 17-19. This first demo paves the way for using the OPI framework to offload key infrastructure management services like security, load balancing, and API gateways from the host CPU to the DPU. This will lower cloud and data center operators' TCO and increase their general compute capacity by freeing up CPU cores for more user applications.
OpenJS Foundation
OpenSSF
Alliance for OpenUSD
There are four key benefits of OpenUSD. Check out this blog by AOUSD founding member Adobe to learn what OpenUSD is and why it is critical for the future of artistic expression.
Open 3D Engine (O3DE)
Overture Maps Foundation
Overture's Jennings Anderson recently joined the MapScaping podcast, shedding light on our mission to create high-quality, interoperable map data. Read the blog highlights and access the podcast here.
A VerySpatial Podcast features an interview with Marc Prioleau, the Executive Director of Overture Maps, who discusses Overture's venture into open data, access, and direction.
RISC-V
In our new blog, learn how RISC-V, an open standard backed by a global community, enables open computing for all.

Yocto Project
Zephyr
---
LF in the media
Cloud computing and Kubernetes
Forrester's recent blog and interview spotlight Kubernetes as the pivotal technology shaping the future of cloud computing. [Link]
Highlights from KubeCon + CloudNativeCon + Open Source Summit China 2023, featuring key projects such as RWKV, Common Cloud Controls, and Kubeflow. [Link]
CRI-O's graduation status within CNCF marks a significant milestone for container runtime technology. [Link]
Open source and security
JP Morgan's Chief Information Security Officer publicly endorses Sigstore and Alpha-Omega as indispensable for advancing open source and fortifying supply chain security. [Link]
The OpenSSF Scorecard initiative receives commendation for its invaluable role in helping developers swiftly assess the security of open source software projects. [Link]
WebAssembly (WASM) and web technologies
LF projects, including various WASM initiatives and OpenTofu, gain significant visibility in O'Reilly's October 2023 Radar. [Link]
An exclusive interview with Chris A. delves into OpenTofu, WASM, and the growing trend of repatriation from the cloud. [Link]
The Linux Foundation's stewardship of the Servo project, post-Mozilla's Rust team downsizing, underscores the ongoing challenges in browser diversity. [Link]
Artificial Intelligence (AI)
A comprehensive look at how PyTorch is poised to serve as a bridge across the CUDA moat and integrate into various segments of the AI application stack. [Link]
AMD's CEO cites PyTorch as a cornerstone in the company's AI chip strategy. [Link]
Telecommunications
CAMARA's telco API project garners attention, including a notable mention from AT&T. [Link]
Nokia introduced an open API based on CAMARA to facilitate third-party integration with carrier networks. [Link]
Graduating the Camara API to funded status marks a significant advancement in telecommunications technology. [Link]
Blockchain and identity
Bhutan announces plans to implement a National Digital Identity program, leveraging Hyperledger Aries. [Link]
Joseph and OWF receive coverage for their participation in Open Identity Exchange's Identity Trust 2023 event in London. [Link]
Semiconductors
Tenstorrent partners with Samsung to manufacture RISC-V chips, signaling a major development in the hardware sector. [Link]
ETH Zurich explores low-power RISC-V designs suitable for CubeSat chips and circuits. [Link]
Intel unveils a compact software core based on the RISC-V open instruction set architecture for its FPGA devices. [Link]
Miscellaneous
An article discusses the complexities of removing the Remote Network Driver Interface Specification (RNDIS) from the Linux Kernel. [Link]
LF Energy gains traction [Link]
Universal Acceleration Foundation's launch captures industry attention. [Link]
---
Follow us
Follow the Linux Foundation on social media to get all the latest info, updates on upcoming events, and breaking news and announcements from the global open source ecosystem. Follow us here: Mastodon, Bluesky, Facebook, LinkedIn, and X.